How Do I Setup Hotmail Email Account With Outlook?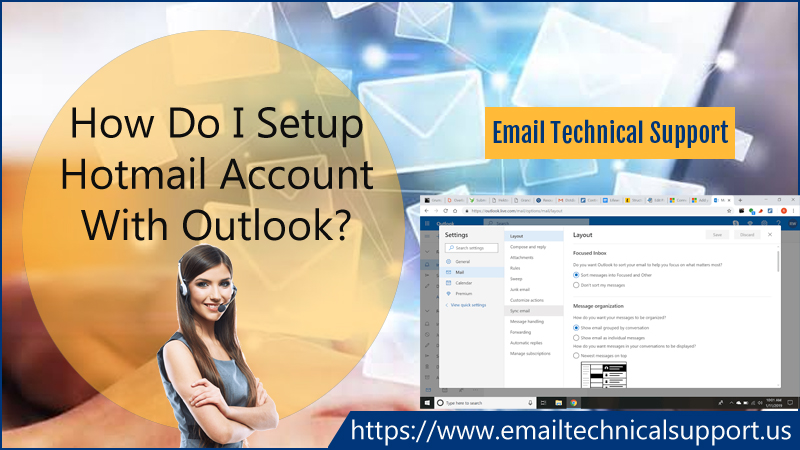 Hotmail and Outlook, both are the products of Microsoft. Therefore, both are best in their places and have amazing features. Users who want to setup Hotmail email account with Outlook will get a great match after paring both. As a result, you will be able to send and receive emails through your Hotmail account within Outlook. And if you want, you can also archive your messages locally. However, setting up both accounts makes every user able to access all things at the place. Hence, this feature again makes both the mails user-friendly. So, let us start the Hotmail setup process with Outlook.
How To Setup Hotmail Email Account In Outlook For Office 365?
We have mentioned a step-by-step guide for setting the email account for Office 365. The steps are like:
Visit Outlook.com and then click on the gear icon. Now, it will open the Quick settings menu.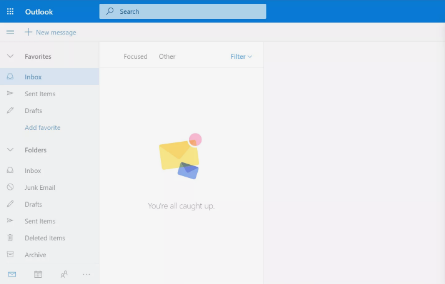 Choose- View all Outlook settings.
Now select Sync email.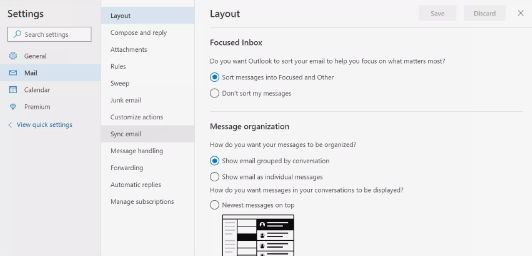 Select Other email accounts, under Connected accounts.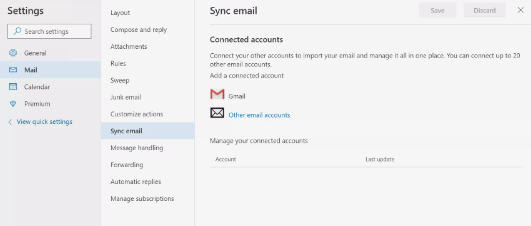 On the Connect your account page, enter a display name, complete email address, and password. ( Note: Enter the password of the email account that you want to connect to your Outlook.com account.)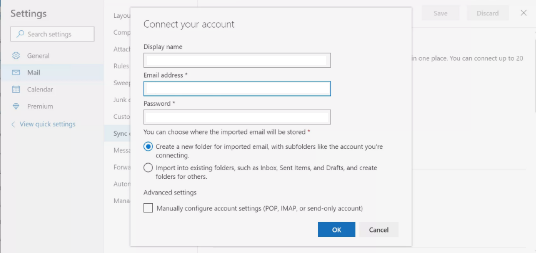 Access your Hotmail account in Outlook 2010
If you are using Outlook 2010, then follow the below steps:
First, open your Outlook 2010.
Click on File >> Info and then select Add Account.
Ensure that you have selected an Email Account.
Then type your name under the Your Name section.
Email Address: type your Hotmail account address.
Password: Here type your Hotmail password.
Retype Password: Here again, enter the password same as above.
Click Next >> Finish.
How to Setup Hotmail In Outlook 2003 And 2007
To setup Hotmail email account in outlook versions 2007 and 2003, you need to follow the below steps:
First, download and install the Microsoft Outlook Hotmail Connector.
Select the Outlook Connector.
Then, click on Add a New Account from the menu.
Email Address: enter your Hotmail mail address.
Password: Here type your password.
Name: enter your name.
Now, click OK.
Try to restart Outlook and then use it.
Other than using Outlook and Hotmail connector, you can also use the POP feature in outlook. Through POP in Outlook, you can also download newly incoming mail from Hotmail.
Setup Hotmail Email Account As A POP Account In Outlook
Have a glance over the below steps to setup Hotmail email account as a POP in Outlook:
Open your Outlook and select Tools.
Now click on Account Settings.
Go to the Emails tab and click New.
Ensure that Microsoft Exchange, POP3, IMAP, or HTTP is selected.
Click on Next.
Under Your Name: enter your name.
Under Email Address: enter your Hotmail address.
Now select, 'Manually configure server settings or additional server types.
Tap on Next.
Ensure that Internet Email is selected and click Next.
Under Account Type ensure POP3 is selected.
Incoming mail server: pop3.live.com.
Outgoing mail server (SMTP): smtp.live.com.
Under Unser Name: enter your complete Hotmail address.
Under Password: enter your Hotmail password.
Now click on More Settings.
Land on Outgoing Server.
Select- 'My outgoing server (SMTP) requires authentication.
Then tick on- Use the same settings as my incoming mail server.
Now go to the Advanced tab.
Under Incoming server (POP3) remember to select- This server requires an encrypted connection (SSL).
Outgoing Server: select SSL for Use the following type of encrypted connection.
Incoming server (POP3)- 995.
Outgoing server (SMTP)- 25.
Now click OK >> Next >> Finish >> Close.
Access your Hotmail with Outlook 2000 and 2002
To set up a Hotmail email account with Outlook:
If you want to access offline then ensure that you have the subscriptions for your Hotmail account.
Open Outlook.
Click on Tools from the menu.
Then select Email Accounts.
Select Add a new email account.
Click Next.
Select HTTP as Server Type.
Click on Next >> HTTP as Server Type.
Select Next.
Now enter your details under Email Accounts:

Enter your name.
Fill in your Hotmail account address in the given box.
Type your Hotmail user name (if it is not done automatically).
Enter your Hotmail password.
Select Hotmail in HTTP Mail Service Provider.
Click on Next >> Finish.
Steps to Configure Hotmail Setup on Android
Although to setup Hotmail on Android, one has to implement several steps such as:
Open your Android phone, and then choose Apps.
Under Apps, select the Settings option and then click Accounts.
Before selecting the account, you have to click on Cloud and Accounts.
After that choose Add Account and click on Email
Input your login credentials(email address and password).
Now click on the Manual Setup option and select IMAP or POP3.
Enter your email address in the username field.
In the Incoming server settings, type POP3.LIVE.COM. And in the Outgoing server settings, you have to type SMTP.LIVE.COM.
Following these steps will enable you to configure Android Hotmail Setup.
How to Setup Hotmail Account on iPhone?
Firstly, open your iPhone and go to Settings.
Hit the Accounts and Passwords option and then select the Add Account option.
Then a list of several email service providers will appear on the screen. Now choose Outlook.com to add the Hotmail or  Outlook account.
Also, type your email address and password and click on the Sign-in option.
Enable the Mail app option on your iPhone. And it will then connect to your mail server for the authentication process.
 However, the Mail app also requires several permissions for syncing your mail, contacts, activities, calendar, and to see your profile.
Allow these permissions to the Mail app by clicking on the Save button.
Next, launch your Hotmail app to check your emails.
Therefore by implementing these steps, you can also set up Hotmail email account on your iPhone.
Conclusion
Implementing the above steps will help you to setup Hotmail email account. Thus by following the above-mentioned steps, you will be able to do changes in your different Outlook versions to access the Hotmail account. Hence, the steps are very essential to perform Hotmail setup. And if you stuck anywhere, you can instantly take help from Email Support experts. Managing two mails from a single place makes users stay stress-free. This feature allows users to get a great user experience.