Effective Steps To Do Zoho Mail Setup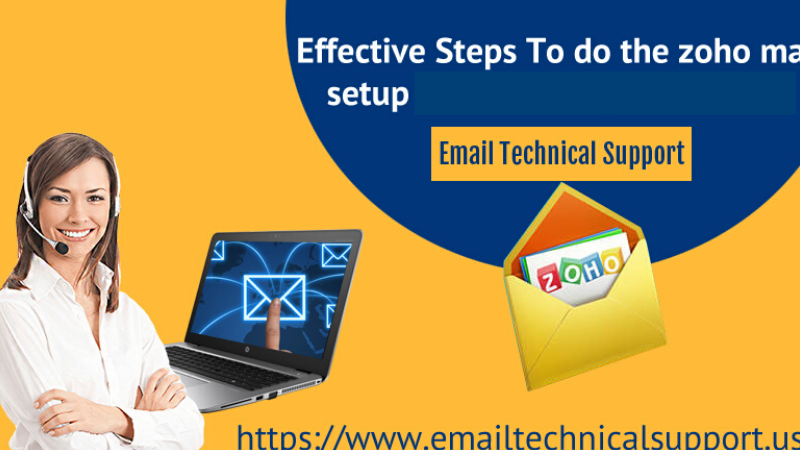 Zoho Mail, the foremost third-party email service provider that gives its customers an ad-free user interface. Thus, it's known for external email services to provide alongside your domain. If you are searching for the Zoho mail setup, this article will give you full insight into Zoho mail i.e. setup, working process, etc.
How to Create Free Zoho Mail Account?
The free Zoho Mail account is applicable to up to five users with 5GB storage for each one. But the condition with this version says you can use a single domain name only. This version is good for small businesses that have less domain as it also has all those features which a paid one has like calendar, docs, sheets, etc.
To surf the Zoho services, you need to sign up first. All you need is a valid phone number and your desired domain.
Visit Zoho Mail Pricing page
Now, drag the cursor downwards to Sign up for Forever free plan
Fill the sign-up form. Here you need to create administrator email with a username and domain.
Remember: The one used for contact information shouldn't be identical to Administration details.
After signing up, you will receive a security code on your phone. Enter the digits and click 'Verify my Mobile'.
Procedure to Configure Zoho Mail Account
Once the registration is done on Zoho Account, you need to configure to finally use it.
Verify Domain Name
Zoho Mail needs to verify the domain you mentioned in the signup process. Three methods are provided- TXT, CNAME, and HTML.
Search for Hosting Provider DNS Manager from the list
Next, go for CNAME Method and copy the credentials in both rows to continue
Navigate to Hostingers hPanel and open the DNS zone editor
CNAME>Add New
Paste the credentials you saved before
Return to the setup page and click on Verify by CNAME
A message will appear saying 'Your domain name is successfully verified'. Now you can freely add users and create groups.
Now to receive mails from your custom domain, you need to add MX Records
Firstly, save all MX Record values in Configure Email Delivery
Now again go to hPanel DNS Zone Editor and search MX>Add New
Remove the existing one and then create a new record
Click 'Next' to land on next configuration stage
Next, you need to configure SPF and DKIM. This prevents email spoofing and phishing. Follow the steps below:
Steps to Set up SPF (Sender Policy Framework)
Copy the TXT Value and SPF Table
Then go to DNS Zone Editor-> TXT. Delete the existing SPF Record
Now you can either choose Add SPF Record or 'Edit' option
Steps to Set up DKIM (Domain Key Identified Mail)
Select Proceed to Configure DKIM
Next from the Domain list click on the 'Edit' option
Click 'Add Selector'
Type Zoho as Selector's name and then hit 'Save'
Access DNS Zone Editor>TXT Add new
Now, mention the values and click 'Create'
Lastly, tap on Verify tab located on setup page
Zoho mail is the best way to manage your mail server comparative to others. In case you fail to recognize any Zoho Mail Setup process, technical teams are available. Share your issue with the experts and they will revert you with quick solutions. The technical group is available 24*7. Thus, feel free to connect anytime.