Facing Apple Mail Search Not Working Issue? Here's the Fix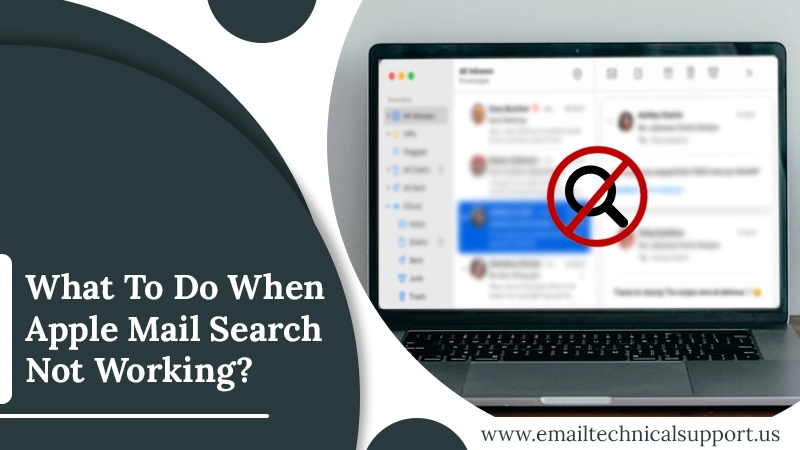 Several unexpected glitches may appear quickly after updating to a new macOS version. Apple Mail Search Not Working may be caused by bugs or software flaws. This can happen if there is some underlying issue with the program or other applications on your Mac.
In this post, we'll tell you what you can do if your Mail app's search function appears to be faulty or has stopped working. When you face an Apple Mail Search not working issue, you will either not obtain any results or the results may not be as expected (for example, older emails may not be included in the search results or the search may give results that you were not expecting/looking for). In many circumstances, this issue will resolve itself after restarting your Mac or when macOS automatically upgrades to a subsequent version of its current release.
Investigating the Apple Mail Search Issue, we have displayed the troubleshooting procedures to fix Apple Mail Search Stopped Working issue, and we recommend that you do the same so that you don't waste time on more complicated solutions when a simpler one would suffice.
Also Check, Why: Mac Mail Keeps Crashing
What are the Methods to Resolve Apple Mail Search Issues?
The most basic step in this guide in resolving Mail Search Not working on Mac is to restart your Mac. During the boot process, your Mac removes flaws and software faults. This can be useful for users who chose to keep their Mac in sleep mode rather than shut down the computer properly.
This is the first and most basic method to fix this issue we recommend that you start this and if this doesn't work, we will move on to the more advanced solution:
1. Remove and Restore Your Account
Another solution for the Apple Mail Search Not Working is to delete your account and re-add it to your Mac. This method of repairing malfunctioning Mail search allows you to reset your account data and renew your connection with Apple's servers.
Here is the method to follow:
On your Mac, click on the upper-left corner of the screen.

Choose System Preferences.

Select Internet Accounts from the System Preferences menu.

Finally, choose your accounts.
After uninstalling your email accounts, re-add them one at a time and check the Mail app's search feature to see whether the problem has been resolved.
2. Update macOS
If you are facing Apple Mail Search Stopped Working then we recommend checking for a new version update. To do so, you must upgrade to the macOS version. Take the following actions.
Go to the upper-left corner.

Select the About This Mac option.

Search for macOS updates.

Install any available version updates on your Mac.

After your Mac restarts, launch the Mail program and check to see if the issue has been fixed or not.
3. Enter Safe Mode
If Mail Search Not working on Mac, start your device in safe mode which allows it to scan your system for any faults and correct them automatically.
Check out the step-by-step instructions below to boot your Mac machine into safe mode and cure Mail search not functioning on macOS 12.
Shut down your PC.

Press the Shift key and then press the Power button.

Keep holding down the Shift key until the PC starts up.

Once your computer is in safe mode, use the Mail app's search function to see whether it works.
4. Restore your Mailboxes
Rebuilding each of your mailboxes may fix your Apple Mail Search Not Working, Please keep in mind that the following actions must be completed for each mailbox in your Mail app.
Start the Mail app and choose a mailbox to rebuild from the left-hand panel.

If the mailbox panel isn't displayed, go to the View menu and pick the Show Mailbox List option. 

After selecting a mailbox, go to the Mailbox menu and select Rebuild.

Wait for the rebuilding process to finish before repeating steps 1 and 2 for your additional mailboxes.
5. Manually Reindex Search Spotlight
The data of all the files saved on your Mac is managed by Spotlight Search. You may use Spotlight Search to swiftly find a file, program, or web link. If your Mail Search Not working on Mac, try reindexing the Spotlight Search to clear up any issues. Take the following actions.
Open Spotlight Search by pressing Command + Spacebar, then type Terminal and hit Return.

In the window open, type the following command. Sudo mdutil -I on /

To complete the process, enter your password.
You will get a confirmation about the successful indexing once you enter the correct password.
Also Check: Why iPhone email not updating
LAST WORDS
If your Apple Mail Search Stopped Working, may occasionally stop working. This issue tends to occur regularly after installing a new macOS version. Hold down the Shift key and access the Mail app to troubleshoot this issue. Wait a few seconds before closing Mail and restarting your computer. If the problem persists, rebuild your mailboxes as well as your Mail and Spotlight indexes. If the above-mentioned alternatives fail to resolve the issue, contact our Email Technical Support team or take your Mac to a nearby Apple Showroom.