No matter what industry you belong to, you must be familiar with Outlook and there might be times when you will be required to change your Outlook password. There might be different reasons for changing the password. No matter what it is, we will assist you in the easiest way possible.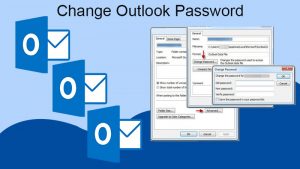 Ways to change Outlook password 
You should know that when you change the password in the Outlook desktop client, it does not change the email provider password. You will be required to change the password by visiting the particular website of the email provider. You can follow the steps mentioned below in order to change the password:
First of all, you should visit the Microsoft security page and then log in. Click on 'Password Security' and follow the instructions shown on the screen

You will be asked to confirm your existing password and fill in your new password as well.

Make it a point to keep your new password unique and use a mix of numbers, special characters, and both lowercase and uppercase letters — and input it twice as asked. Click on 'Save' once done
This is how you can easily change your Outlook password that too without any technical knowledge.
Ways to change Outlook client password 
After changing your Outlook password, you can change the email client's password as well by referring to these steps that we will be sharing with you. Before proceeding with them, kindly note that if you are using an email account other than Outlook, you will be asked for your app password too. You can generate them at the respective pages for Yahoo, Gmail, and Apple.
Launch Outlook and once it is loaded, go to 'File' and then click on 'Account settings' and then select it again from the drop-down menu

If you own an Office 365 subscription that provides you with updates on a semiannual basis or a stand-alone version of the Outlook client, then choose the email address you want to change

Click 

on 'Change' and then type in your new password in the particular fields. Click on 'finish' once you are done
See if the changes work
Once you are done with the changes, you should also make it a point to see if the changes work or not. You need to see that your new Outlook password works. In order to do it, close all the open menus and then open Outlook once again. Click on 'Send/Receive' to see if all your emails load.
If they are there then your password change was successful. If you are unable to see your emails then check once again whether the password that you entered was correct. 
We hope that we were able to help you to change your Outlook password. If you get stuck anywhere or want any more help regarding this then do feel free to get in touch with us and we will assist you in the best way possible.