Gmail SMTP Not Working? Here is How to Fix!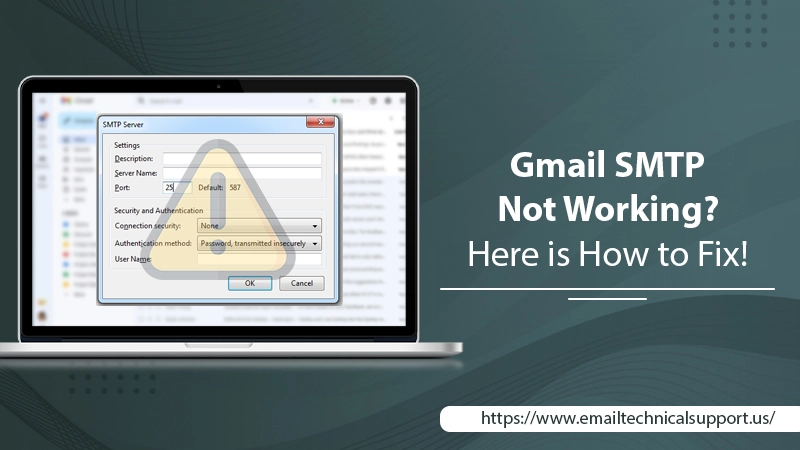 SMTP stands for the Simple Mail Transfer Protocol. It's used for exchanging messages via mail servers. Gmail SMTP enables sending of email messages via third-party email clients. It implies that you need to have the right SMTP settings if you use any third-party client like Outlook for sending emails. But when users find Gmail SMTP not working, it indicates incorrect SMTP server settings.
The problem can also be an outcome of the two-step verification option being enabled on your device. Regardless of the cause, you can resolve it by implementing suitable troubleshooting techniques. But before that, it's wise to learn about configuring the correct SMTP settings.
Also Read: Why Gmail not Working
Set up Gmail SMTP Correctly
Many Gmail SMTP server issues arise because users don't configure SMTP settings properly. The correct SMTP server settings are as follows.
The name of the outgoing mail server is smtp.gmail.com. 

It requires SSL and TLS, if available.

The SMTP server requires authentication.

The port number for SSL is

465

.

The port number for STARTTLS or TLS is

587

.

Your Gmail account is your username.

Enter your password in the password field.

In front of the display name, write your name.
Also Read, Why: Gmail not receiving emails
Ways to Fix Gmail SMTP Not Working Issue
There are various fixes you can use to resolve this issue. After checking that your settings are right, you can take the following measures. 
 Also Read: Setup Gmail In Thunderbird
1. Turn Off Two-Step Authentication
The two-step verification process often interrupts the SMTP server's work. It's because it does not let less secured apps get used. You can turn this option off through these steps. 
Navigate to your

Gmail

account.

From the drop-down menu, choose '

Manage your account

.'

Now, choose '

Security

' from the left panel.

Choose the option of '

Two-step verification

' when you are logging into Google.

Fill in your Gmail account's password.

Tap the '

Turn off

' button to disable two-step verification.

After you click it, confirm your choice.
2. Generate An App Password to Send Messages to a Third-Party
Generating app passwords is also a good solution to use when you find the Gmail SMTP server not working. But for it, you need to enable two-factor authentication. Here are the steps to generate it.
Navigate to '

My Account

' in Gmail and opt for '

Security

.'

Next, scroll down and choose '

Signing into Google

' from the drop-down.

Next, choose '

App Password

' from the menu. Now enable two-factor authentication. 

Choose '

Two-step verification

' present on the menu of '

Signing in to Google

.'

Now enter your password.

Enter the OTP number and activate two-step verification.

From the application list, choose the one you need.

Now, choose the option of '

Select Device

' and then select the device that you are using to access Gmail.

Hit the '

Generate

' button.

Input the password in the yellow bar. Then tap '

Done

.
3. Enable Less Secure Apps to Allow Gmail SMTP to Work
Are you using Gmail as your outgoing server but cannot send email? It means that Google is blocking sign-in trials from your devices. Both users of Google apps, as well as other Google users, can fix this problem by allowing less secure apps access. 
For Google Apps Users
If you use the Google app, you require your administrator to enable the users to modify less secure app policies. If you yourself are the administrator, go through these steps to allow your users to manage their access to less secure applications.
Go to the '

Control Panel

' of Google apps. 

Choose 'Security' followed by '

Basic Settings

.'

Choose '

Less Secure Apps

.' Then, tap '

Go to Settings for less secure apps

.'

Choose '

Allow users to manage their access to less secure applications

.
For Those Who Don't Use Google Apps
If you don't use Google Apps, you must first check whether you have disabled two-step verification. Follow the steps mentioned in the earlier part. If you've already disabled two-step verification, follow these points.
Sign in to the '

Less safe apps

' page through your account. This option is needed by email clients like Outlook. They are usually not considered insecure. 

Now, choose the '

Enable

' option.
4. Send a Test Email
Now you can check SMTP settings by sending a test email to yourself. But if you cannot send a test email, follow these points.
Inspect the authentication credentials of SMTP settings.

Next, examine the security settings for SMTP of your SMTP server provider.

Find if there's network access from SMTP to CSO.

Now find if the firewall is obstructing SMTP traffic to the server. It's possible that the ports are blocked.

If you find no issues in the server and authentication settings, the firewall must be blocking SMTP traffic as well as ports

587

and

465

.

In this case, you must contact your network administrator to unblock the ports and traffic.
5. Change the Status of IMAP
The Internet Message Access Protocol allows you to check emails on every device in real-time. Changing its status by re-enabling it will help you troubleshoot Gmail SMTP not working problem.
Launch Gmail and tap the gear symbol on the top right part.

Tap '

See all settings

.'

In the window that appears, select '

Forwarding and POP/IMAP

.'

Go down and tick '

IMAP Access

.'

Disable it. Then enable it to refresh the IMAP setting.
Also Read, Why: Gmail notifications not Working
What to Do When Your Web Form Is Not Working?
Many users complain that their web form isn't working correctly with SMTP. The causes of this issue are that SMTP cannot link with error 111. It can also be because the SMTP server can't connect to smtp.gmail.com/smtp-relay.gmail.com. To fix this issue, check for the following:
Go to

https://support.google.com/a/answer/176600

. Check whether the SMTP settings of your web form are correct or not.

Provide access to less secure apps. You already know how to do it. 

On the browser of your phone, navigate to

accounts.google.com/DisplayUnlockCaptcha

. Here, fill out your password and username. Then, input the letters you see on the screen.
Final Thoughts
You can save a lot of your productive time by knowing the measures for Gmail SMTP not working problem. Although they may sound technical, implementing them will not feel challenging. However, if you cannot resolve the Gmail SMTP problem using them, it's best to seek the help of Email Technical Support professionals. They will diagnose and fix the underlying glitch quickly.