Microsoft Outlook Working Offline | How To Fix It?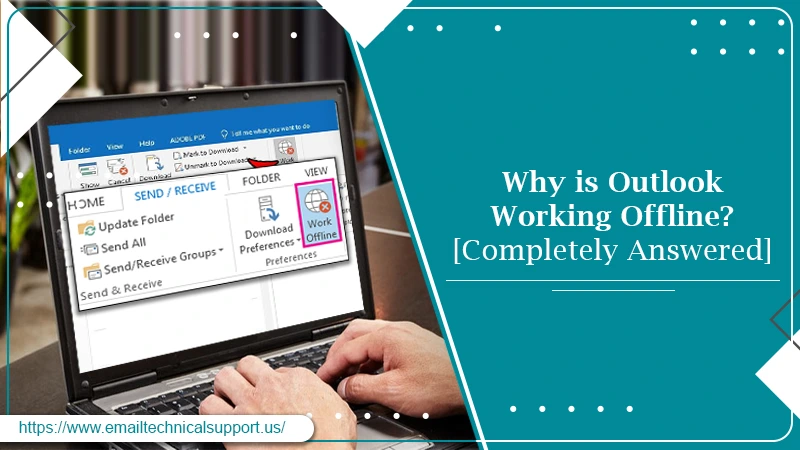 In this article, you'll find answers to why your Outlook is working offline and how you can fix the Outlook working offline issue. Also, you can learn what to do if the work offline button is gone missing, and many more.
The Working Online/Offline feature was first added in Outlook 2010 and then in all the later versions. The purpose behind this feature is to allows users to be able to access and work on Outlook even without internet connectivity. You can access the loaded emails, compose new emails in Offline mode however can't send or receive new emails. If you try to send the emails in Offline mode, it will get scheduled to be sent in Online mode.
Also Check, Why: Outlook Calendar Appointments Not Showing
How To Know If Outlook Is Working Offline?
You can check if your Microsoft Outlook is working offline by looking at the status bar at the bottom of the page. You will either see the "Working Offline" or the "Disconnected" indicator. If either of the indicators is shown, your Outlook will not be able to send or receive emails until you reconnect.
If you are wondering "Why does my outlook say working offline" then the answer is simple, you switched to Offline mode unintentionally we suppose.
Working Offline is a choice and you can switch back to Online mode easily by following a simple procedure.
When The Indicator Says Disconnected
If your Outlook is showing Disconnected status or if Outlook all accounts are working offline, then it might be an issue with your network connectivity. Other possible reasons include mail server issues, incorrect account settings, outdated operating system or Outlook, etc. Start with checking if the network is working fine, then try logging into your Outlook account from webmail. If you can sign in and access your account from there, then verify your Outlook email settings on the desktop app. Update your Outlook and operating system if there are any pending updates.
This should be enough to get you back online on Outlook. Try sending an email just to be sure.
How To Turn Off Working Offline In Outlook?
Switching back to online mode is simple. Just follow a couple of steps mentioned below are you are all set to work online.
Go to Send/Receive tab.
Click on the Working Offline option.
The status should say Connected.
If it shows Offline, repeat the step until it shows Connected status.
What To Do If Outlook is Stuck To Working Offline?
In case you have tried to switch back to Online mode in Outlook and but it didn't help, then you should try the below Outlook working offline fix.
Install Office Updates. The problem with Outlook can also arise if your Office is not up to date. In this case, you should open any Office app, for now, let's say Outlook. Go to File and select the Account option. Select the Office Updates button under the Product Information section. Open Outlook and try connecting again after installing the Office updates.
Verify your email settings in Outlook or try setting up your account on Outlook once again.
If the above steps don't help and you persist to face the issue, then there must be some issue with your Outlook profile. In this case, you should delete the previous Outlook profile and create a new one. To do so, head to the File menu and select Account Settings. Select Account Settings again and choose the Profile you want to delete and select Remove.
Now go to File and select Add Account. Follow the on-screen instruction to add your account successfully.
Outlook 2010 Working Offline Button Missing
Trying to Work Offline on Outlook but can't find the switch on the taskbar. This might happen when the mail server of your account is not compatible with Microsoft Exchange. However, if you are using a compatible email and still can't find the Work Offline option, then follow these steps to fix Outlook 2010 working offline button mixing:
Open File and then select Info Menu.
Click on Account Settings.
Now select Account Name and Sync Settings.
Select More Settings and go to the Advanced tab.
Now you need to mark the following checkboxes:
Use Cached Exchange Mode.
Download Shared Folders.
If the above checkboxes are already selected, then uncheck them and select them again.
At last click on Ok until you get back to the main menu and then restart your Outlook.
Check if you can find the Work Offline option in the Send/Receive tab on Outlook.
Conclusion
Now that you know how to fix Outlook working offline, you can continue working on Outlook without any trouble. We hope you are not facing any other issue with your Outlook. However, if there's something still bothering you, there's no need to worry. We are Outlook Technical Support who can help you fix all your Outlook issues. Whether you are not able to access your Outlook account or facing any issue with your Outlook Mail, just give us a call and we'll take it from there. You can also refer to our Outlook troubleshooting guides, to fix common issues with your Outlook on your own.