Verizon Email Hacked? Follow These 3 Effective Steps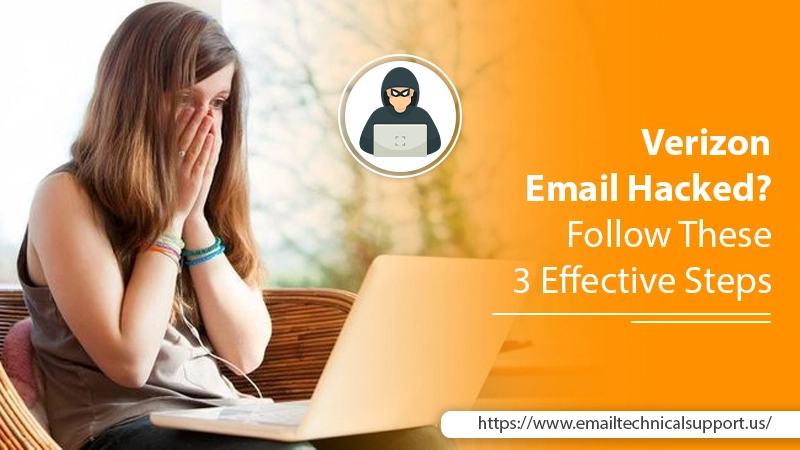 Cyber-attacks are becoming increasingly common everywhere. Thus security has become more important than ever. Cybercriminals are targeting every single thing that includes cellphone accounts. Those registered with companies like Verizon are witnessing a huge rise in data breaches and hacking. Many people are reporting that their Verizon email hacked. In such a case, you must take several prompt measures like changing your passwords, securing your login process, and contacting those who can help. In this article, we'll go over each of these measures and also highlight the consequences of a hacked account.
Also Read, Why: Verizon Email Not Working
Steps to Take on Finding Verizon Email Hacked
Hackers can easily access your confidential information through your email account. But there are some simple yet effective measures you can take to protect your data. Follow these steps as soon as you find your Verizon email account hacked.
1. Modify Your Passwords
Hackers usually invade your account by breaking your password. A weak password is thus a potent entry point. The importance of a strong password becomes even more important for those who deal with sensitive information through email. You must create some hard-to-crack passwords. Here are the steps to change your Verizon email account's password if you can access your account.
Sign in

and go to '

Account.

'

Now select '

Account Profile

' and then click on '

Residential

.'

After you do that, you'll be taken to your account's profile page.

Scroll down six entries, and you'll find the '

Password

' option.

To its right, there will be a link that reads '

Change

.'

Click it and change your password.

If you've forgotten your Verizon email account password or cannot access the account, click

this

link. Don't forget to make a strong credential.
2. Ensure that Your Logins are Secure
After protecting your passwords, you should also take steps to protect your logins. Two-factor authentication is a feature that helps in ensuring that the person logging in is the real person related to the account they are attempting to access. This measure functions by prompting you for your login credentials. It emails or texts a time-sensitive and unique code to the mobile device of the real owner of the account. This code needs to be entered to finish the login process.
This measure adds another layer of protection to the account. You can head over to My Verizon online to set it up. When it's enabled, your email account will be protected by a one-time code that will be sent to your phone. It's applicable every time the real account owner or you log into My Verizon.
3. Minimize the Chance of your Account Getting Hacked in the Future
After taking the above two steps, you should also take certain concrete measures to ensure that you don't find your Verizon account hacked again. Follow these pointers and secure your account well.
Report account fraud. Go over to the Verizon website and locate the '

Report Account Fraud

' page. Verizon's fraud department keeps monitoring fraudulent activities. But if you find some suspicious activities in your account, don't wait in letting them know about it.

Do not reveal your personal data to anyone. Sometimes, you may get a call from a person who will say that they are a Verizon rep. They will ask you for your personal information. Note that no company asks for private data like passwords and PIN numbers. They don't do it till you request a similar action. So, do not give your confidential data to anyone who contacts you for it.

Take identity theft protection seriously. You can also take advantage of the identity theft protection and monitoring services to detect problems before they become complicated.
All these steps will ensure that you don't become a victim of a hacked Verizon email account. Moreover, by following these concrete measures, you will protect yourself from experiencing any identity theft in the future.
Also Check: How To Reset Verizon Email Password
Ways in Which Your Verizon Account Can Be Hacked
There are a couple of different ways by which your Verizon account can be hacked. In fact, recently, Verizon has faced much criticism from its users. A majority of them reported that their accounts were hacked, and the information was used to purchase phones and other charges. Here are some ways in which your Verizon email can get hacked.
Data breaches

– It's a common method of hacking your phone account. In it, the hackers steal your PIN number. They also steal your security question answers from the account companies themselves.

Phishing

– Phishing scams are not new. They have been around for quite some time now. Through it, the hackers access your phone account. They do it by sending you a fake message about your account through a malicious third party. In the message, they request your password or other related information, enabling them to access your account.

Social Engineering

– hackers can also trick your provider into letting them give access without providing any identity proof or important documents.
Apart from following the measures above, you should also contact your bank and the FTC immediately. It will ensure that your bank gets alerted about any unusual spending activity. The FTC or the Federal State Commission will also assist you with the recovery plan and crucial documentation.
Final Words
Don't underestimate the consequences when you find your Verizon email hacked, and let the issue slide by. Hopefully, now you know what to do if you find yourself in this situation. If you need more assistance with recovering your hacked account, connect with professional Email Technical Support services.