The Steps to Block Email Address in Gmail and Keep Account Safe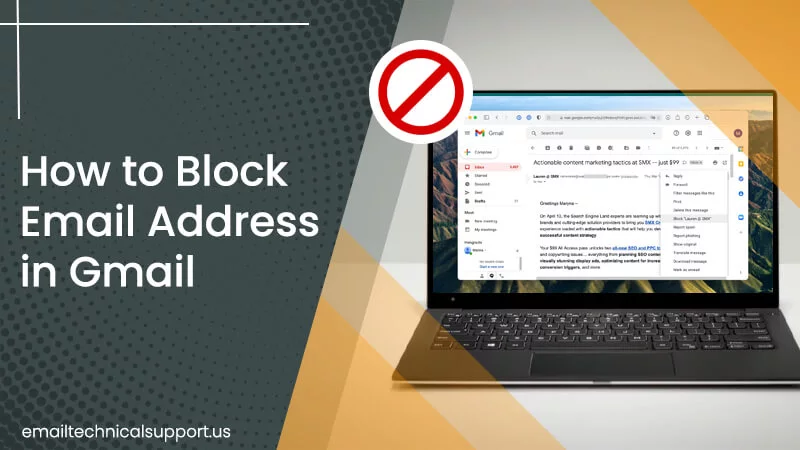 Is your Gmail inbox crowded with messages you hardly read? Irrelevant emails can quickly clutter your inbox, making it difficult to find the necessary emails. You can resolve this problem by knowing how to block email address in Gmail. Well, the process is simple. Just tap the 'More' icon and choose 'Block' on the desktop. You can also unsubscribe to marketing emails to take it up a notch. Besides that, it's also essential to follow some best practices to keep your Gmail account secure. This article will give detailed instructions on blocking emails you don't want quickly.
How to Block Email Address in Gmail on PC
You can use any device, like your smartphone or PC, to block someone on Gmail. There are two ways to block Gmail emails on a computer. Here is an explanation of both methods.
Unblock Gmail sender
It is the quickest way to block the email address.
Open an email from the sender you desire to be blocked.
Choose 'More.'
Now from the menu, select 'Block ''sender's name''.'
Tap 'Block' in the dialog box of 'Block this email address.'
Also Read: Gmail Spam Filter Not Working
How to block emails on Gmail via the settings
Are you unable to locate a message from the sender you wish to block? Do so through the Gmail settings.
Launch Gmail settings and tap 'See all settings.'
Move towards the 'Filters and Blocked Addresses' tab.
Here, choose the 'Create a new filter' option.
Input the address of the person you wish to block in the 'From' field.
Now tap 'Search.'
Gmail will search for messages from the sender and display relevant ones.
Open the email of the sender.
Now from the menu, select 'Block ''sender's name''.'
Choose 'Block' when prompted for confirmation.
You can also create a specific filter to block messages of a particular size.
When creating the filter, move to the 'Size' field.
Input the file size and choose whether to find emails greater or lower than the specified size.
Choose the 'Has attachment' checkbox to block messages with attachments.
Also Read: Block Emails on Hotmail
How to Block Someone on Gmail on Mobile
The process to block an email address on Gmail on the smartphone isn't very different from the above. The only difference lies in the way the screen of the two devices. Note that these steps are the same for the Gmail app on an Android phone and an iPhone.
On your smartphone, open the email you want to block.
Now, look at the upper-right part of the email.
You will see a button with three vertical dots on your Android phone.
If you use an iPhone, there will be horizontal dots instead of vertical ones.
This button is on the plane where the email sender's name is.
Tap this button.
A drop-down menu will open.
Select 'Block "sender's name".
That's it. Now you can stop unwanted emails in Gmail because you have blocked the sender.
How to Block Email Address in Gmail with a Filter
Sometimes, you need to block an email sender immediately. So, in that case, the approaches mentioned above may not feel feasible. You can use this alternate method of manually blocking a sender by creating a filter.
Open your web browser.
Go to Gmail.
Here, tap on the 'Filter' icon.
It is at the search bar on top of the screen.
After that, specify which filter you want to use.
Input the sender's email address in the 'From' field.
After that, hit 'Create Filter.'
Place a check beside 'Delete It.'
Now, tap 'Create Filter.'
This action will delete every new message that matches your parameter. You won't find them in your inbox or spam.
If you mistakenly delete an email because of this filter, head to the 'Trash' folder.
You can access them from there.
But note that after 30 days, Gmail will delete them permanently.
Also Read: Block Unwanted Emails on Yahoo
How to Unsubscribe from Emails on Gmail?
Unsubscribing newsletters or promotional emails is a great step to organizing your inbox. However, after unsubscribing, you'll completely stop getting new emails only after a few days.
Unsubscribe from emails on your PC
Launch your preferred web browser and move to Gmail.
Sign into your Gmail.
When you view the emails, locate and tap the promotional email you wish to unsubscribe from.
Now tap the 'Unsubscribe' option beside the sender's email address.
Some users may see the 'Change Preferences' option.
Tap it.
You will view an 'Unsubscribe' prompt.
Tap 'Unsubscribe' to stop receiving emails from the specific sender.
Unsubscribe from emails on your mobile app
Open the Gmail app on your mobile.
Click on the email you desire to unsubscribe from.
In the email, click the three vertical dots in the top-right portion of your phone.
Click 'Unsubscribe' from the menu.
Also, click 'Unsubscribe' in the prompt.
Now, you'll find Gmail blocking incoming emails from this specific sender.
Also Read: Gmail Not Working
How to Keep Your Gmail Inbox Secure?
Knowing how to block someone on Gmail is one part of keeping your account secure. You must follow some best practices to keep your account safe.
Use a robust password having numbers, letters, and special characters.
Turn on two-step verification to give your account another layer of security.
Ensure to keep your PC or phone updated.
Use good antivirus software for your computer. Sometimes, it may block suspicious emails from entering Gmail.
Don't install lesser-known extensions to your account. Extensions need various permissions to run, so you risk virus attacks.
Don't click on files or links from suspicious senders. They may have content that can compromise your data.
Concluding Words
Your Gmail contains highly confidential content that you would not want to risk losing. Thus, it's essential to keep your account as secure as possible. It's best to block email address in Gmail if you find them suspicious or cluttering your inbox. Consult email technical support professionals if you face any issues in blocking a contact or following this process.
Frequently Asked Questions
What happens when you block someone on Gmail?
The simple answer to this question is nothing. You will not get any emails from the people you blocked. The old emails from the blocked contact will stay in your inbox, and you can delete the mails whenever you want.
Can you block the email address in Gmail without opening it?
Although you cannot block an email address in Gmail without touching it, you can use filters. It will make it easy to block emails without you opening them in the future. You already know how to create filters. It has been explained above. Use it and to find that Gmail blocked emails from unwanted people.
Will the person be notified of getting blocked?
No. Nobody whom you blocked will get a notification of this action. There is no way except to reveal to them personally that you've blocked them on Gmail.