Gmail Spam Filter Not Working | What To Do?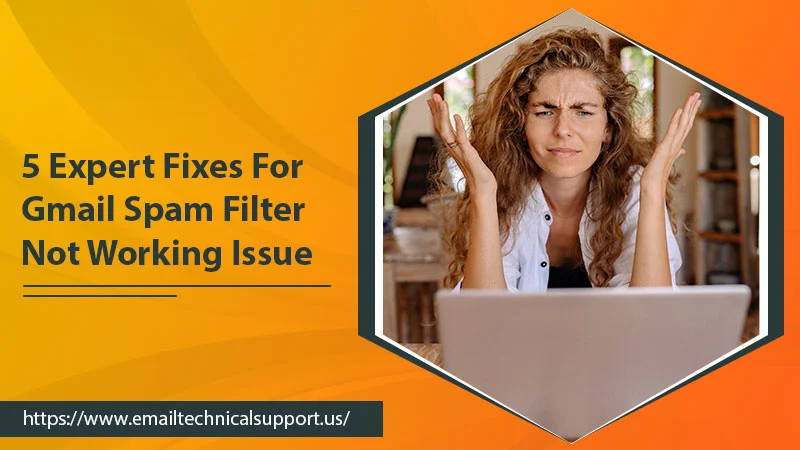 Every Gmail user gets exposed to spam messages. But getting too many of these emails makes your email vulnerable to malicious hacking attempts. Luckily, Gmail users can do much when it comes to tackling spam emails. It's because of the highly efficient Gmail spam filter, which checks the email address of the sender to see if it has been blocklisted before or not. Besides, the filter can also find suspicious words and phrases. So, if you find your Gmail spam filter not working, you'll get many unwanted emails in your inbox.
This problem occurs because you have a compromised Gmail account or email not getting synced. Read on to know how to tackle this issue.
Also Read, Why: Gmail not Working
Troubleshooting Gmail Spam Filter Not Working Issue
If you don't want a large number of spam emails, you must fix the reasons mentioned above. Here are the main actions you must take.
1. Check if Your Gmail Account has been Hacked
Gmail is a highly secure email service. But hacking attempts are not very rare. Follow these points to check if you have a hacked Gmail account. Most probably, it's the reason why you are finding the spam filter unresponsive.
Do you notice unfamiliar changes like your mail being forwarded to another person or certain email addresses getting blocked? 

Do your friends say that they are getting unusual messages from you?

Did you find your emails removed from the inbox and moved into the trash?

Did you find a lot of emails in the sent folder, but you didn't write them?

Are you not able to log in to your Gmail account with your password?
All these are red flags that indicate your Gmail account has been compromised. It is why you have noticed your spam filter Gmail not working. Now you can follow the technique mentioned in the next part.
2. Change Your Password and Check If Your Filter is Unresponsive
If you are sure that your Gmail account has been hacked, you must change your Gmail password. After changing the password, you must check if the filter you create is working or not. Follow these points.
To change your password, sign in to your Google account.

Choose '

Signing in to Google

.' It is below '

Security

.'

Now select '

Password

.'

Enter another password and choose '

Change Password

.'

Now, tap the cog icon and select '

See all settings

.'

On the subsequent page, select '

Filters and Blocked addresses

.'

Tap '

Create a new filter

.'

Input the sender's email address that you are seeing in your Gmail inbox rather than spam.

Tap '

Create filter

.'

If you don't find the filter working, it means the issue is fixed.
3. Check Whether Skip the Inbox filter is Functioning Properly
When Gmail does not sync, it hinders the spam folder from working correctly. To see if Gmail is syncing or not, you can inspect whether Skip the Inbox filter is properly working. 
Sign into

Gmail

and tap the '

Settings

' option.

Next, tap '

See all Settings

.'

Select the '

Inbox

' tab and go to the bottom. 

Do you see the '

Override Filters

' button being ticked? If yes, it will make you get emails for which you have created filters. 

Tap '

Don't override filters

.'

Lastly, tap '

Save Changes

' to confirm your settings.
4. Inspect Your Gmail for a Broad Incoming Message Filter
Constantly finding spam filter not working Gmail indicates an issue with a filter you've created. It's very important to be cautious with your searches when setting up filters. If you've created a filter for a mail to be marked as important, but your filter is broad enough to capture some spam, you will get spam in your inbox. It will not land in the Junk folder. 
To fix this problem, it's essential to adjust your filters. Use the option of 'Restricted Senders.' You can also clear the usual words from the 'Has the word' section. It's a good idea to use only unique keywords. You can add filters for the spam email that passes through the general filter.
5. Block Spam Email Addresses
It is a very straightforward way to tackle this issue. Although it's a manual method, if there are specific email addresses from which you get spam regularly, you can block them. 
Just open the spam emails, tap the three-dot icon, and select 'Block.' It will help you eliminate spam messages coming from a few specific emails.
Also Read, Why: Gmail not receiving emails
Spam Filter Options You Can Use
If you are an admin for an enterprise-level Google workspace account, you can leverage a great bunch of spam filters. All these filters are present in your account that you log in from the Google admin console. Once here, tap 'Apps' followed by 'Google Workspace' and then 'Gmail.' Lastly, select 'Spam, Phishing, and Malware.'
Just choose the organization you want to customize, select 'Spam' and tap 'Configure.' Here are some spam filter options you can try out.
Aggressive spam filtering

– You can switch to the more aggressive spam filtering option if you are troubled by loads of unwanted emails. It will mark more emails as spam, and you will not find them crowding your main inbox.

Bypass spam filters

– You can bypass spam filters for emails that internal senders send you. It is especially beneficial for those who are a part of an organization. They can bypass spam filters for emails from people inside their company. Note that internal messages are emails from subdomains that Google does not host. 

Email quarantines

– If you are an admin, you can configure settings to quarantine emails sent to and from your company. Additionally, you can set admin privileges for particular users and allow them to manage quarantined emails. When you remove emails from quarantine to be sent to users, they will be seen against the spam filters of Gmail.
Also Read, Why: Gmail SMTP not Working
The Bottom Line
Gmail is continuously improving and is becoming better at recognizing spam before it comes to your inbox and troubles you. However, in the midst of catching every hint of spam, things can go wrong. That's when you find the Gmail spam filter not working. Use these effective techniques to get rid of unwanted messages. You can also connect with an expert Email Technical Support service if you cannot handle the problem by yourself.