Gmail Account Hacked? Take These Steps Immediately!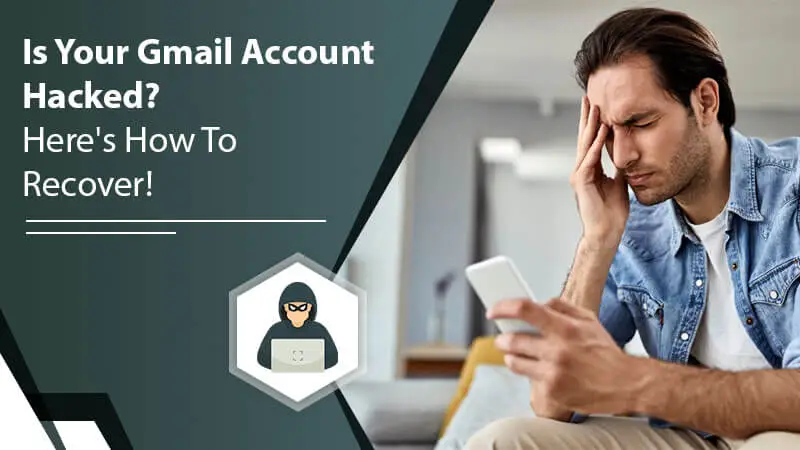 Gmail is a widely used email that people use for both professional and personal uses. You use this email service for a variety of things, and it contains much confidential information. In such a case, how would you feel if you found your Gmail account hacked? But this is the reality that many users are increasingly facing. It's because today, hackers have a lot of sophisticated technology at their disposal. If your Gmail is hacked, and you do nothing about it, the hacker will steal all your data and use it for their own purposes. In such a case, you need to ensure that you do every possible thing to recover your account. In this article, you'll find out how to determine whether your account has been hacked and how you can recover it.
Also Read, Why: Gmail not working
Is Your Gmail Account Hacked?
There are various ways you can find out if your account has truly been hacked. Watch out for the following.
Login to your Gmail account using your usual password. If you are not able to sign in, it implies that your account is likely hacked.

If you find more than usual spam in your account, it points towards a hacked account.

Examine when your account has last been active. If you notice an unusual sign-in that you did not make, it means that someone else has made a hacking attempt or has hacked your account.

See if you have any emails forwarded from your account.
Also Check, Why: Gmail notifications not working
Different Ways to Recover Hacked Gmail Account
There are various methods to recover your Gmail account. You can do it via the phone number or email address. Here are the steps you should follow.
1. Use the Recovery Address to Restore your Account
This option is for those who don't have a readily available phone number. It might be possible that the hacker has changed your phone number associated with Gmail. In this case, you can use the recovery email address to restore your account.
Head over to

Gmail.com

.

Once there, go to the email account sign-in page.

Now, input your email address. Tap '

Next

.'

Now, you will be redirected to the '

Forgot Password

 page.

You will now go to the page where you will need to input the last password of your account that you still remember. 

On the verification code page, you won't get the '

Email Address

' option immediately. 

Continue to tap the '

Try another way

' link till you see the '

Recover Gmail account with email address

 option.

When you finally get this option, type in the recovery email address that you used when you made the Gmail account which has now been hacked.

After you input this ID in the box of verification, tap '

Send

' to get the verification code.

Go to your recovery email ID and paste the verification code into its box. Then you'll be able to go to the '

Change Password

' page.

Now, enter a new password and sign in to the account that has been hacked.
2. Use your Phone Number to Recover your Account
If you are one of those people who found their Gmail hacked, but the hacker has not yet changed your phone number, you can use that to gain access to your account. Here are the steps to follow.
Head over to your Gmail account.

Input your email address and tap '

Next

.'

Now, tap the '

Forgot Password'

 link.

Now, you need to input the last password of your account.

On the page of the verification code, input your phone number that is registered with the hacked email address. 

After that, tap '

Send

.'

You will get a verification code on the number that you just entered.

After you get the code, paste it into the '

Verification Box

.'

Now, tap '

Verify

.'

On the subsequent page of '

Change Gmail Password

,' you can input another password and reset your account password.

Now, sign in using the newly made password.
3. Restore your Account by Answering the Security Question
This method is for those who don't have both the two things mentioned above. You can answer the security question correctly to restore your account.
Navigate to the sign-in page of your Gmail account.

Fill in your email address and click '

Next

.'

After that, tap '

Forgot Password

.'

Next, you need to type in the last password of your email account.

On the verification page, you'll be prompted to answer the security question you chose while making your account.

You need to continuously tap '

Try another way

' till you reach the '

Answer Security Question

' option.

When you do reach this page, correctly answer the security question.

After you answer that correctly, you'll be redirected to a page where you can reset the password of your hacked account.

Lastly, input a new password and confirm it. You can now gain access to your Gmail.
4. Permanently Close your Gmail Account
If you wish to no longer continue using the account that was hacked, you have the option to permanently close it. Here is how you can do so.
Go to the '

Account Preferences

.'

Go down and choose the '

Delete your account or services'

 option.

Tap '

Delete Products

.'

Now, input the password of your account. After you do that, tap '

Sign-in

.'

Tap the trash icon on the '

Delete a Google service

' screen.

Now, just confirm your account deletion.
Also Read, Why: Gmail Spam Filter Not Working
Steps to Protect Your Gmail Account
Finding your Gmail account hacked is definitely not pleasant. But you can significantly reduce this risk through the following measures.
Use a strong and unique password. The stronger it is, the less the chances of someone guessing it.

Enable 2-step authentication. It will ensure that even if your password gets hacked, your account is safe.

Examine the last account activity. Go to your Gmail and tap '

Last account activity

.' Here, tap '

Details

' to see where, when, and how your account is used.
Wrapping Up
Every person with a Gmail account needs to take the security of their account seriously. If you find your Gmail account hacked, you should immediately try to restore it through the ways mentioned above. Additionally, it's also important to always take steps to protect your account. If you need more assistance with safeguarding your account or recovering a hacked one, it's best to connect with the professionals of an Email Technical Support service.