How To Recover Missing Gmail Messages?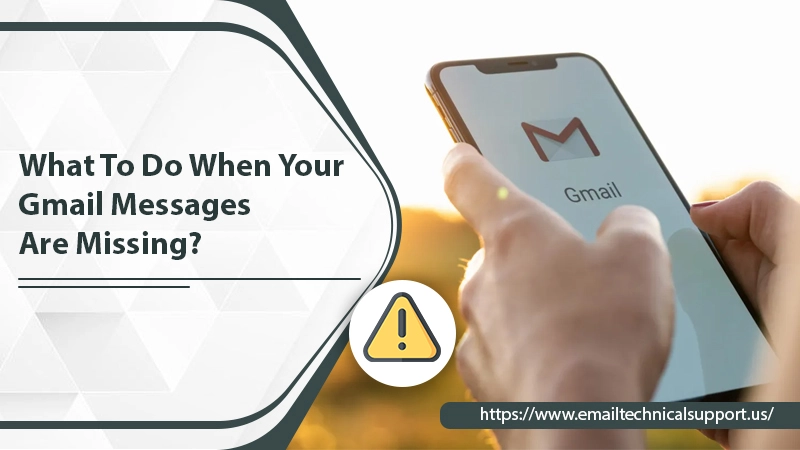 Gmail is a widely used email application. Many companies use it as a professional tool for work and communication. Naturally, a properly working email service is crucial for every professional. However, sometimes, the email throws various technical glitches to its users. It has often been reported that users wanting to search for specific emails find Gmail messages are missing in their inboxes. When they decide to search for it using the search feature, they are still unable to locate the messages they want. It can be very troubling, especially for those who want to search for an important email related to work. Well, in this article, we'll probe into why the messages are missing and how you can resolve the problem.
Also Read, Why: Gmail Spam Filter Not Working
Why Gmail Messages Are Missing?
There are certain causes responsible for the missing emails. Some common ones include the following.
You have wrongly set up a filter to delete the email messages.

Your emails are getting directed to another third-party email address.

You might have mistakenly deleted the email message.

The user has shifted their email to any other folder like Spam or Trash and now is unable to locate them in their inbox.

Activation of POP3 servers also causes this problem.

You have a poor internet connection and hence cannot receive the incoming email.
Recover Missing Messages in Gmail
Before progressing to the fixes, one of the most simple and effective things you can do is to use the Gmail search bar. If you are familiar with the subject line of the email, you can just type it out on the search bar. Gmail will show you a list of possible matches. It's highly likely that you will find the email you are searching for as the Gmail search is quite advanced. But if you still find your emails missing, try the techniques below.
1. Check if the Emails are Filtered
Email filters in Gmail are very effective. By setting them up, you can instantly make an email go to the archive or get deleted as soon as it's received. If you have mistakenly set up a filter that deletes certain emails or archives them, it's the reason you cannot find the emails. To verify this, follow these steps.
Open the web browser and then head over to

Gmail

.

Sign in to your account and tap the gear icon to access settings.

After that, tap '

See All Settings

.'

You will see numerous tabs on the top. From here, tap the '

Filters & Blocked Addresses

' tab.

See if your email filters consist of '

Skip

' or '

Delete

.'

Now, tap the '

Delete

' or '

Edit

' option.

Adhere to the guidelines you see on your screen.
`
2. Disable Email Forwarding
For those having more than a single account, email forwarding automatically forwards all the messages to the given account. But it may also lead you to notice that your Gmail emails are missing from the inbox. As mentioned in the causes, if you have POP3 servers activated or have configured Gmail using them, you'll find messages disappearing from Gmail. However, they will be present in other programs like Outlook. To disable email forwarding, follow these points.
Launch Gmail and tap '

Settings

.'

Now, hit '

See All Settings

.'

Next, tap the '

Forwarding & POP/IMAP

' tab.

Choose the option of '

Turn off the forwarding

.'

Go down and click '

Save Changes

.'
3. Examine the Trash, Spam, and Archive folders
If you find your Gmail messages missing and think that it's due to them getting accidentally deleted from your inbox, you must check the trash folder. It's possible that you can find the missing emails in this folder.
If you do, choose the specific email, and tap the 'Move to' option. Now, from the drop-down menu, choose 'Inbox' from the drop-down menu and shift it to the inbox folder.
If you don't find the email in the trash, chances are that your email is marked as spam. It may have also been archived. Head over to the spam folder and move that email to the inbox. Remember that the message won't stay in spam for more than a month. So, if it's something very urgent, you need to move it to your inbox immediately before it gets permanently deleted from your email account.
4. Use the Recovery Tool that Gmail Offers
Google offers a recovery tool that you can access by going to this link. You can use this utility if you notice that the missing emails are deleted. After going to this tool, tap 'Continue.' It will begin the recovery process.
Now you have to adhere to the guidelines on the screen. They will help you restore permanently deleted messages.
Measures to Take When Gmail Messages Are Missing on iPhone and Android
The primary culprit behind Gmail messages missing on iPhone and Android is your smartphone not being able to sync with the Gmail servers. Here is what both iPhone and Android users can do.
iPhone
iPhone users can resolve the problem by deleting and re-adding their email accounts. Here are the points you can follow.
On your phone, navigate to '

Settings

' followed by '

Mail

' and then '

Accounts

.'

Select your email account. Now, choose '

Delete Account

.'

Now, return to '

Accounts

.' Here, choose '

Add Account

.'

Select the Gmail email service.

Now, re-add the email account.

Now, see if you are able to find all the missing emails.
Android
Android users can check their Gmail sync settings to troubleshoot the problem. Here is the point you need to adhere to.
Open the Gmail app on your phone. Now click the three-bar icon.

Go down and click '

Settings

.'

You will see all the Gmail email accounts that you have added.

You need to click the problematic account.

Now, ensure that you check the box beside '

Sync Gmail

.' In its absence, you'll encounter issues with your Gmail app.

If you see that sync is already enabled, uncheck the box and check it again.
Wrapping Up
Finding that your Gmail messages are missing can undoubtedly be quite worrying, especially if the content inside it is confidential. Thankfully, there are numerous measures you can take to troubleshoot it. Follow the easy-to-implement measures above. If you still find the emails missing, it may indicate an underlying issue with your account. In such a case, it's best to connect with expert technicians of an Email Technical Support service.