Know How To Encrypt Email In Gmail & Secure Your Emails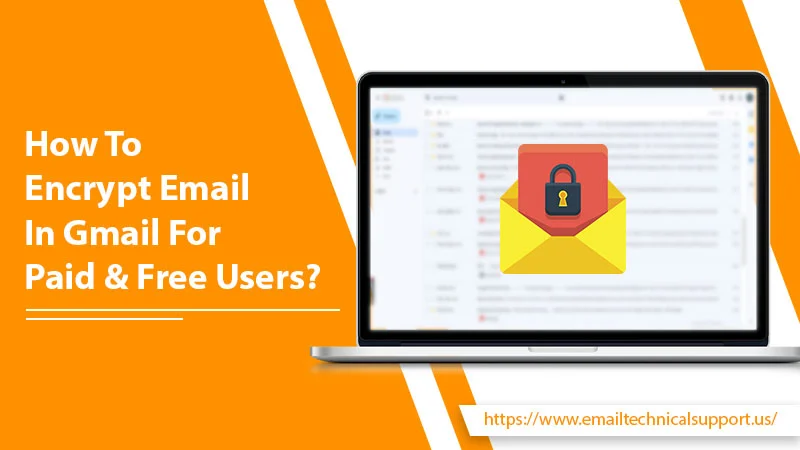 Gmail utilizes the TLS encryption rule. However, this protocol only safeguards the message if your email recipient service also supports it. So, you must know how to encrypt email in Gmail. A majority of email providers support TLS encryption. So, you don't need to feel concerned if your emails are encrypted. The need to know the process to encrypt emails arises if the email provider doesn't support TLS. Encryption adds an additional layer of security. Google for Business comes with many encryption options. You can also use the confidential mode released by Google if you have a free Gmail account. In this article, you'll find how to encrypt messages in Gmail properly.
Also Read, Why: Gmail Not Working
How to Encrypt Email in Gmail App? – Steps for G Suite Subscribers
There's a significant requirement for enhanced email encryption in the business environment. That's why Gmail for business subscribers can use the S/MIME encryption. This feature is not available for users of free Gmail. Remember that you must have the sender and recipient of the email before you use S/MIME encryption. Here are the steps to enable it and encrypt emails.
Firstly, navigate to the Google Admin Console.

Next, head over to '

Apps

' followed by '

G Suite

.'

Now, go to

Gmail

and after that to '

User Settings

.'

Choose an organization.

Now enable the S/MIME encryption for receiving and sending emails. You will find its box at the end of the settings window.

There will also be an option to '

Set optional certificate settings

.'

In the end, click '

Save

.'

The encryption settings will not take more than an hour to get updated.

In order to encrypt email in Gmail, create a new message.

Add the recipients in the '

To

' field.

You will notice a lock icon coming on the right part of the recipient's email.

Tap it and choose the '

S/MIME settings

.'
Also Read, Why: Gmail SMTP Not Working
Encrypt Emails in Gmail by Configuring the MTA-STS and TLS Reporting
You can configure the MTA-STS framework for your domain if you are concerned about attacks that intercept emails. It enhances Gmail security through authentication checks and encryption for sent emails to your domain.
When you switch on this mechanism for your domain, you essentially request the external mail servers to transfer the emails to your domain solely when the SMTP connection is authenticated and encrypted with TLS 1.2. Here are the points to follow for setting up MTA-SLA and TLS reporting.
Firstly, examine the MTA-STS setting for your domain.

Now, make an MTA-STS policy and publish it.

Now add DNS TXT records to switch on MTA-STS and TLS reporting.
Also Read, Why: Gmail Spell Check Not Working
Can You Check If Your Email Will Be Encrypted?
Yes, you can check if your email will be encrypted. Follow these steps to check it below. 
Begin writing your email as usual. 

Now, add your recipient in the field named '

To

.'

You will see a small lock icon on the right side of the name of your recipient. This shows the encryption level that the email receiver has upon their email provider. 

When you select the lock, you can either modify your S/MIME settings or find out about the level of encryption of your recipient.
Steps to Find if You've Received Encrypted Email
You can also check encryption for a message you have received. Open it and follow these points. This step depends on if you are using an Android device or iPhone. Android users should choose 'View Details' and then 'View Security Details.' iPhone users should tap 'View Details' only.
A colored icon will show up on the screen. It will allow you to find the encryption level used by the sender.
A green icon of a bag with a plus sign implies that it's S/MIME enhanced encryption. It's the most enhanced level of encryption, and if your recipient has a private, only then can they decrypt the email.

A grey-colored bag with a circle at the front means TLS or standard encryption. This security is employed when the email service doesn't lend support to S/MIME. 

Lastly, there's a red bag with a slash extending at the front. It implies that the message is not encrypted. 
Also Read, Why: Gmail not receiving emails
How to Encrypt Email in Gmail for Free Gmail Accounts?
For free Gmail accounts, Google has come up with the Confidential Mode. So, it's best to look into it.
Begin by logging into Gmail. 

Now, tap the '

Compose

' button like you do when you send a typical email. 

Fill in the body of the email in the usual manner. 

After you are done with that, find the '

Confidential

' button. You can find this button present at the bottom-right part of the lower ribbon. 

After you hit that, you'll receive a confidential mode pop-up. 

From the drop-down menu of '

Set Expiry

,' you can select the length of time you wish the email message to live before it gets deleted or expires. 

This time period can be as less as one month to as long as five years. 

Now, you can select if you desire the recipient to employ an SMS passcode. You can do it through the radio buttons. 

If you choose the '

No-SMS

' passcode, it implies that the recipient will get the password through email in case they don't have a Gmail account. 

Choosing an SMS passcode implies that the recipient will get the passcode through SMS. 

Tap '

Save

.' 

Now you can send confidential email messages. 
This mechanism to encrypt email in Gmail is very simple. You don't need to configure anything to send a safe email using Gmail. However, you must do the series of steps mentioned above every time. It also requires you to possess the contact number of the recipient for them to get the SMS. But it is not always feasible.
Also Read, Why: Gmail Search Not Working
Wrapping Up
You can use the S/MIME protocol to encrypt emails if you are a Google for a business user. Users of free Gmail can use the confidential mode. Hopefully, the instructions will help you find out how to encrypt email in Gmail. If you want to know more about the process, feel free to connect with one of our Email Technical Support service experts.