How To Set Up Hotmail On iPhone & Sync Emails on iPhone?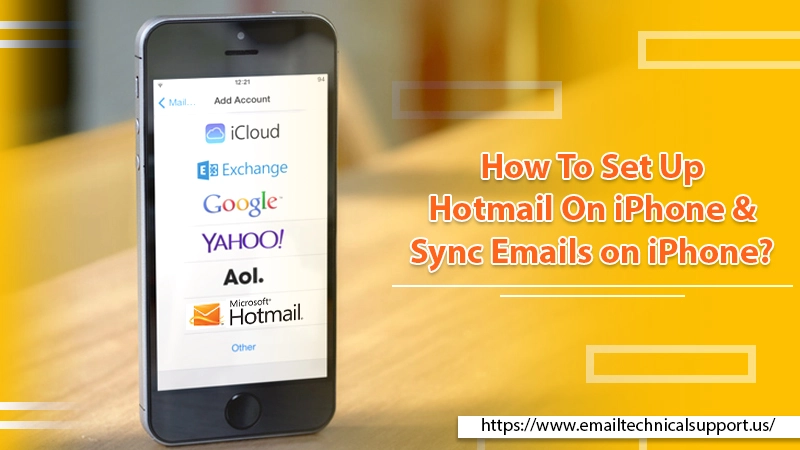 Hotmail has been substituted by Outlook for a long time. Yet the fact doesn't reduce the popularity that it still enjoys. A lot of people worldwide still have Hotmail accounts and use them regularly to communicate with one another. But as Hotmail does not exist now, people get confused while setting up their accounts on iPhone. One of the prominent questions in the minds of iPhone users having Hotmail accounts is how to set up Hotmail on iPhone.
This problem plagues iPad users as well. Knowing how to configure Hotmail on your iPhone will make it easy to check, compose, and send emails anywhere. So, in this article, you'll find detailed instructions on setting up your Hotmail account on iPhone.
Also Check, Why is: Hotmail Not Working
Key Points to Note before You Configure Hotmail on iPhone
It's possible to configure Hotmail on various versions of iPhone like iPhone 5, iPhone 4S, and many more. But before you set up Hotmail on iPhone, you must double-check for the following information:
A valid email ID

A password

Strong internet connectivity
Only after you ensure that you have this information with you can you proceed to add Hotmail to your iPhone.
How to Set up Hotmail on iPhone?
The instructions below are for Hotmail accounts. However, you can also use the same method to configure other email clients like MSN, Live, or Outlook.
Navigate to the '

Settings

' of your iPad or iPhone. 

Now, click '

Mail

.' 

Then, tap '

Accounts

' followed by '

Add Account

.'

You will see a list of services. From here, click on

Outlook.com

.

You will see a login page appearing on your device's screen. Here, you need to type in your Hotmail email address and click '

Next

.'

Next, input the password of your Hotmail email and click '

Sign in

.'

Choose the Hotmail information you want to gain access to on the iPhone.

You have the option of syncing your contacts, reminders, calendars, and notes with Hotmail. Everything will be turned on by default.

When you are done selecting what you want, click '

Save

.'

Navigate to the Mail app on your iPhone. The Hotmail account you just created must be available there.
The Process to Sync Hotmail Emails on Your iPhone
After knowing how to set up a Hotmail account on iPhone, you should also know about the process to sync Hotmail emails on your device. By default, only a single month's emails are synchronized with your iPhone or iPad. But there's no need to keep up with this setting. You can modify it in settings and synchronize every old and upcoming email. Here are the instructions you must follow to synchronize Hotmail messages on the iPhone.
Navigate to the '

Settings

' of your iPad or iPhone.

Once there, touch '

Mai

l.'

Next, tap '

Accounts

' followed by Outlook.

Choose '

Mail Days to Sync

.' Then select '

No Limit

' if you can access all Hotmail emails.
Also Read, How to Fix: Hotmail Login Issue
The Process to Add Free Push Hotmail to Your iPhone Mail
You can add Hotmail email to the mail application on your iPhone mail. Follow these steps to do so.
Launch 'Settings' and from there, go to '

Accounts & Passwords

.'

In the 'Accounts' section, click '

Add Account

', and then click the Outlook.com logo that you see on your screen.

Input your full Hotmail address in the relevant field. Follow it up by clicking '

Next

.'

Type in your Hotmail password in the relevant field. Then, click '

Sign in

.'

You will see a screen opening. Here, Outlook will request permission to sync mail, contacts, tasks, and calendars, and also to sign you into your account and send a mail message.

Tap '

Yes

' to agree to it. 

On the subsequent screen, switch on the features you wish to sync with the iPhone. 

Tap the button that's to the right of every item till it becomes green. When it changes into this color, it shows that it's switched on. 

The features include calendars, contacts, mail, reminders, and notes. You only have to turn on 'Mail' to be able to access Hotmail from your phone. 

Tap the left-facing arrow present on the screen's top to go back to the screen of '

Accounts & Password

,' click '

Fetch New Data

.' It is present at the screen's bottom part.

Ensure that the switch beside '

Push

' at the screen's top is turned on. Tap '

Outlook

' and choose '

Push

' on the screen that launches. After you follow these steps, all your Hotmail emails will get pushed to your iPhone. Then, you can access them from anywhere.
Final Words
Now you know exactly how to set up Hotmail on your iPhone by yourself. Doing so is not difficult at all. Just follow the instructions carefully. If you face any issues in configuring your Hotmail account, feel free to connect with expert Hotmail Support services. The professionals are available 24/7 to help users resolve all their email-related problems.