Fix: Hotmail Not Syncing Problem on Android Or iPhone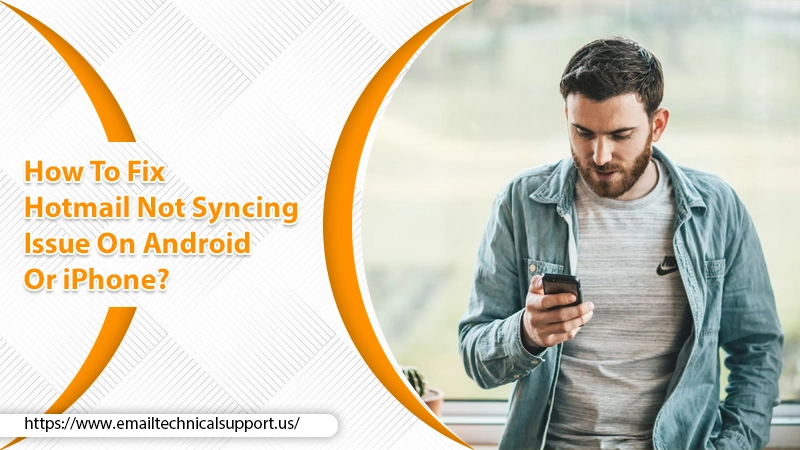 Hotmail or Outlook is the most used email application. But sometimes, syncing issues can prevent you from accessing your emails at the right time. You may find Hotmail not syncing on either Windows, your Android device, or your iPhone. The cause of this problem is tied to the device on which you are attempting to sync your account. So, you must employ solutions as per the device you use.
In this article, you'll find the reasons preventing you from accessing your messages and how you can make Hotmail sync again.
Also Read, Why: Hotmail not working
Why Is Hotmail Not Syncing on Android and iPhone
Many reasons can cause Hotmail not syncing Android and iPhone. Here are the major ones.
Faulty app installation

Hotmail server issue

The default email app cannot sync your Hotmail account because of a settings malfunction.

Incorrect Outlook email configuration.

Mail application, time configuration, and sync permission in iPhone results in this problem.
Also Check, How to: setup Hotmail email account
Troubleshooting for Hotmail Not Syncing Problem On Android 
If you find your Hotmail account not able to sync on your Android device, there are various troubleshooting methods for it. They are explained below.
1. Reset the Android Email App
At times, your Android device's default email application cannot sync with your Hotmail account due to a settings problem. To resolve it, you can reset the email app. Follow these steps to reset. 
Click the '

Settings

' option to open its window. 

Next, click on the '

Apps

' option.

In the window of Apps, click the '

All Apps

' section. Now, locate the mail and email widget app. 

After you find them, click them to let them open.

Now, tap the '

Force Stop

' option.

Next, click the '

Clear caches

' option. It will reset all the malfunctioning data settings. 

After this, exit every window and resync your Hotmail account.
Also Read: How to Recover an Old Hotmail account
2. Turn on Automatic Email Sync
If sync is turned off, you'll notice Hotmail not updating emails on Android. You can check if this is the leading cause of the problem by enabling auto-sync. After doing that, your email app will automatically search for new incoming messages and notify you when they arrive.
Go to the settings menu to see if your email app is set to sync automatically. 

Now, choose the option that turns auto-sync off or on. The problem of syncing will be resolved.
3. Sync Emails Manually
If automatic sync isn't possible, perform a manual sync. It will force your Android phone's email application to locate new messages, download them, and display them to you. Follow these points to sync your emails manually.
Choose the hamburger icon. Alternatively, you can also tap '

Google

' to determine the account with sync issues. 

Tap only to sync that specific account. Then click '

More

.' you'll notice the option of '

Sync Now

' coming up.
4. Find if Storage Space is Low
If the storage space on your Android is less, you'll inevitably notice Hotmail not updating emails. Navigate to the 'Storage' section on your phone and delete the files you don't want. After you select the unwanted file types, tap 'Uninstall.'
5. Clear Cache
Clearing your phone cache is another effective way to troubleshoot Hotmail not updating your emails. The buildup of data and files makes it slow down. Go to the settings app to clear the cache. Find the Hotmail or Outlook app below 'Manage apps' and remove cached data. Then update the app by going to the PlayStore. You can also enable automatic updates on your Android phone. It will allow updates to occur without your interference.
Also Check, How to fix: Hotmail Login Issue
Fixes for Hotmail Not Syncing with iPhone
Hotmail doesn't update emails on iPhone mainly due to wrong sync time settings and disallowed sync permissions. You can use the solutions given below to sync your Hotmail account with your iPhone.
1. Reconfigure Hotmail Account on iPhone
Reconfiguring the Hotmail account should be the first troubleshooting technique you should try. Here are the steps you should follow for it.
Firstly, start by opening the Settings app on your iPhone.

After that, choose '

Mail

.' Follow it by choosing '

Contacts

', then '

Calendars

.'

Now remove your Hotmail account from your device. 

After removing, choose '

Add Account

.' 

Now select '

Microsoft Exchange

' as the account type and input the details of your account.

Next, select your server address as '

m.hotmail.com

.'

Lastly, when your iPhone verifies your account, toggle the email slider to '

On Position

.'
2. Examine the Settings of Mail Days to Sync
This problem often occurs in the Apple Mail because of incorrect sync time settings. To resolve it, you will have to reset it manually. Follow these steps to change Mail Days to Sync settings on your iPhone. 
Launch the '

Settings

' app on your iPhone, and choose the '

Passwords & Accounts

' option. 

In the window of Passwords & Accounts, click the '

Hotmail account

' option to launch its window.

Now, click the '

Mail Days to Sync

' option.

Lastly, choose '

No Limit

' and click the '

Back

' option.
Also Check, How to Recover: Hacked Hotmail Account
3. Inspect the fetch new Data Settings
When you find your Hotmail not syncing with your iPhone, you should also check whether you have turned on the Fetch New Data on your phone. You can change this setting to receive email notifications by following these steps.
Launch settings and click '

Passwords & Accounts

.'

Click '

Fetch New Data

.'

Choose an appropriate option, namely '

Manually

,' '

Automatically

,' or '

Set a Schedule

.'

Now, find out if your Hotmail is updating emails on your iPhone.
4. Update iOS
If you find no technique effective, you still have the option to update your iOS version. Updating iOS fixes many issues on the iPhone. The Hotmail syncing issue will also resolve once you update the iOS version. Here are the steps to do it.
Head over to settings. 

After that, click '

General

.'

Now tap '

Software Update

.'

Now just follow the guidelines on your iPhone screen to download and install the iOS update. It will fix the bugs causing the mail app to not work with Hotmail.
Also Read: How To Set Up Hotmail On iPhone
Final Thoughts
Hotmail not syncing on Android and iPhone is a pervasive problem. But you should always be armed with all the methods to troubleshoot it. Hopefully, this article will help you fix this issue so you can reaccess fresh emails. If the situation doesn't improve, contact expert Hotmail Support services.