Fix: Hyperlinks Not Working In Outlook In Windows 11, 10, 8, Or 7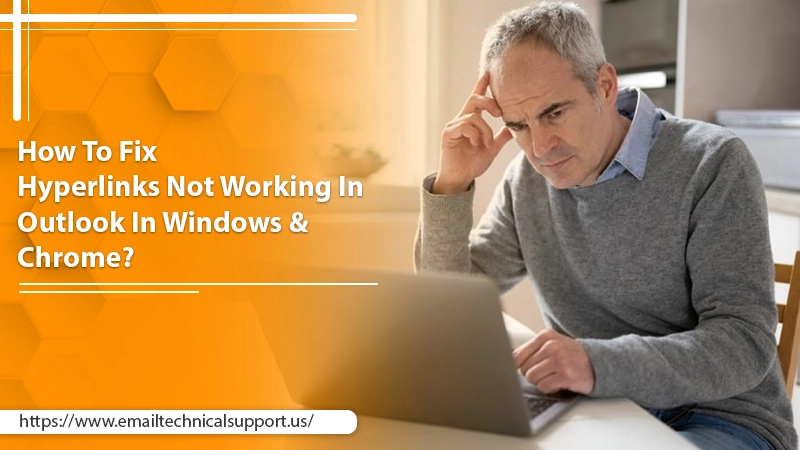 Hyperlinks in an application like MS Outlook enhance the user experience considerably. You click it on an email, and the links open through your default web browser. However, recently, many users have reported hyperlinks not working in Outlook. This problem arises mainly from a problem with your Outlook desktop application or web browser. So some of the feasible fixes include switching to a different web browser.
Apart from that, you can also reset Microsoft Edge settings and repair the Office installation by going to the Alls and Features option and choosing Microsoft Office product. In this post, you will find resolutions to target these causes.
Also Read: How to Install Microsoft Office 365 updates
Fix Hyperlinks Not Working in Outlook in Windows 10 and 11
When you aren't able to open a hyperlink, it's not a fault on the side of the email client. Often, it's because of the association between the hyperlinks to your web browser being distorted in some way. Below are some effective fixes to try. 
1. Make the Internet Explorer the Default Browser
Today, with so many new browsers available, hardly any user wants to switch to Internet Explorer. However, when hyperlinks are not working in Outlook, making it your default browser can resolve the problem.
In your Windows 10, search for '

Default Apps

.'

Now, tap on your default browser and modify it to '

Internet Explorer

.'

Go to the window of Default Apps and scroll to the web browser. 

Now, change it to Internet Explorer.
2. Import Specific Registry Keys from a Different System
If you find that hyperlinks are not working in Outlook Windows 10 in your specific system, see whether they can open on another computer. If they do, import specific Registry settings from the system in which they are working to your system.
On the other system, launch '

Registry Editor

.'

Now, go to this path'

Computer\HKEY_LOCAL_MACHINE\SOFTWARE\Classes\htmlfile\shell\command

.'

Right-tap on it and choose '

Export

.'

Now, save this file with the name that you want on that computer. 

After that, copy the registry file into your system. 

Double-tap it. This action will merge the entry into your system registry. 

Open a hyperlink in Outlook. You won't find it not working.
3. Reset Edge
If you are using Microsoft Edge, resetting its configuration will prompt it to open a hyperlink. Follow these points to reset it.
Open Edge and head over to '

edge://settings/reset

.'

Now tap '

Restore Settings

.' The settings will get restored to default.

Confirm your option in the popup window.
4. Repair the Office Installation
You may find hyperlinks in Outlook not working due to a glitch with your Outlook desktop client. So, it's recommended to repair the MS Office package.
Right-tap on the '

Start

' button and go to '

Apps and Features

.'

Choose the Office product to repair and opt for '

Modify

.'

You will find the Quick Repair and Online Repair options. The former fixes issues offline while the latter resolves issues but requires internet connectivity.
After repairing Outlook, open a link and see if it's working.
Also Read, Why: Office 365 not Installing
5. Perform a System Restore
System restore undoes the changes done to your computer recently. It restores it to a prior point in time. Doing a system restore is a good option if you find none of the methods of making hyperlinks work in the Outlook email client. Here are the steps you must follow to perform it.
Tap the '

Start

' button and type '

system restore

' in the search bar.

Now hit '

Enter

.'

In the dialog window of '

System Restore

,' you will find two options. One will be '

Recommend restore

,' and the other will be '

Choose a different restore point

.' You can select anyone.

The system restore will remove the recent modifications, so you will be able to see hyperlinks working in Outlook as they did before.
Fix Hyperlinks Not Working in Outlook in Windows 7 and 8
You can carry out specific troubleshooting for when hyperlinks don't work in Windows 7 and 8. Follow the specific troubleshooting for your Windows version as laid in the sections below. 
Windows 7
Updating Outlook is a good fix to use when it isn't opening hyperlinks in Windows 7. Follow these points to update Outlook.
In your Outlook, navigate to the '

File

' tab. 

Now, choose '

Office account

.'

Next, select '

Update Options

.'

Tap '

Update Now

.'

Outlook will detect and install if there are any updates available.
Windows 8
Windows 8 users should assign another default web browser to fix the issue. You can do so through these steps.
Hit the Windows key and C and open '

Settings

.'

Now, select the '

Change PC Settings

 option. 

You will see the window of PC Settings opening. 

Choose '

Search and apps

' and opt for '

Defaults

.'

Select '

Web browser

' and pick the browser you desire to use. 
How to Make Outlook Email Links Open in Google Chrome?
You can follow a simple process to get your hyperlinks open in Chrome. It involves setting MS Outlook as the default application.
Launch the Windows Settings. 

Now, tap '

Apps

' followed by '

Default Apps

' and then '

Email

.'

Choose Outlook as your default application. 

Launch Google Chrome and navigate to '

chrome://settings/handlers

.'

Now, choose '

mail to

' to Microsoft Outlook. 
Wrapping Up
Hopefully, the measures in this article will work when you find hyperlinks not working in Outlook. Irrespective what the Windows version you have, you can follow the guidelines in the post to fix the issue. If you need more assistance with this problem, go ahead and connect with an expert Email Technical Support professional.