6 Best Fixes For iCloud Contacts Not Syncing Issue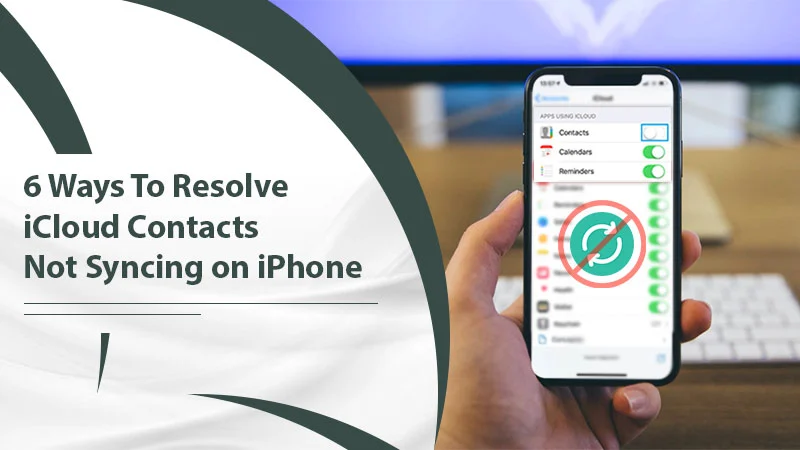 It makes total sense that one will prefer storing their phone contacts on their email. Also, reputed service providers like iCloud offer this feature of syncing contacts. However, it also means that iCloud contacts not syncing will cause significant panic.
In this blog, we cover the issue of contacts not syncing to iCloud and vice-versa. By the end of it, you will get your important contacts with you. Let us begin with the main sections.
Read Also:- How To Solve iCloud Email Not Working
Reason Behind iCloud Contacts Not Syncing
The most obvious reason is a bad internet connection. This prevents the sync task from happening.
There might also be some incorrect settings in place which are preventing the operation.
Another possibility is that there is not ample space in the iCloud storage.
One more factor that can act as a blocker is using an older version of the software.
After you go through the reasons, you have much better clarity of the scenario. Now we proceed to the fixes of various scenarios.
Fixes To iCloud Contacts Not Syncing on iPhone
First, we cover the fix for iPhone devices. Feel free to try any of the fixes mentioned below.
First Option: Connect To a Stable Network
You should check your WiFi connectivity on another device. It will help you determine your reception. If it works well, try to put your phone on Airplane mode. You can also restart your phone and try to sync again.
If the WiFi connection is not stable, restart your router. If it persists then you can also contact your internet service provider.
Second Option: Disable Low Data
A common reason behind the iPhone contacts not syncing to iCloud is using the low data mode. It activates by itself if you are using a restricted network or even a mobile hotspot. However, it restricts the functioning of background activities. To turn it off:
First, you need to go to Settings. After that, click on WiFi.
After that, tap on the tiny blue I located beside the network.
Next up, you need to hit the toggle button beside Low Data Mode.
This will now turn off your low data trouble. Now, your issue of iCloud contacts not syncing should stand resolved.
Read also: iPhone Not Syncing with Outlook Contacts
Third Option: Enable Sync From iCloud
Most people use this option to prevent Google contacts from syncing with their iOS devices. However, it can lead to iPhone contacts not syncing to iCloud. So you need to turn it off. The process to do so is:
First, you need to go to Settings, and after that, click on the name that is present.
Next, you need to click on iCloud. After that, you have to click on the toggle button beside Contacts.
Please note that if it was on, then you can try to turn it off and wait. And then, you can turn the sync back on again.
Third Option: Login To Your Apple Account
To proceed with this fix, click on Settings on your iPhone. After that, click on the name to launch iCloud settings.
After that, navigate to the Sign Out option. Then you need to click on it.
Next up, you need to feed the Apple ID password, and then choose Turn Off on the top-right. This will sign you into the iCloud account.
After that, you find the Sign-in option. All you need to do is tap on it and then enter your credentials.
This should now resolve your issue of iCloud contacts not syncing.
Fourth Option: Clear Storage
We would like to inform you that Apple offers 5 GB of iCloud storage for free. That amulet is pretty easy to fill quickly. So this might be the reason behind iPhone contacts not syncing to iCloud. So you might need to empty some space. However, before you start clearing out your data, check the free space.
Go to Settings, and then tap on the name.
After that, you have to click iCloud.
The bar present near the top of the screen displays the amount of space available.
If it is mostly full, then clear out some space using Manage Storage. If there is ample space, then proceed to the next option.
Fifth Option: Set iCloud as Default Contacts Account
You can set your iCloud as the default account to sync contacts with. To proceed with it:
Click on Settings. After that, go to the option of Contacts.
Next, you need to navigate to the bottom. Here you will find the option Default Account.
After that, opt for iCloud as the default option.
Sixth Option: Update iPhone's OS
Missing updates can lead to not only compatibility issues, but missing out on bug fixes as well. So the best way forward is to download and install the updates. To do this:
Navigate to your phone through Settings > General > Software Update.
If any software update is available, it will appear in front of you. After that, you need to choose Download and Install.
Now, wait for the updated installation to finish. Please be patient as any incorrect act can lead to major issues.
Read Also:- How To Recover if iCloud Email Hacked 
Resolve the Issue of iCloud Contacts Not Syncing On Mac
The fixes are pretty much similar on a Mac system. The most common fixes include:
Ensuring that the system has a reliable internet connection.
Restarting the Mac and waiting for the sync to happen.
Enabling and disabling the iCloud contacts on your system.
Here is an alternate method that will help you in the worst case.
Bonus Option: Using the Force Stop Method on a Mac
First, you need to Force Stop the Contacts application.
After that, you can force the system to resync the Address Book.
For this, copy the location ~/Library/Application Support/. After that, launch a new Finder window.
Next up, you have to navigate through Go > Go to Folder. This is where you need to paste the address.
When the location opens, find the AddressBook, and rename it to OldAddressBook.
Now launch the Contacts app and ensure that it shows No Cards.
Finally, restart your system and then launch the Contacts App. Now it will create a new folder and sync your data again.
To Conclude
The issue of iCloud contacts not syncing is not tough to resolve. However, it is quite necessary to fix. So, try the basic fixes first, since we feel they should be enough. If they are not, then proceed to the ones which might take some more time and expertise or you can email or call our Email Technical Support engineer for assistance.