Is Your iCloud Email Hacked? – Apply These Fixes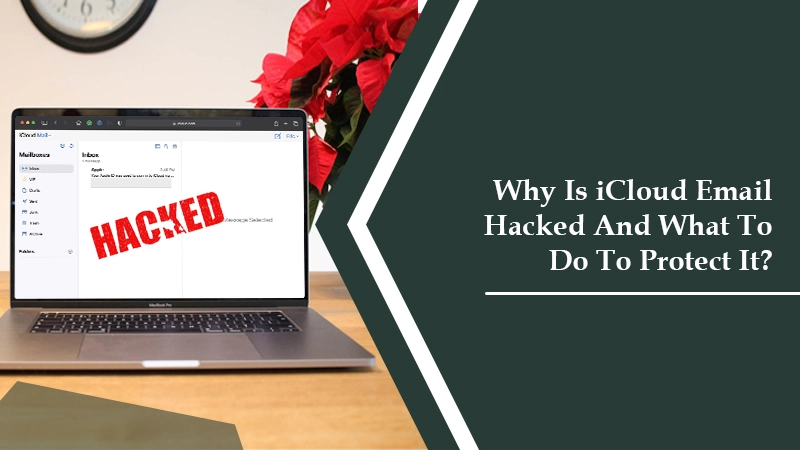 iCloud is a common storage service that efficiently creates a backup of all your files. The service is highly secure. However, today, with the growth of new technology, it isn't difficult for hackers to hack this service. In fact, such cases are becoming more prevalent. iCloud email hacked is a commonly reported issue that no one should take lightly. One of the most prevalent reasons why your account is hacked is because of a weak password. That's why it's always advised that you keep changing your password regularly and always make a strong one. In this article, we'll find the signs and symptoms that indicate that your iCloud is hacked and what you can still do to safeguard it.
Also Check:- Why iPhone Mail Notifications Not Working
iCloud Email Hacked – What Leads to It?
There are more than a few ways through which hackers can gain control of your account. Some of the most common ways are given below.
A Download of Suspicious Apps
If you have installed an app from a place other than App Store, it's very likely that the app is a malicious one. Once you get such an app installed, it's very easy for the hacker to steal your information. 
What's more, although Apple has stringent rules over the kind of apps that can be included in the App Store, sometimes infected apps do manage to come in. That's why it's essential for you to always be vigilant about what permissions you are granting to the downloaded app.
High Usage of Public Hotspots
All public hotspots are not unsafe. Those which are encrypted are perfectly safe. However, unencrypted ones make your iCloud account prone to hacking attempts. When you use such hotspots, hackers can intercept your password after you input it. They can also steal a cookie that helps you to keep signed into your account. It's better you do not use public hotspots too much and install good antivirus software on your phone.
Usage of Weak Passwords
A common reason why people complain about their iCloud email being hacked is because of the weak password. Did you know that today hackers have at their disposal advanced software which repeatedly makes an attempt at your password? In such a case, if you have a weak password, it won't take long before they guess it and hack your account. 
Don't ever think that since you are an average user, no one would like to hack your account. Advanced technology has made it very simple for hackers to hackers to easily access hundreds of accounts at once.
Also Check:- Why iPhone Email Not Updating
How Should You Deal with a Hacked iCloud Email?
There are many things you can do to enhance the security of your iCloud email. If you think that your emails are under attack, it's best to follow the measures provided below.
Inspect the Devices That You Have Given Permission to Sync Your Information
It's easy for you to see all the authorized devices in iCloud. If you feel that your account's been hacked, immediately check the devices which are linked to your account. Head over to 'Settings' and go to 'Apple ID.' Now, locate the list of devices that are authorized. Remove the ones you don't use.
Sign in to Your iCloud Account
You should also try to sign in to your iCloud account. The reason behind it is that it may be possible that the hacker has not yet changed your iCloud account password. If this is the case, it's certainly good news. You can simply sign in to your account and change your password. It will help you recover your account. Always ensure that the new password you make is a strong one. 
If logging into your account is not possible, you must reset your password. You can also use security questions to unlock your account.
Turn on Two-Factor Authentication
Enabling multi-factor authentication is a great step toward boosting the authority of your iCloud. It prevents the hackers from gaining control of your account and also notifies you about their hacking attempts. 
Here's how you can configure two-factor authentication on iPad, iPhones, and iPods.
Head over to '

Settings

,' your name, and then to '

Password & Security

.'

Click '

Turn on Two-Factor Authentication

.'

After that, click '

Continue

.'

Input the phone number where you wish to get the verification codes when you log in to your account. You have the option to get the code via an automated phone call or a text message.

Then click '

Next

.'

Input the verification code that you got and turn on two-factor authentication.
Don't Ignore Your Suspicions
If you find your phone utilizing more than usual data or your battery life rapidly diminishing, don't dismiss them as normal problems. Instead, take them as warning signs of a malicious attempt. Often, these are indicators that someone is spying on your phone. You should take action immediately.
Check the Data Associated with Your Account
It's very important to go through all the information that's linked to your account. See if anything has been changed. It is also wise to go through the security questions and change their answers. Ensure that the answers are such that they cannot be easily guessed by anyone. They will act as a strong protective measure for your email. 
Inspect the Associated Email Address
It's also likely that this problem started with the email address that's associated with your account. If it is so, you should check that email account also. See for signs of intrusion. It's best to take steps to change the password of the associated account at this point. It will help you to protect all the data that is inside this email account.
Final Thoughts
iCloud is vulnerable to a lot of hacking attempts. It's because it has a huge user base. If you find your iCloud email hacked, it's important you take the steps mentioned in the article. Additionally, pay attention to the various causes that can lead to your account getting hacked in the first place. If you need more assistance with safeguarding your account, contact the professionals of an email technical support service.