All the Fixes You Need to Know to Fix Outlook Error 0X800CCC0E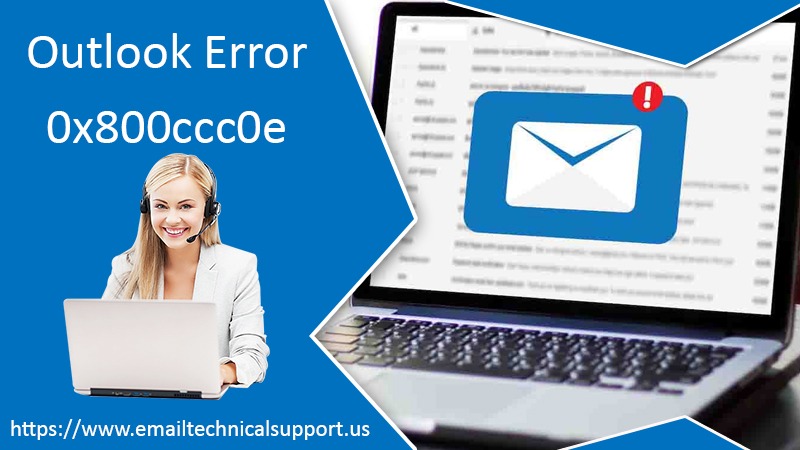 Microsoft Outlook offers great email functionalities and is highly secure. However, it still doesn't mean that it is devoid of problems. A common error resulting in a failed email exchange is Outlook error 0x800CCC0E. It occurs when there's a technical glitch with Outlook or Outlook Express. A conflict between SMTP servers is the main cause of it. To resolve it, inspect your internet connection and examine Outlook email account settings. If the problem doesn't resolves, use Outlook in safe mode. This article will give you possible fixes for this error.
Resolutions for Outlook Error 0X800CCC0E
You can fix this error through various approaches. Use these handy resolutions and start emailing again.
Examine Outlook email account settings
If you have checked your internet connection and found no issues, check the email account settings. Incorrect settings often lead to error code 0x800CCC0E.
Launch Outlook and move to the 'File' tab.
From the drop-down menu, hit the 'Account Settings' option.
Tap the 'Email' tab.
Launch the Account Settings box by double-tapping on your Outlook email account.
Check that the IMAP or the incoming mail server settings are configured to imap.yourdomainname.com.
Here, yourdomainname refers to your real domain name.
Similarly, ensure that the SMTP or the outgoing mail server settings are configured to smtp.yourdomainname.com.
Here, too, yourdomainname is your real domain name.
Save the changes you have made by tapping 'OK.'
Exit MS Outlook.
Now restart it and see if the error persists.
Clear the stuck messages in the outbox
Deleting stuck emails in the outbox can also help resolve the IMAP 0X8000CCC0E error. If you want to know more about the Outlook IMAP Settings you can read this post.
Go to the 'Send/Receive' tab in Outlook.
Now, tap the 'Work Offline' option.
Head to the outbox folder in the left pane.
Right-tap the message that's stuck and remove it by selecting 'Delete.'
Modify the port number
You can also modify the port number if Outlook cannot synchronize subscribed folders. Change the port number by going to the 'Account Settings' section.
In Outlook, go to the 'Tools' menu.
Now, select 'Account Settings' from the dropdown.
In the 'Account Setting' box, tap the 'Email' tab.
Next, select 'Email Account.'
in the window that opens, hit the 'More Settings…' button.
The 'Internet E-mail Settings' window will open.
Here, head to the 'Advanced' tab.
Modify Outlook server port number.
Make it 587.
After that, click 'OK.'
Now, you will not encounter Outlook error 0x800CCC0E cannot connect to the server problem.
Use Outlook in safe mode
If checking Outlook email settings and the fixes below it don't work, and you need to access emails, use Outlook in safe mode. It is extremely easy to run the application in this mode.
Just input 'outlook.exe /safe' in your Windows search bar and hit Enter. Your Outlook will begin in safe mode, letting you access the emails.
Also Read: Outlook error 0x800ccc0f
Turn off the antivirus program
Sometimes, the antivirus program obstructs the relevant ports from accessing the email. If this is the case, you'll encounter Outlook error 0x800CCC0E.
Examine the antivirus program settings and temporarily disable them. After that, log in to your email account and check if it works properly. If it does, enable the antivirus again. But add an exception for Outlook email in its settings.
If you use third-party antivirus software with an email scanning functionality, temporarily disable it. This feature can disturb Outlook operations and result in this error code.
You can also go ahead and set up firewall to enable Outlook.exe and Msimn.exe files to access the internet. However, this step is fraught with some security issues. So, do it at your own risk.
Make a new Outlook profile
Making a new Outlook profile can also fix sync errors in Outlook. Use these steps to make a new profile and this error code.
In Outlook, select 'File.'
Head to 'Account Settings.'
After that, choose 'Manage Profiles.'
tap 'Show profiles' followed by 'Add.'
Give a name to your Outlook profile.
Select 'OK.'
Use this profile.
You won't face this error while using it.
Repair Outlook
If you cannot resolve this error by now, it may indicate corrupt PST files. Do a repair of the Outlook application to mend these files.
Open the Run command.
Do it by hitting Windows and R keys.
Besides 'Open' type 'appwiz.cpl.'
Hit the 'OK' button.
Find 'Microsoft 365' in the list of programs.
Right-click it and select 'Change.'
You will find two options, 'Quick Repair' and 'Online Repair.'
Click on anyone. Then hit the 'Repair' button.
Use the on-screen instructions to carry out the repair.
After that, use Outlook and check for the error.
Also Read: Outlook Send Receive Error
Adjust the server time-out duration
Adjusting the server time-out setting by increasing it can eliminate this error code. It is a great fix for various other types of Outlook errors too.
In Outlook, navigate to the 'File' menu.
Now type 'Info.'
Move to 'Account Settings.'
Select your POP3 account.
Now, tap 'Change.'
Choose 'More Settings.'
Now increase the timeout settings by navigating to the 'Advanced' tab.
Also Read: 6 tips to resolve Outlook cannot connect to server error
Frequently Asked Questions (FAQs)
1. What does Outlook error 0x800CCC0E mean?
This is one of those errors that indicate corrupt data in your mailbox database. Users frequently encounter this error after adding new folders to their Outlook accounts. Those who've recently changed their password also change it. When Outlook cannot recognize your account when sending emails or making changes, it causes a 0x800CCC0E error message.
Besides that, other factors for which the troubleshooting is given above are also chief causes of this error. Fortunately, it has various fixes, as described in this post.
2. Why is MS Outlook not sending and receiving emails?
There can be various reasons why you cannot send or receive messages and Outlook. To start off, check whether you have a good internet connection. Find whether your emails have attachments larger than 5MB. Outlook won't send such large files. You may also face problems if you've recently changed your password. Ensure that you've also updated the new password in Outlook. If these measures don't work, repair Outlook through the process described above. Additionally, run Outlook in safe mode if you need to access emails urgently.
3. How to check my SMTP server settings in Outlook?
You can easily check your email server's SMTP and IMAP information both Outlook for PC and Outlook for Mac.
a. Tap 'File' in Outlook.
b. Go to 'Account Settings.'
c. Select 'Account Settings' again.
d. Go to the 'Email' tab.
e. Double-tap on your account.
d. Find the SMTP information below 'Server Information.'
e. Tap 'More Settings…' followed by 'Advanced' to find the ports for the server.
a. Tap Outlook on the toolbar.
b. Choose 'Preferences.'
c. Click 'Accounts.'
d. Tap your account on the left sidebar.
e. You will find the fields for incoming and outgoing servers.
Make Outlook Send and Receive Messages Easily
Now you won't lose your time when Outlook error 0x800CCC0E shows up. Just use these fixes and make Outlook functional again. Usually, a problem in Outlook settings, firewall, and internet connection cause this issue. Contact an email technical expert if you require more assistance.