Fix Outlook Send Receive Error With Expert Solutions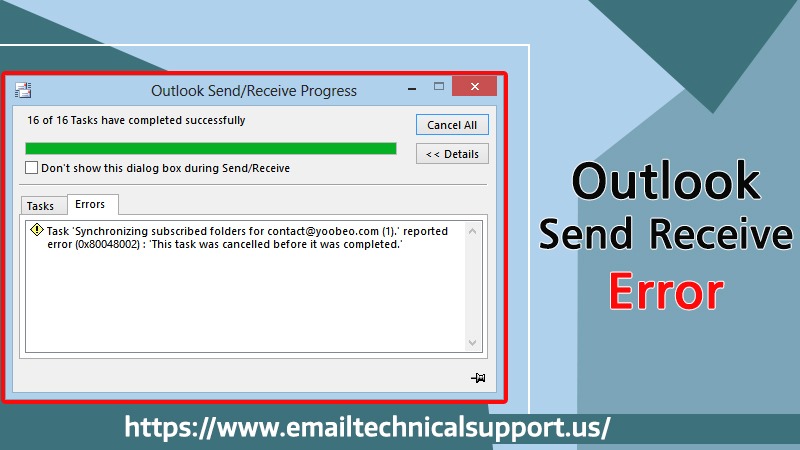 In the technical world, it becomes very necessary to know the root causes of any serious problematic errors occurring in an Outlook account. One harmful error is Outlook Send Receive Error. Most times users experience especially when sending/receiving any mails or messages. Due to several factors, this can make trouble around your work. However, we better understand what you feel and how much you get infuriated when all set to send the urgent emails but unfortunately receive an unknowing error issue. That's why we have compiled here the most reliable and safest methods to solve such a send/receive error in a short while. So, why waste more time if the solution is in front of you guys. Let's begin!
What Are The Causes Of The Outlook Send Receive Error?
Poor or no internet connection available in the operating system.
Incorrect Settings of the Outlook email account.
Mistakenly deleted the suspicious email messages from the mailbox.
Email Profile might not work correctly.
Inappropriate configuration of Outlook.
Outlook data file issue.
Large attachments.
Unpleasant files.
Bad Synchronization.
A constant failure in Outlook 2010 Send Receive Error can impact your business. Many of you might have tried various possible ways by yourself to fix this issue but unluckily still facing the same problem. The blog post provides different product solutions for this type of error. Continue following each one until you send emails without any barriers and receive mails or messages without any kind of disruption in Outlook.
Different Types of Outlook Error Codes
Incomplete message download- 0x8004210a
Server is busy- 0x8004210b
Can't identify or locate the server- 0x800ccc0d
Cannot connect to the server- 0x800ccc0e
When the address is unknown on the server- 0x80040610
How to Fix Outlook Send Receive Error?
Simply, you are suggested to go through the instructions noted underneath. So, let's follow One after another unless you reach the right solution and fix the send/receive error Outlook:
Method 1: Temporary Disable Windows Firewall and Antivirus Program
Sometimes Windows Firewall and any other third-party Antivirus program can trouble in sending and receiving emails on Outlook. Hence, to get rid of it, for the time being, make the Windows Firewall and Antivirus program disabled. Here is how to do that with ease:
Open Control Panel in your Windows System and click on Network Connections tab.
Right-click on the network connection at which your system is connected and then click the "Properties" tab.
Under the Security tab turn off Firewall.
For Outlook 2013 send receive error, follow the steps given below:-
Firstly, go to Files and then click Options >> Add-ins.
Next, click on Manage and go to the Add-in category.
Turn off the Anti-virus add-in.
Once the Send/Receive Error Outlook gets terminated and the inbox is updated, enable the Windows Firewall for safety and security purposes. If the Microsoft Outlook send/receive error yet exists, then continue following the next method.
Method 2: Check For Suspicious Emails
The Outlook 2016 Send Receive Error can also sometimes arise when there is any suspicious mail dropped into your inbox. Suspected emails or messages can block your receiving error message in Outlook. So deleting those suspicious spam emails from the mailbox will be effective in solving this issue. Use one of the following methods to clear the mailbox from any doubtful emails or messages:
Access your mailbox using your ISP's web-based email program. Then, delete the email messages.
Contact your ISP and ask them to delete the email messages.
If this also isn't helpful in fixing Send Receive Error Outlook, move to the next method.
Method 3: Correct The Outlook Email Account Settings
Verify your Outlook Email Settings and if they are inappropriately configured, correct the settings first and then start again sending or receiving emails in Outlook. Let's do it:
Open Outlook and give a tap on "File".
Click on Account Settings -> Account Settings.
Under the "Account Settings" window click the option "Change".
Now click on the "More Settings" tab and select "Outgoing Server".
Click the checkbox next to "My outgoing server (SMTP) requires authentication".
Also, click the checkbox next to the "Log on to incoming server before sending mail" option.
Now, click the "OK" tab to save the changes.
Restart Outlook and check if you are able to send emails.
If you are still facing this error, then move on to the next method.
Method 4: Clear Outbox And Change Server Time-out
The server time-out duration is 1 min by default in Outlook. When you send an email with an attachment of large size, the default server timeout will be insufficient which leaves your mails stuck in Outbox. So, in such a condition, what you should actually do is to clear the outbox ASAP and increase the Server timeout duration as this can help to fix Microsoft Outlook Send and Receive Error. To change Outlook server timeout, follow the beneath guideline:
Launch Outlook and tap on the "File" button.
Follow this path: File -> Account Settings -> Account Settings -> Change -> More Settings -> Advanced.
Under the "Advanced" section you can increase the Server timeout.
Fortunately, this will allow Outlook to send or receive emails. But if yet the problem is unsolved, keep following the next solution method.
Method 5: Run Outlook in Safe Mode
Running Outlook in Safe mode is the most wanted and productive solution to fix Outlook error 0x80040610. To launch Outlook in safe mode just type Outlook.exe /safe in the search box and then hit the "Enter" key. Try sending emails after launching Outlook in safe mode. If this doesn't fix Outlook Send and Receive Error, then there could be a corrupt or damaged PST file in Outlook.
Method 6: Repair PST File
A .pst file is a personal-folders file that stores your email messages, contacts, notes, calendar items, and other data. If the .pst file is corrupt or damaged, you won't be able to send or receive any emails or messages until and unless you perform Outlook.pst repair. You can repair the corrupt PST file using the built-in inbox repair tool.
Conclusion
The Outlook Send Receive Error can effortlessly be eradicated using the aforementioned problem-solving methods. But if you fail to fix the Outlook send/receive error, do let us know via dialing the helpline number. We have deft and skilled Outlook Support experts for providing you assistance.