Outlook Folders Not Showing? Try These Effective Fixes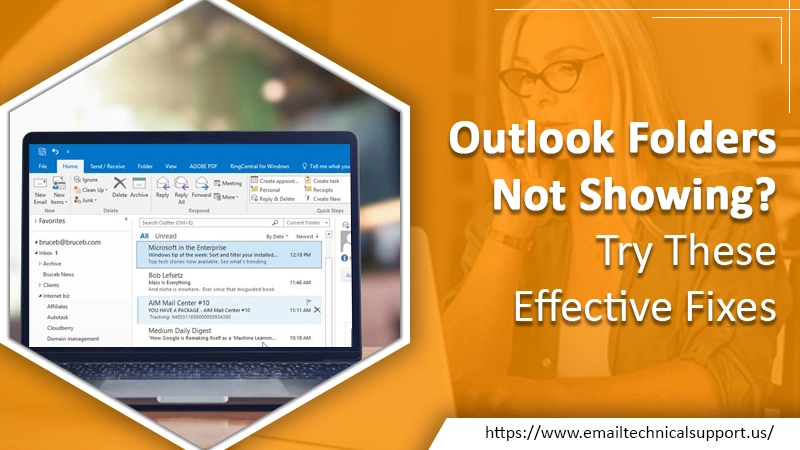 When you notice that some of your Outlook folders not showing, it could be an outcome of a minor problem or something more complex. If the missing folders contained significant data, it might be a source of concern to you. But you can feel relieved by knowing that most Outlook users experience this problem. You can resolve this issue with multiple fixes. In this article, you'll find the reasons for missing Outlook folders as well as some effective measures to retrieve them.
Also Check, Why is: Outlook Inbox Not Updating
Why Your Outlook Folders are not Showing?
Various reasons can cause missing Outlook folders problems. Given below are the most probable causes that often lead to this problem.
A folder may have been mistakenly deleted.

Some of your folders are hidden.

Outlook is not able to sync properly with the server.

A damaged personal folder file.
What to do When You Find Folders Missing from Outlook?
There are various methods at your disposal. Keep reading to know what you can do when you encounter this problem.
1. Recover the Folder from the Trash
Use this method if you unknowingly deleted an Outlook folder but haven't yet emptied the folder of Deleted Items. You can easily recover a deleted Outlook folder and send it to its initial spot. Check the trash in MS Outlook as well as your system trash can. The deleted folder can be in any of those places.
2. Recover the Folder from the Server
This method is for those who have deleted their folder and emptied their Deleted Items folder. Such MS Outlook folder missing issues can be resolved when you try to retrieve the deleted folder from the server. But note that a permanently deleted folder is not recoverable. However, you can retrieve messages present in the folder from the Recoverable Items folder on the Outlook server.
3. Repair the Outlook Program
Another great method to use when Outlook folders are not showing is repairing the Outlook program. When the Outlook program does not sync with the server, you will inevitably face the missing folders problem. To repair your Outlook program, use the in-built Outlook Inbox Repair Tool. Use it to fix the Outlook personal folder file. You will recover the missing folder when it gets fixed via the Repair tool.
4. Check for a Poor Network Connection
A weak network connection can cause you to complain of Outlook folders not showing. A poor internet connection will not permit email services to load. They may result in various problems like emails not being able to show attachments or folders appearing empty. You can also find that your Outlook emails are unable to load at all.
But you can quickly resolve all these problems by checking your network connection and fixing it. A strong connection is what you need to start email syncing between the system and the server. Your missing folders will begin appearing properly again.
5. Reset All Views and Every Folder
It is another effective fix you can try when Outlook folders are not showing. Follow the steps below:
Exit Outlook. 

Tap the Windows key + R on your keyboard to launch the Run dialog box.

Here, input 'Outlook.exe/cleanviews.'
Tap 'OK.'

Outlook will begin. Now you can check for the missing folders.
Also Read, Why: Outlook Keeps Crashing
Final Words
Follow these methods whenever you find your Outlook folders not showing. They are not difficult to follow and will certainly give you the desired outcome. However, if the problem doesn't go away, connect with Outlook customer services. The experts will fix all your Outlook-related issues efficiently.