Methods To Fix Outlook Spam Filter Not Working Issue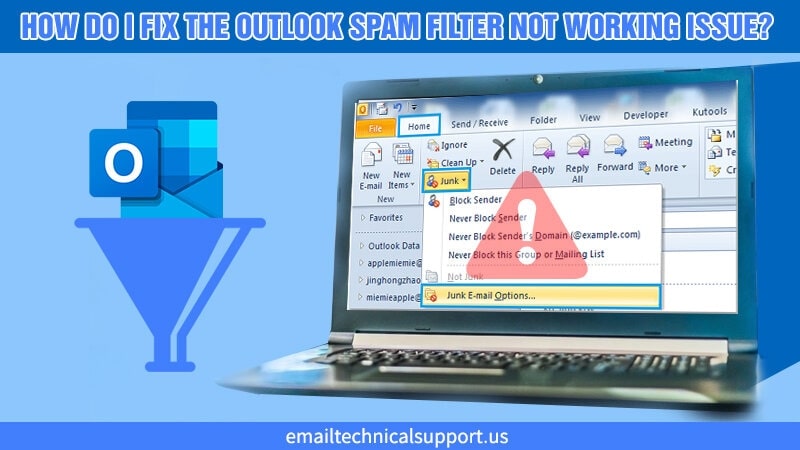 Receiving unsolicited emails or too many unwanted messages in Outlook can be a big annoying problem for users. Microsoft Outlook has an in-built Junk Email Filter that allows you to effort-freely reduce the spam that receives in your Outlook Inbox. Emails addresses that are not on the Safe Sender/Recipient list can sometimes find their path to enter into a mailbox. A couple of Outlook users notice that Outlook Spam Filter Not Working suddenly at times. However, it can be so offensive to get legitimate emails into the Junk Folder. This could generally happen when the spam filter won't work at all. Thus, get an instant and most convenient suitable guide in this post to solve the Outlook junk mail filter not working problem. Stay in touch till the end!
Also Check:- Why Outlook Calendar Appointments Not Showing
What Is The Outlook Spam Filter?
Outlook Spam Filter is a separate feature built into Microsoft Outlook to identify junk mail or messages sent by attackers. By configuring it correctly, you can filter spam in Outlook with proficiency and also catches more junk messages. This helps to minimize the junk mail or dangerous content reaching the inbox by moving them into the Junk folder. Though, seeing Junk E-mail messages which are also known as spam in Outlook inboxes can be a nuisance. It is because spam contains valuable space and makes it more difficult to identify important as well as useful emails. Thus, it is highly advisable to configure the Spam Filter to Standard to get junk emails into the Junk folder.
How Does Spam Filter Work?
There are several different Spam Filters and each uses different filtering methods to clutter spam in your Outlook. Let's give a glimpse of the following Spam Filters to know their use and work :
Content Filters: Content Filters examine the type of information provided in an email. After analyzing the content inside your email will clarify whether or not to mark it as spam.
Blacklist Filters: Blacklist Filter prevents you from receiving emails from senders that have already been put on a list of spammers. Additionally, Blacklist Filters update time-to-time. As spammers may change their email addresses anytime. So, once you update the blacklist filter, the sender's emails are labeled as Spam.
Header Filters: Header filters analyze the header of a specific email to see if it is coming from an unauthenticated source. This may contain Internet Protocol (IP) addresses that spammers are more likely to use.
Language Filters: Several times many spammers target people who are from other countries. So, they try to send an email that is in a different language or not known to the recipient. Generally, most of the users always want to receive emails in languages in which they are fluent. Therefore, set up a language filter in Outlook as it will classify a legitimate email as spam. Further, you have to check the spam folders when expecting irrelevant messages.
Does Outlook Have A Spam Filter?
Of course! Outlook has a built-in Spam Filter that usually identifies suspected emails or messages and transfers them to the Junk E-mail folder. This will not allow offensive emails to enter the Outlook Mailbox. All the junk emails automatically move to the Spam or Junk folder in your Outlook account. This helps a lot in terms of avoiding unnecessary Outlook emails or messages.
Why Is My Junk Mail Not Showing Up Outlook 2022?
The main reason behind Junk Mail Not Showing Up Outlook 2022 is the interference of the software applications. You may wonder to know the location where your junk mail folder is in Outlook. But unfortunately, you fail to search it out. So, in that circumstance, we suggest you safely close your Outlook profile and start it again after a minute. Now, there is the possibility to see your junk folder as it is listed under the menu tree of your Outlook account.
Furthermore, you might have a setting in the junk folder that anonymously deletes mails which is why the junk folder is empty. You also need to check your Delete Items once as the automatically remove mails directly transfer to the delete folder. Unfortunately, if you cannot see junk mails in the Delete folder, the only option is to recover those emails.
Symptoms Of Outlook 365 Junk Filter Not Working
If Junk Filter stops working all of sudden in Outlook, you may receive a specific error message. The following message will possibly appear on the screen:
Can't add to the Server Junk E-mail Lists, you probably cross the size limit allowed on the server. The Junk E-mail Filter on the server disables until Junk E-mail Lists reduce to actual size.
Would you like to manage your Junk E-mail Lists now?
Junk Email message settings will not synchronize at all.
How Do I Fix Spam Filter Not Working In Outlook?
Is Your Microsoft Outlook Spam Filter Not Working? If so, try using the Safe Senders List in Outlook to fix this problem in a minute. Using the Safe Sender/Recipient Sender list is the ultimate way to keep your Outlook mailbox clear of junk mail. The senders you put in this list will never allow sending spam or junk mail. In general, Outlook by default treats everyone as a safe sender.
Method 1: Add Senders In Safe Sender List
You need to practically add the senders whomever you like to the safe sender list. Here's how:
Launch Outlook.
Locate the "Home" tab.
Now, click "Junk" and go to the "Junk Email Options."
Afterward, go to the "Safe senders" tab.
Add a particular email address that you want to keep receiving emails but inside the junk folder.
Despite adding an address, you can even add a specific domain to the Safe Sender list. You can go for it if you trust it. Just type a domain name in the part of the address field. Follow the steps to stop Outlook from treating every Outlook contact as a safe sender.
First, go to "Junk Email Options."
Under the Safe Senders tab, uncheck the "Also trust email" from the Outlook Contacts box.
After doing so, the spammers will find it harder to directly reach out to your Outlook inbox. But if your Outlook Safe Senders List Not Working, continue fixing with the use of the next Method.
Method 2: Set Junk Mail Filter To Standard
To adjust the Outlook spam filter accurately, follow the instructions such as:
First, open Outlook.
Next, go to the "Settings" tab.
Thereafter, choose the option "View all Outlook settings".
And then select the "Mail" tab.
Now, choose the Junk email.
Under the "Junk Filters" section, select the "Block attachments, pictures, and links from anyone not in my Safe Senders list" checkbox.
Finally, click the "Save" button to save the changes.
If Outlook Junk Mail Not Syncing or not receiving useless emails in Junk Folder, move to the next Method.
Method 3: Alternative Ways To Reduce Spam
Although the Spam Filter is beneficial, try these courses of action to reduce the spam that receives in Outlook:
When a junk email is inside your Inbox, select the message, go to the navigation bar, and choose Junk. Thereafter, in the menu that appears, select the "Junk" option again. Outlook will then send the selected emails to the Junk folder.
Don't reply to spam or simply unsubscribe from spam emails or messages.
Add email addresses or domains to the Blocked Senders list to send them directly to the Junk Email folder.
Add people or domains that you always want to receive emails from to the Safe Senders list.
Read Also- Why Outlook keeps crashing?
Wrapping Up
I hope, you got relevant informative guidance to resolve Outlook Spam Filter Not Working problem. If the Junk E-mail Filter is still not working, feel free to connect with us for reliable Outlook Technical Support. We are highly experienced and well-talented tech geeks who work hard to support you in any condition. Dial the 24X7 accessible helpline number and be in touch with no hassle. In a very short span, your Spam Filter will work and further you will all your spam into the Junk folder.