Yahoo Mail Not Syncing? Know the Most Effective Fixes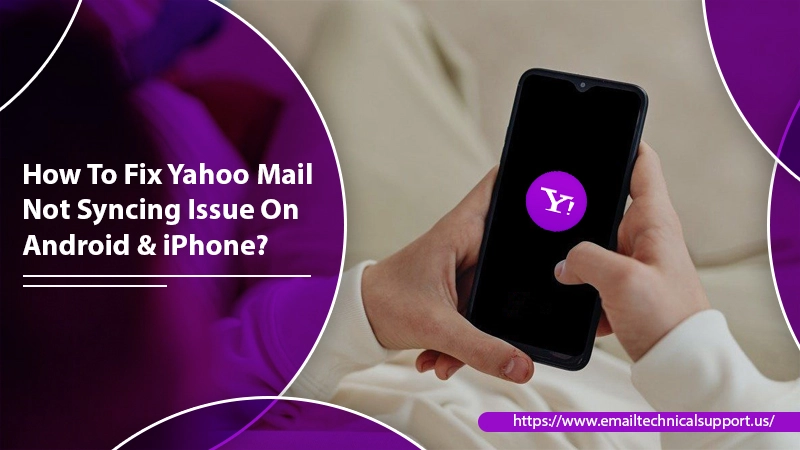 The Yahoo Mail service is known for its diverse set of features and flawless security. The mail service can be used on various platforms like Windows, Android, and iPhone. However, at times syncing issues can make working with this email service impossible. Yahoo Mail not syncing problem, irrespective of which operating system it occurs, can impact your workflow significantly. If you face this problem, you cannot send or receive important emails. In this article, you'll find the various fixes to resolve this error in Android and iPhone.
Also Read, Why: Yahoo mail not working
Resolve Yahoo Mail Not Syncing Problem on Android
Android users commonly face this issue when they are using the mail app on their phones. Syncing problems also make you unable to update contacts and execute your usual tasks. Below are some effective ways to fix this problem.
1. Update Your Yahoo Mail App
It's the best and easiest method to deal with Yahoo Mail not syncing on Android issues. If you cannot receive or send emails, you must check whether you have the mail app's latest release.
You can get the updated version by either visiting the site of the manufacturer or updating your app from the Play Store.
2. Remove App Cache
Lots of accumulated junk in the form of cache and cookies can result in the Yahoo Mail not syncing issue. So, you must remove them regularly. Follow these points for this process.
Go to '

Settings

' followed by '

Internal Storage

.'

Next, select '

Cached Data

' followed by '

Remove

' and then press '

OK

.
Also Read, Why: Yahoo Mail Notifications Not Working On Android
3. Reinstall the Yahoo Mail App
Small glitches in the app can give rise to various syncing issues. So you can remove the app and reinstall it to fix the glitches. Press and hold the app and choose 'Delete.' For reinstalling the application, go to the Play Store.
4. Force Quit the Mail App
Force quitting the application and re-launching it is also another fix you can use when you notice Yahoo Mail not syncing on Android. Force quitting shuts down the problematic instances and enables you to make a fresh start. It also refreshes the active memory and recovers the syncing capacity of the mail application. Follow these points to force stop Yahoo Mail on your Android phone.
Hit the '

Home

' button.

Next, press '

Menu

' and click '

Settings

.'

Now touch '

Apps

.'

Tap the Yahoo application that's not syncing.

Next, tap '

Force Stop

' twice to confirm the action.

Open the app and check if the issue persists.
Also Check, How to fix: Yahoo Mail Login Problems
Resolve Yahoo Mail Not Syncing Issue on iPhone
Similar to Android, iPhone users can also face sync problems with their phones. However, there're many techniques you can use to eliminate this problem.
1. Enable LTE
LTE refers to a 4G long-term evolution and is usually defined as wireless broadband communication. It enhances the network's strength while you are using cellular data.
So, when you use your mobile data for syncing Yahoo emails on your device, it's best to turn on LTE. It will help you attain the best internet speed.
2. Remove and Add Your Yahoo Email Again
If you don't have any network problems but still face the Yahoo Mail not syncing issue on your iPhone, you attempt to remove your mail account. Then, you can read the account again.
Follow these steps to remove and read your Yahoo email account on your iPhone.
Open your iPhone's settings. 

Choose the option of '

Accounts and Password

.'

Next, choose your Yahoo Mail account.

Now, select the option of '

Delete/Remove account

.'

Head over to settings again, and select '

Accounts and Passwords

.'

Choose '

Add Account

.' Then, from the list of options, choose '

Yahoo

.'

Input your Yahoo email address and password, and tap '

Sign-in

.'
3. Resolve Sync Conflicts in Yahoo Contacts
Sometimes, sync conflicts or duplicate address book entries occur. It happens when you have two versions of the same Yahoo contacts. To fix duplicate contacts in Yahoo, follow these points.
Firstly, navigate to Yahoo '

Contacts

.'

Next,

Sign in

with your Yahoo account when you are prompted for it.

After that, choose '

Fix Duplicate Contacts

.'

Yahoo Contacts will show duplicate contacts present in your address book. Apart from that, it will also list where the duplicates have all the same data or the same name but varied data.

Select '

Merge All EXACT

.' Alternatively, choose '

To

' or '

Review each duplicate

' and decide what you desire to merge.

Carry this process for all the duplicates till there's nothing left.
4. Check whether You have Properly Synced
Another very effective way to fix the Yahoo Mail sync error on iPhone is to see whether you have performed the syncing correctly. Follow these points to check it.
Launch '

Settings

' on your iPhone.

Now scroll to the page for fixing or troubleshooting the issue.

Open the option '

Mail, Contacts, and Calendars

.'

Once there, click '

Add Account

.'

Choose Yahoo from the list that you see. Now enter your name, Yahoo Mail ID, password, and account description.

Tap '

Next

' and turn the '

Mail

' option to '

On

.'

Lastly, click '

Save

' so that your changes are maintained. Now you won't face the syncing problem on your iPhone.
Also Check: How to Add a Signature in Yahoo Mail
Final Thoughts
Yahoo Mail not syncing on your device can feel like a major hindrance to your workflow. But the resolutions for it are quite simple to understand and follow. Apart from implementing these techniques, you should also check for an active internet connection. If the problem persists even after you use these methods, contact an expert Email Technical Support services and get rid of the problem easily.