Yahoo Mail Not Loading on Chrome? Use This Troubleshooting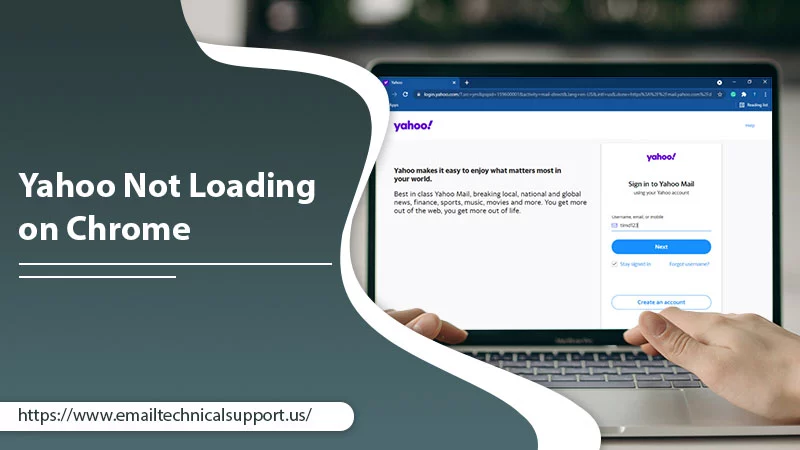 Google Chrome is one of the most advanced web browsers available. However, it is not wholly immune from encountering various errors. Many users find Yahoo not loading on Chrome. It can happen because of an unstable internet connection or because the Yahoo service is down. This article will give you all the possible fixes for this issue. You'll also learn why Yahoo Mail doesn't work properly in Chrome.
Fixes for Yahoo Not Loading on Chrome 
Start with easy fixes like updating Google Chrome or even restarting your computer. If these don't work, progress with other techniques.
Restart your system
Sometimes, it's best to just restart your system when facing this error. Although it may seem insignificant, restarting flushes out random data, slowing your PC down. Clearing temporary files, helps your system run faster and more efficiently.
Moreover, if Yahoo Mail not working in Chrome is an outcome of an unstable internet connection, restarting begins the internet connection again. It can also resolve Bluetooth connection problems from your system to another device.
Clear cookies and cache
Clearing cookies and cache regularly is a preventative measure for Yahoo not loading correctly. To clear cookies and cache from Chrome, Tap on the three vertical dots in the upper-right part. Keep the cursor on 'More Tools' and select 'Clear browsing data.' Choose 'All Time' and mark the 'Cached images and files' & 'Cookies and other site data' option. Hit 'Clear Data.'
When you reopen the Chrome browser, you won't face issues accessing your Yahoo account.
Turn on JavaScript
JavaScript is enabled by default in the web browser. If you mistakenly disabled it, you may notice Yahoo Mail not working with Chrome.
Tap 'More' at the top-right part.
From the dropdown menu, choose 'Settings.'
In this section, select 'Privacy and Security.' It is on the left part.
Now, choose the 'Site Settings' option.
Scroll down till you find JavaScript, and click on it.
In the succeeding screen, if you notice the option, 'Don't allow sites to use JavaScript' choose 'Sites can use JavaScript.'
After doing that, restart the web browser.
Sign into your Yahoo account.
Also Read: Yahoo Mail Search Not Working
Get the latest Chrome version.
An outdated Chrome browser has a high probability of having bugs and glitches. These can interfere with its optimal working. Yahoo not loading correctly can be an outcome of an outdated browser.
Launch Chrome.
Now tap the 'More' button, denoted by three vertical dots at the top-right portion.
From the dropdown menu, opt for the 'Settings' option.
Now from the lower portion of the left panel, tap 'About Chrome.'
If an update is available, Chrome will start updating automatically.
After it updates, open it again and access your Yahoo Mail.
Disable unreliable browser enhancements
Often, users have many browser extensions on Chrome. They prevent you from accessing Yahoo mail. But you first need to rule out whether browser extensions are behind Yahoo Mail not opening in any browser like Chrome.
To identify it, open Yahoo Mail in incognito mode. If you can access your mail without facing any loading or freezing issues, it indicates a problem with the extension. Now you need to find the problematic extension. Do so by disabling each extension one at a time and loading Yahoo Mail.
Tap the 'More' option on Chrome browser.
From here, choose the 'Extensions' option.
In the next window, you'll see various extensions for Chrome.
Now, start disabling them one by one.
Also Read: Yahoo mail login problems
Reset Chrome to factory settings
Are you still wondering why Yahoo freezes in Chrome? Try factory resetting the browser to remove any unknown glitches.
Pick the 'More' option from the top-right part.
Next, opt for the 'Settings' option.
Find the 'Advanced' option from the left-hand panel and select it.
Below this section, tap 'Reset and Cleanup.'
After that, tap the option, 'Restore settings to their original defaults.'
Hit the 'Reset Settings' button to confirm your choice.
Restart the browser and log in to your Yahoo Mail account.
Check whether you still face issues.
Deactivate the security software
Disabling Windows firewalls or any other antivirus also resolves various email problems. So, if nothing has worked so far and you still find that Yahoo won't load in Chrome, deactivate the security programs in your system.
Input 'Windows security' in the search bar.
Run this application.
Head to 'Virus & Threat Protection.'
Look below the 'Virus & Threat Protection Settings' tab.
Here, click 'Manage Settings.'
Switch off the real-time protection.
Confirm your action by pressing 'Yes.'
Now, open Yahoo Mail and Google Chrome browser.
If the security software was behind the issue, you'll not find any problems using your account.
Also Read: Yahoo Mail Not Receiving Emails
Fix problems in sending and receiving Yahoo emails
Another related problem is users being unable to exchange Yahoo emails on Chrome.
If you cannot receive emails, find whether the problem is really with your Yahoo account or your recipients. Check the Yahoo spam folder for an expected email. Examine the filters to check their functioning. Also, examine the Blocked Senders list.
If you cannot send emails, double-check the recipient's email address. Check the Yahoo Mail 'Sent' folder, as the sent emails are present there. Finally, examine the 'Drafts' folder to see if the unsent email exists.
Check IMAP or POP settings.
One of the prominent reasons Yahoo Mail settings do not work in your browser is that they are incorrect. Here are the right POP, IMAP, and SMTP server settings.
The Incoming Server Name should be pop.mail.yahoo.com.
The port is 995.
The POP server requires SSL.
The IMAP Server Name should be imap.mail.yahoo.com.
Its port is 993.
The IMAP server needs SSL.
The Server Name should be smtp.mail.yahoo.com.
The Port Number is 587 or 465.
SMTP server for POP requires SSL and TLS, while that for IMAP requires SSL.
SMTP Server needs authentication.
Frequently Asked Questions
Why is Yahoo Mail not working in Chrome?
Some common reasons behind this issue are:
Weak internet connection, making Chrome unable to connect with the Yahoo Mail page.
Excessive browser cache, resulting in Chrome browser loading and freezing.
A disabled JavaScript is Chrome, causing loading errors.
Unnecessary Chrome extensions block the connection with the Yahoo website.
Interference by an antivirus program.
Why is Yahoo Mail not opening?
Your Yahoo Mail may not open because of the wrong credentials. Check whether you are using the right password and Yahoo ID. If you cannot remember them, use the 'Sign-in Helper' to regain access to your Yahoo account. You only need an alternate email address or recovery mobile number to regain access.
Yahoo Mail may also not open if you sign in from an unknown location or device. In such a case, you'll need to authorize your presence by entering the verification code that Yahoo sends to your email and mobile.
Which browsers work best with Yahoo?
Yahoo supports many browsers. But suppose you are using an unsupported browser or an older operating system. In that case, you'll find Yahoo Mail not working with Chrome.
Firefox, Chrome, Safari, and Edge are the main browsers through which accessing Yahoo Mail is simple. If you have these browsers but still find Yahoo Mail not working, update them to their current version.
Also Read: Yahoo Images Not Showing on the Browser
Summing up
This comprehensive guide will help you fix Yahoo Mail not loading on Chrome issue effectively. We have addressed all the causes of this problem along with giving you suitable fixes. But if you still find issues in loading Yahoo Mail on Chrome browser, it's best to reach out to a professional email technical support service.