AOL IMAP setting gives permission to users to access their AOL mail account from another email client or app. After the settings, you can access AOL Mail through any compatible email clients by entering a few specific information about your account and AOL mail. If you want to access AOL Mail messages and folders in Outlook, Mac Mail, Windows 10 Mail, Thunderbird, Incredimail, or in an email app for a compatible provider, therefore you just need to enter AOL Mail IMAP server settings.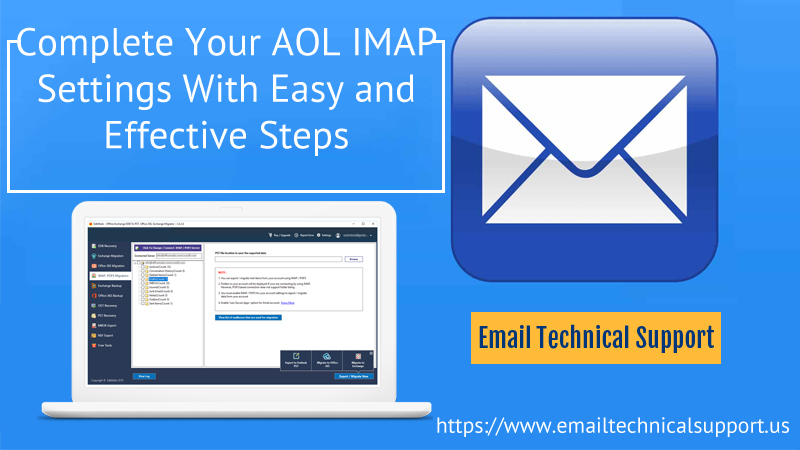 If you want to do AOL email settings at a different mobile app, you don't need to do such a task. As the phones are already configured to contain the IMAP settings except for your user name and password. For example, when you want to set an AOL Mail account to the iPhone Mail app, then open the Accounts setting section on your iPhone and choose the AOL icon. After this, you will be able to access your AOL account in any mail account.
But before you perform such an activity, you need to have a few required information. Therefore, read further to know about such settings.
AOL IMAP Settings Information
When you try to set up an AOL mail account with different email providers or apps, you need to enter a few specific information. This information will help you in accessing AOL from other email service providers. Therefore, enter below IMAP settings to receive AOL Mail:
AOL MAIL IMAP server address- imap.aol.com
AOL Mail IMAP username- Here you need to put your AOL Mail email address, for example, username@aol.com
AOL MAIL IMAP Password- Enter your AOL Mail password here
AOL Mail IMAP port- 993
AOL Mail IMAP TLS/SSL- Yes
If you are not aware of IMAP settings, then you must be thinking about it, right? Well IMAP stands for Internet Message Access Protocol, and it is a process that allows users to access electronic mail that is kept on a mail server. Therefore, in simple words, email stored on an IMAP server can be read, send a reply from the desktop computer while working in an office, or relaxing at home. You can even use this service on your laptops while traveling. The best thing about this feature is that- you don't need to transfer messages back and forth between computers. This message access protocol works best for people who are dependent upon using multiple computers in different locations. You can simply manage all your emails in one place.
AOL SMTP Settings Information
In case if you want to receive or want to send a new email from your AOL mail account, enter below SMTP settings in the respected fields while making changes in settings. The setup will help you in sending outgoing emails through your account to the AOL mail account from any program. Therefore, active such settings in your AOL account by following the below information:
'SMTP Outgoing Server Address' here you need to enter: smtp.aol.com
'SMTP port'– type 465
'SMTP security' under this choose– TLS/SSL
'SMTP username' here enter- AOL Mail email address user@aol.com
'SMTP password' here you need to enter: AOL Mail password
How to configure AOL SMTP Settings?
In order to configure  AOL SMTP Settings, one has to perform, the following steps:- 
First of all, visit the Tools menu, and then click on Account Settings

.

In this section, you have to select the SMTP option.

Hit the Add button to set a new SMTP.

When it is over, then enter the required fields such as

Under the Description field, you have to analyze the best server to use Gmail or Yahoo.

Connection security: in itself, As you already know that SMTP email transfer doesn't allow cryptographic techniques. However, to make the secure connection, select SSL/TLS extension.

To make it authenticated, you can use several techniques like Kerberos, passwords, and CRAM-MD.
Missing Features From Other Mail Application
When you get access to the AOL Mail account from other email applications, of course, you can send/receive emails. You will also have access to use all the folders but expect few. Below we have mentioned a few features that you are unable to use because they are not available.
Have a glance below:
Message Status: You will be unable to recover unopened mail from AOL users. Checking the status of the sent message will be unable like you can do in the AOL Mail interface.

Spam: Report Spam button will be unable. If you want to report a mail as spam, you need to move it first to the spam folder or junk folder of the email client.

Deleted Mail: Some email applications do not show deleted mail. Whereas some shows delete emails in the original folder but marked as deletion.
Why choosing IMAP?
Although when accessing AOL mail from other clients' accounts, it recommends using AOL IMAP settings instead of POP3. Although both are message access protocols supported and give access to use AOL in other email accounts. But what is the reason behind this recommendation?
Actually, IMAP syncs the service with your AOL Mail account. Whatever you do with the message it is visible in the AOL Mail interface at AOL. It doesn't matter whether you are using an email service, apps, or using a browser, it will show up in all.
On the other hand, POP protocols do not sync email actions. POP protocols are in the habit of downloading a copy of the email from AOL Desktop Gold. Therefore, if you delete the email in one place, it will also get deleted in other folders.
Hence, AOL Mail recommends users use IMAP message access protocols than POP3.
Guidelines for common AOL mail applications
Here is a list of guidelines that one has to follow for several AOL mail applications. They are like:
Thunderbird
Firstly, visit the Tools menu and choose Account Settings from the sub-menu.

Now hit the Account Action button and choose to Add option in order to add the Mail Account.

Under this section, carefully type the correct mail account details.

Hit the Manual Configuration option and edit the names of the servers, ports, IMAP/POP.

Choose the Re-test option to test the manual settings. 

If manual settings are valid then it will respond in a quick way.

However, to abort the testing process, click on the Stop button.

After editing the server names and ports, again click on the Re-test button.
Windows 10 Mail
Under the Windows start menu, click on Mail.

In order to begin, choose the Add option to add the account.

If you have used the application previously, click on Settings and select the Manage Account option.

Next, click on the Add option.

At this time, you have to choose the Account type you want to add.

Type the correct email account information and hit the Sign-in option.

Once it is done, click on the Done option. When the account is set up, then it will start syncing the data.