How to Sync AOL Mail Using AOL POP Settings?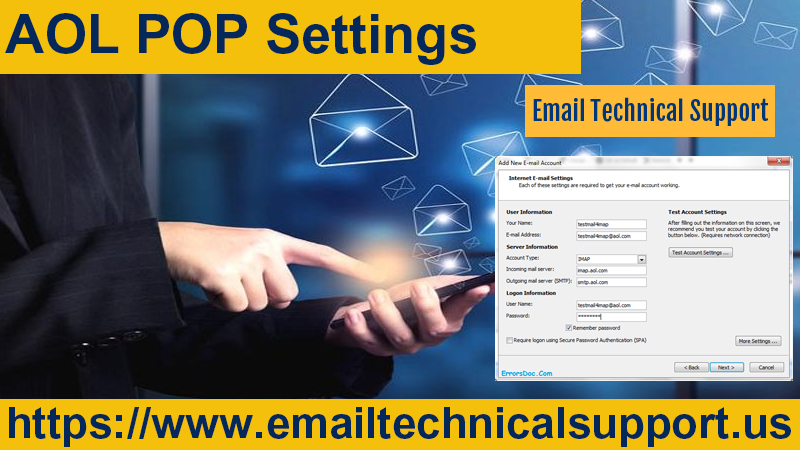 AOL POP Settings must be configured appropriately if you want to send your urgent mails to your office colleagues or businessman. AOL Mail IMAP Server Settings configure correctly for receiving any mail. Sometimes, AOL users face difficulties during the configuration of their email on third-party mail applications and devices. Therefore in this blog, we describe the AOL POP Settings for Verizon. These settings can help in setting up your AOL email account on all sorts of third-party email applications and devices. Let's read out the post!
AOL POP Settings & IMAP Email Settings Are Mentioned Underneath:
The following guides are the configuration of AOL POP Settings and AOL IMAP settings which require urgently using the AOL email setup on email applications such as Outlook, Windows 10 Mail, Thunderbird, etc. Hence, make sure the Verizon AOL email settings correct. As failure to do so can prevent the email from being accessible. Let's do it!
AOL IMAP Email Settings
The below instructions will help you out in setting up the IMAP Server Settings:
User Information
Your Name: Enter your name
E-mail Address: Enter your complete email address
Server Information
Account Type: Select IMAP
Incoming Mail Server: imap.aol.com
Outgoing Mail Server (SMTP): smtp.aol.com
Login Information
User Name: Enter your email address.
Password: Insert the password correctly.
Once you enter your email password, check on the 'Remember password' box.
Then, you need to click on the "More Settings" tab at the bottom right corner and click on the 'Advanced" button.
Next, make sure that the SSL encryption enables both incoming and outgoing mail services.
Now enter the incoming port as 995 and the outgoing server port as 465.
In the end, click the "OK" tab to save the settings and thereafter tap "Next" to complete the setup process.
Also Read: AOL Mail Not Working On Android, iPad, iPhone, Or Mac
AOL POP Email Server Settings
POP3 Protocol
Incoming mail server (POP3): pop.aol.com
Outgoing mail server (SMTP): smtp.aol.com
POP3-995-SSL
SMTP-465-SSL
IMAP Protocol
Incoming mail server (IMAP): imap.aol.com
Outgoing mail server (SMTP): smtp.aol.com
IMAP-993-SSL
SMTP-465-SSL
When you try to connect your AOL Mail account via POP from another email program, enter the AOL POP Settings for Verizon:
pop.aol.com- AOL Mail POP3 server address
Type your AOL Mail screen name (for example, if your email address is [email protected], your username name is "me")- AOL Mail POP username
Mail password- AOL Mail POP password
995- AOL Mail POP port
Yes- AOL Mail POP TLS/SSL required
Also Read: AOL Mail Login Problems
AOL IMAP Settings Server Configuration
imap.aol.com- AOL Mail IMAP server address
Your complete AOL Mail email address- AOL Mail IMAP username
Mail password- AOL Mail IMAP password
993- AOL Mail IMAP port
Yes- AOL Mail IMAP TLS/SSL required
AOL SMTP Settings
To receive or send a new email from your AOL Mail account, enter the following SMTP settings in the desired fields that come up during the account setup:
smtp.aol.com- SMTP Outgoing Server Address
465- SMTP port
TLS/SSL- SMTP security
Your full AOL Mail email address, such as [email protected] (or @love.com, @games.com, or @verizon.net)- SMTP username
SMTP password: Your AOL Mail password that you use to log in to AOL Mail
Now, you are able to access AOL Mail from another email application. However, the beneath features aren't available:
Message status: You won't be able to recover unopened mail from AOL users. And even also you can't check the status of a sent message.
Spam: You can't access the Report Spam button. To report an email as spam, send it to the spam folder or junk folder of the email client.
Deleted mail: Some email applications not showing the deleted mail. Some show deleted emails in the original folder but mark the message for deletion.
AOL always suggests its users use IMAP settings in an email client instead of POP3 server settings. However, protocols AOL POP Settings download a copy of the email from AOL. So, if you delete the email in one place, it isn't deleted in the other. Hence, the sent email is safe and secure.
Also Read: AOL mail not working on Android-What should I do?
Contact To Tech-Savvy For Further Query
Dial the helpline number if you are unable to configure AOL POP Settings with the above information. We are a team of highly expert techies available 24×7 for your assistance. So, put a single ring on the provided number as soon as you can and get united with them. Your doubt will definitely be cleared.