Gmail App Crashing? Here Are The Expert Fixes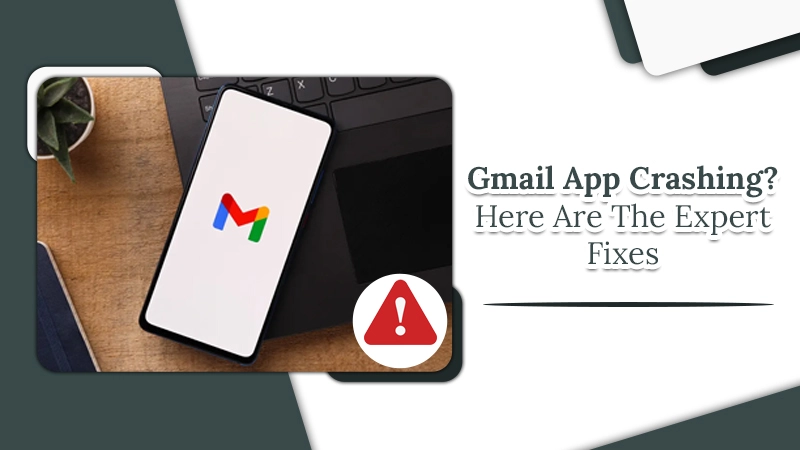 Gmail is undoubtedly a well-performing email service. That's why if you encounter any technical glitches, it takes you by surprise. For instance, when you find the Gmail app crashing, it may feel quite annoying. Not only can you not read the incoming messages, you cannot communicate or send any emails too. Issues like app updates, inadequate storage, and outdated version of the application commonly make Gmail crash. But there are various fixes you can try. In this article, you'll read about the reasons for Gmail crashes and effective fixes to restore its functioning.
Also Read: Why Gmail not working
Reasons for Gmail App Crashing Issue
It's not easy to point out any one cause of this problem. You must know about several factors that have the potential to make your Gmail crash. They include the following:
Google servers are down.

You are using an obsolete Gmail version.

The cache files are corrupt.

Your internet connection is unsteady.

You have enabled battery-saver mode on your device.

New Gmail updates are causing the problem.
How to Fix the Gmail App Crashing Problem?
Before progressing to the techniques mentioned below, you must first restart your phone and find if Gmail still crashes. Often, restarting the phone fixes minor Gmail app issues and allows it to work smoothly again. But if it doesn't resolve the problem, try the fixes mentioned below.
1. Uninstall the App Updates
Although updates usually fix technical glitches, sometimes they can be the cause of the problem. If you find that your Gmail keeps crashing after installing an app update, rolling it back can resolve the issue.
Open the Settings app on your phone. 

Go over to '

Apps & Notifications

' followed by '

Gmail

.'

Choose the three dots on the top-right and select '

Uninstall updates

.'

Choose '

OK

' to remove the app updates. 

Open the Gmail app again after uninstalling updates to see if the problem has been resolved.
Also Read, Why: Gmail Not Working in Chrome
2. Disable Automatic App Updates 
Following the above fix, if you notice that uninstalling the update fixed your problem, you must disable automatic updates. It will prevent the Gmail app from installing the same updates automatically again.
Go to the Google

Play Store

on the smartphone.

Type Gmail and hit 'Open' beside it.

Click the three dots on the top-right part and disable the option '

Enable auto-update

.'
3. Clear Cache 
Often, corrupt cache files in the app make users notice that Gmail keeps crashing. Your app will not perform optimally in the presence of damaged cache files. So, you must remove them.
Go to the '

Settings

' of your mobile and touch '

Apps & Notifications

.'

Now find the Gmail app and click it.

Input '

App Info

' and hit '

Storage

.'

You'll notice the '

Clear Cache

' option at the end of the panel.

Tap it to remove all cache files associated with the Gmail app.

Now the application won't crash.
Also Read, Why: Gmail notifications not working
4. Reinstall the Gmail Application
If you're still searching for a solution to prevent your Gmail app from crashing every couple of minutes, execute a clean installation. It means reinstalling the application using the Google Play Store. Here are the steps you must follow.
Firstly, open the Google Play Store on your smartphone.

Look for the Gmail app. You'll notice two options beside it, namely, Uninstall and Open.

Click '

Uninstall

' so the app gets removed from your phone.

Now reboot your device. Then install the app from the Play Store again.
5. Switch Off the Dark Mode
Did you know that many experts believe the Dark mode to be one of the most common reasons for the Gmail app to crash? There is no evidence that this mode is stable and secure for users. So, it's best to disable it if needed. You can do so by following these steps. 
Navigate to Gmail. Now, from the hamburger icon, launch '

Settings

.'

Choose '

General Settings

.'

Select '

Theme

,' followed by '

Light

.'

Restart your mobile and see if the problem is fixed.
6. Update your App
If updates aren't the cause of this problem, they can be its resolution. An obsolete app version interferes with another updated app. So, you must check if there's an update available for your Gmail app.
Go to Google Play Store and search for the Gmail app.

Click on it. You'll see an update option.

Tap it to install the new updates.
7. Clean the Storage of your Device
You will find that the Gmail app keeps crashing if your device is low on storage space. Use the storage analyzer in your phone to get rid of unwanted files.
Navigate to the '

Settings

' app and choose '

Storage

.'

Tap 'Free up space' to find out what can be removed from your Android phone.
Also Read, Why: Gmail not receiving emails
Final Thoughts
Hopefully, by following these measures, it will be easy for you to fix your phone's Gmail app crashing problem. These techniques are simple to follow and yield the desired result. If you need more support, go ahead and connect with expert Email Technical Support services. The technicians will fix all your email problems quickly and effectively.