How to Recover Deleted Emails from Yahoo? [EXPLAINED]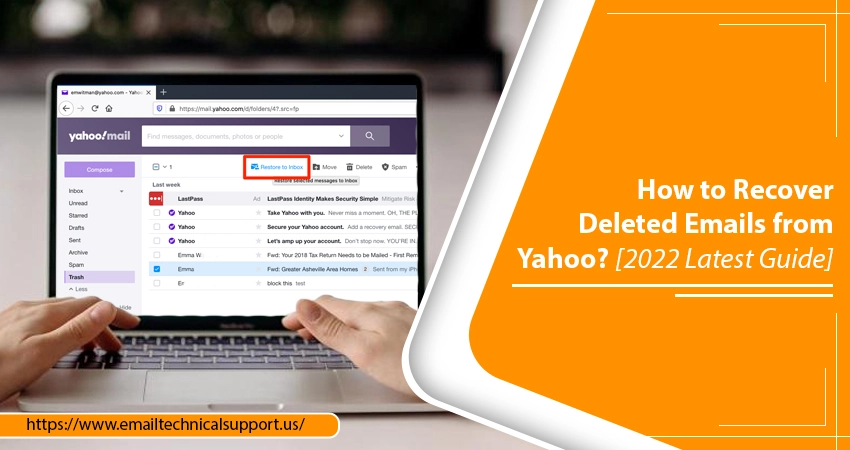 One of the significant cons of having a crowded Yahoo Mail inbox is the possibility of accidentally deleting emails. The problem becomes especially troublesome if you lose some essential emails or permanently delete them. You will definitely wonder "how to recover deleted emails from Yahoo." In such a scenario, can you recover permanently deleted emails? Well, the good news is yes, you certainly can. It is possible to retrieve deleted emails in your Yahoo Mail. There are various ways to do so.
You can either restore emails from the Trash folder or submit a restore request. In this article, you'll find these methods to recover deleted emails in Yahoo in greater detail. You'll also learn how to carry the email recovery process on your Android or iOS device.
Also Read, Why: Yahoo mail not working
How to Recover Deleted Emails from Yahoo?
You can recover deleted Yahoo emails as the email service offers you ways to do that. Given below are the methods you need to use in order to restore important messages you accidentally deleted.
1. Recover Yahoo Emails from the Trash
When you delete emails, they go to your Trash folder. You can retrieve deleted emails from Yahoo Mail, provided they are in the Trash folder. Remember that this folder empties automatically, so your account remains clutter-free. It happens every seven days. So, if you delete an email, it's best to un-delete it within seven days from the Trash folder. Follow these steps to retrieve deleted Yahoo emails.
Go to your Yahoo Mail and choose the '

Trash

' folder. It is present in the navigation pane on the left part of your email screen. You can also look for the specific message through the deletion date. So you will be able to locate the deleted email even if it's very old.

Now select the '

Move

' icon. It's above the mail list.

After that, click '

Inbox

.' Alternatively, tap '

D

' and then'

0

.'
If you do not use the current version of Yahoo Mail, choose the 'Restore to Inbox' tab. It will shift the email from the Trash to your inbox.
Also Check, How to fix: Yahoo Mail Login Problems
The Process to Recover Yahoo Mails from Trash on Android or iOS 
It's easy to recover deleted Yahoo emails from Android or iOS devices. Just follow the few simple steps below for it.
Open the Yahoo Mail app on your respective device.

Now, tap the '

Navigation Menu

.' It's present on your screen's bottom-left part.

Next, place a click on the '

Trash

' tab.

Now, select the email message you wish to retrieve.

After that, tap on '

Move

.' From here, click on inbox.
2. Recover Deleted Emails from Yahoo by Submitting a Restore Request
Did you lose your email messages in the last seven days or a week? Perhaps you deleted them during this time period accidentally. In such a case, there's another method you can use to restore emails. You can send a restore request.
When Yahoo receives your request, it will help you recover the deleted email. To find how to retrieve deleted emails from Yahoo, follow the steps mentioned below.
Download every email message that you got from the previous day.

Now, send them to a different mail address automatically or manually. If you don't do this step, you risk losing the messages forever.

Navigate to your

Yahoo Mail Help Centre

. Once here, search for '

Recover lost or deleted emails

.' Then, choose '

Send a Restore Request

.'

After that, explain the problem by choosing the dropdown menu. You need to choose '

Mail/Accidentally deleted messages on webmail in the dropdown menu

.' If you use a mobile phone for this purpose, you will see a selection.

Below the '

When did you last see the missing messages

,' choose the '

Time Range

.' The maximum period is sixteen hours.

Input your Yahoo Mail ID or email address in the required field.

Input an email address that you have access to in the required field.

Now, enter the CAPTCHA, and choose the button '

Create Request

.'

When you are waiting for the email service to retrieve your Yahoo Mail account to its original state, keep forwarding or downloading any new incoming mail. The backup will recover your present email folders.
Also Read, Why: Yahoo Mail Notifications Not Working On Android
How to Recover Deleted Emails from Yahoo from Years Ago?
Are you wondering if you can retrieve permanently deleted emails from your Yahoo Mailbox from years ago? If so, you would be glad to know that it's possible to do that. Moreover, the process is not very difficult to accomplish.
Suppose you've added your account to another email client like Outlook. In that case, you can recover emails that you deleted years ago using a data recovery program. Such a program scans the hard disk and finds the deleted emails.
But if you did not add your account to an email client, you can navigate to the Yahoo Help page. Once there, click 'Recover Lost or Deleted Emails.' A new window will open. In that window, tap the option 'I want to recover my deleted messages.' After that, just follow the guidelines you see.
You can also connect with the customer service line of Yahoo for the same.
How to View Yahoo Mails from Years ago?
Did you think you could not view your Yahoo mails from years ago? Yahoo Mail has the functionality of Mail Archive. You can use this feature to view messages from your 'Sent' messages and inbox. If you want to view Yahoo Mail from long ago, you can access the archives. Navigate to the top-right part of the screen and hit the 'Gear' icon. Then choose 'Settings' followed by 'Account Info' and then 'Archive.' Now, you can filter by date range and go through the messages.
Also Read, How to Fix: Yahoo IMAP settings
Final Thoughts
This article must have cleared all your doubts about how to recover deleted emails from Yahoo. You must follow the instructions mentioned carefully to recover your deleted emails. If you need more support in restoring emails or cannot get the results you desire, the best option is to contact expert Email Technical Support services. The technicians will resolve all your email problems effectively.