How Should You Fix Outlook Email Hacked?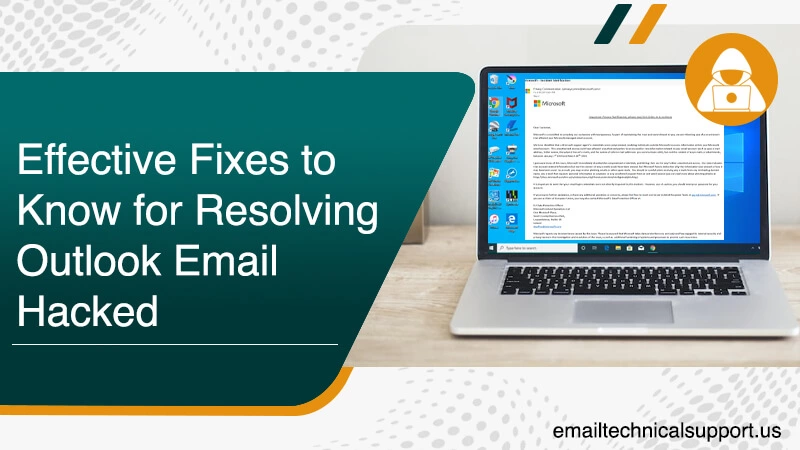 Summary: In this article, you'll find out the signs of a compromised account and the corrective actions in detail. Using this guide, you will be able to take charge of your account and secure it from the control of the hacker.
The Outlook email client is a highly secure one. Still, incidents of account breaches aren't uncommon. If you find your Outlook email hacked, you must first find indications of your compromised personal information. Phishing scams and virus attacks are the most common reasons your account has been compromised. The two most effective resolutions include scanning your system for viruses and resetting your password.
How to Confirm the Outlook Email Hacked Problem
There are various indications of a hacked Outlook account. If you are wondering, 'I think my Outlook account has been hacked,' watch out for these signs.
Your email contacts are receiving loads of spam emails from your account.
You find many emails in the Outlook 'Sent' folder that you never sent yourself.
Your emails are being read before you open and see their contents.
You will find new mail forwarding rules that were not there before.
Your Outlook account credentials or password are not the same.
Inability to log in with the right password.
All these signs point to a hacked Hotmail account. You must immediately implement the following steps.
Also Read: Outlook Email Login Problems
Steps to Fix the Outlook Email Hacked Issue
Begin by running a malware scan, followed by changing the account password. After that, you can reset your account settings.
1. Use a strong antivirus
Windows users should use the Windows Defender on their system to scan their PCs for potential virus attacks. You can also use Microsoft Security Essentials. If you have another operating system, ensure to install a robust antivirus application and eliminate your system from any threats.
A good practice is to configure your antivirus application to scan for viruses automatically. This way, you will not complain about someone having hacked Outlook password remotely.
2. Reset the Outlook email account password
The next step to resolve the Outlook hacked issue is resetting the account password. It's easy to do it. Just click this link. It will take you to Microsoft Outlook's password reset page. Enter your password and press the 'Next' button. You will get all the instructions to change it.
Use these points to create a robust password that no one can guess.
Let the password be at least eight characters in length.
Do not give your real or company name.
Use a mix of lowercase numbers and symbols.
The password must be unique and distinct from the previous one.
3. Examine and change the account settings
When a Microsoft Outlook breach occurs, your account settings get changed automatically.
Follow these steps to reconfigure the settings.
Look at the upper-right corner of the Outlook screen. Hit the 'Options' icon followed by 'More mail settings.
Go below the 'Managing your account' section.
Here, click 'Sending/receiving email from other accounts' followed by 'Email forwarding.'
Now tap on 'Sending automated vacation replies.
To reconfigure your linked IDs, click on the Options icon.
Next tap 'More mail settings.'
Click 'Account details (password, addresses, time zone)' below Managing your account.
Press 'Linked IDs' followed by 'Add linked ID.'
Now you can reset your reply-to
addresses in Outlook. Click the Options symbol.
Tap 'More mail settings.'
Hit the 'Reply-to address' button below 'Writing email.'
4. Secure your deleted messages
When you find your Outlook email compromised, you must also secure or restore the deleted messages. Follow these points to save them.
In your account's window, choose the 'Deleted Items' folder.
After that, select 'Recover deleted messages.'
Outlook will try its best to restore most of your deleted emails. However, you don't see some of them; they are permanently lost.
Also Read: Outlook Not Working Error
5. Reset the language of your Outlook account
Many people find that the language of their Outlook account has been changed into another one. You must modify the account language so you can use it after restoring it effectively. Follow these simple steps.
Hit the gear symbol present on the top-right portion of your account.
From the menu, choose 'More mail settings.'
You will be redirected to an Options page.
Tap on the 'Language' button.
This option is the second one below the 'Customizing Outlook' area.
From the languages, select the one you prefer.
After doing that, tap on 'Save.'
Fixing a Compromised Microsoft Outlook 365 Account
Complaints of Microsoft Outlook hack are common for Outlook 365 users. Here is the measure you should take when you suspect an account breach.
Run a PowerShell script against the hacked Outlook 365 account.
Run this script by clicking this link. This powerful script does the following.
Eliminate all mailbox delegates.
Reconfigures your account password.
Switches off mail forwarding
The script also disables the global mail forwarding property on your Outlook 365 mailbox.
Turns on Multi-Factor Authentication (MFA) on the compromised account.
Turns on the password complexity to high so as to prevent a breach.
Turns on mailbox auditing
Generates an Audit Log, which the account admin can review.
Also Read: Outlook says Disconnected
How Do I Make Outlook More Secure?
To prevent the Outlook hacked issue, you must take steps to protect your account security. Some useful tips to follow in this regard include the following.
Always examine for the icon of Trusted Senders in new emails. If you view a message that appears to be suspicious or unexpected, you won't see the Trusted Sender icon.
If you notice a yellow safety bar on the top portion of the email, it has blocked attachments. Do not click any links or attachments if you don't trust the sender.
Add the trusted senders to a Safe Senders list.
If you see a red safety bar on the message, do not open it, as Outlook.com has blocked it.
You can also add the senders you don't trust to the Blocked Senders list.
Secure Your Compromised Outlook Account Easily!
Employ these tips when you are certain of the Outlook email hacked issue. Also, install a good antivirus and ensure that your operating system is up-to-date. If you need more help, connect with an email technical expert.