Troubleshoot Outlook Not Working Error – A Comprehensive Guide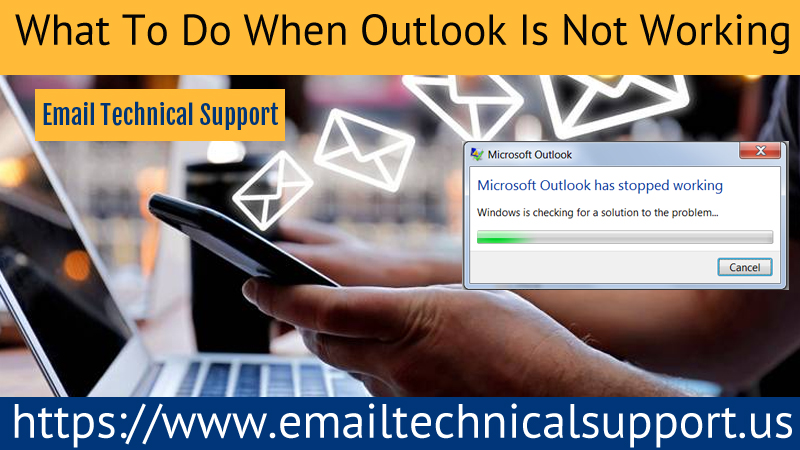 Outlook is a well-known email service and it is being used by immense people around the globe. It must be configured correctly to enjoy sending/receiving emailing service. But sometimes, due to server down or technical glitches like internet connectivity issues, users can find their Outlook Not Working properly and because of this problem you can't send/receive any emails to the clients. In this blog, we have mentioned efficient solutions to fix the Outlook email not working issue. Though, there are multiple possible reasons for acting this kind of behavior in your Outlook. Read the post thoroughly and get back your MS Outlook in working mode.
Also Read: Why Is Outlook Not Receiving Emails
Why Is My Outlook Not Working?
Here is a list of the possible reasons why Outlook not responding. They are as follows:
First, Outlook.com is down.
Internet Connectivity issues.
Due to an erroneous update.
Lots of cache and cookies in your browser.
Also Read: Why Outlook Inbox Repair Tool Not Responding
Methods To Be Deployed When Microsoft Outlook Not Working
Go through the below noted instructions one-by-one carefully to get the actual things to be done if your Outlook not working. Let's begin the process:
1. Open Outlook In Safe Mode
If Outlook is stuck at "Processing", then first you need to close Outlook and start it in safe mode. After that, close it and open it again to fix the problem. Do the same with the given guidelines:
First, close Outlook
Open your Outlook in Safe Mode by selecting any one of the following options:
In Windows 10, go to the Start menu, type Outlook.exe /safe, and hit Enter
For Windows 7, click on the Start button, and in the Search programs and files box, type Outlook /safe, and then hit Enter from your keyboard
In Windows 8, on the Apps menu, choose Run, type Outlook /safe, and then click OK
Now, close Outlook and then open it normally
If you try to open Outlook but still it is not working, then continue with the further process.
2. Create A New Profile
If your Outlook profile gets corrupted, it can be a reason for causing all sorts of problems, even including Outlook not working. Creating a new profile and set it up with your email account can solve this kind of issue. Follow the instructions given below to do the same:
Choose "File" and then Account Settings
Select Manage Profiles from the drop-down list
Choose the Show Profiles option and then select "Add"
Type a name for the new profile in the desired box and then click OK
Follow the prompts to set up your email account in the new profile
Restart your Outlook
Select File
Select Account Settings
Choose Change Profile from the drop-down list
Press OK on the Outlook Will Close message
Restart Outlook
Choose the name of the new profile you created in the Profile Name list and then press OK
Now, open your Outlook to see if the problem has been solved out
If yet, the same problem you are facing, try another troubleshooting technique.
3. Repair Outlook Data Files
If Outlook still won't open, use the Inbox Repair Tool to repair data files that are already installed on your PC to get the problem fixed from the root instantly. Follow the below steps:
First and forecast go to the file location as per your version of Outlook
Now, scroll down to the SCANPST.EXE file and give double-click on it to open it
Ensure that your Outlook data file is listed as the file you want to scan. If not, select Browse and navigate to your data files
Select Start to begin the scan
Select Repair to fix any problems if found
Try to access your Outlook account to check if this has solved the problem
Also Read:- Why Outlook Not Sending Emails
Steps to Overcome Outlook not Working on Mac
Firstly, restart your Mac. To do this, click on the Apple menu and choose Restart.
Also, ensure that you are using the latest version of the Mac OS and Outlook. Otherwise, check for updates. For this, choose Help >> Check for Updates. After that select the Update option to download and install all the latest updates.
If the above solutions don't work, then follow the steps given below:
Close all the MS Office applications.
Hit the Options key, and click on the Outlook icon to open the MS Database Utility.
Next, choose the identity you want to rebuild and hit the Rebuild option.
When it is over, then restart Outlook.
Also Read: Why Outlook Not Showing All Emails
What to do When Outlook Email not Working on Android?
First of all, go to Settings and then click on Device >> Apps.
Hit the Outlook option >> Storage >> Clear Data & Cache option.
Once it is over, then Outlook will reset to its default settings.
Now, access your Outlook account by entering login credentials. Although, this time you have to again sync emails and notifications. This is how you can get rid of Outlook not working on Android problems.
Also Read:- Why Outlook Folders Not Showing
Not Getting an Answer Of Why Is Outlook Not Working? Dial Helpline Number
However, the above methods will help you to fix Outlook not working issue. If yet you won't get satisfied with these troubleshooting techniques. And need additional help in resolving the Outlook email not working issue. Then immediately contact highly proficient tech specialists. They are present round the clock to deliver world-class solutions to the doorstep in no time. So, if yet have a query about Why Is Outlook Not Working, then place a single call on the Microsoft Outlook Support team and stay tuned with the top-most techies.