Outlook Emails Stuck in Outbox? Apply These Expert Fixes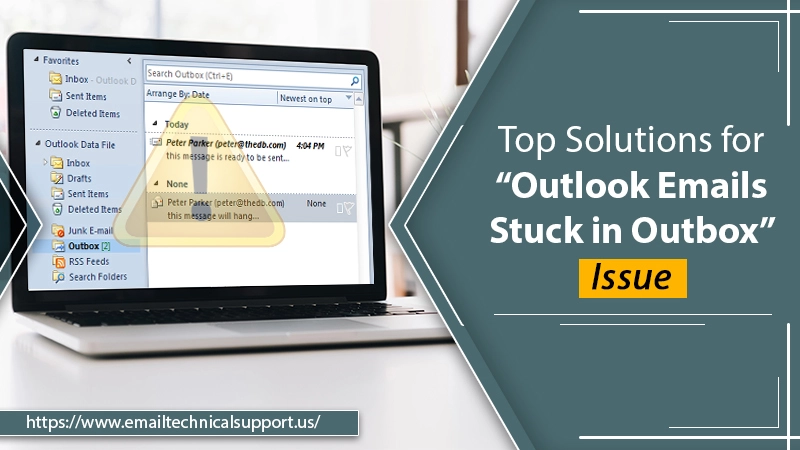 Outlook is the preferred choice for most individuals when it comes to managing their emails. However, it's still a software application and prone to certain errors. Many people notice their Outlook emails stuck in Outbox even when they've sent them. The situation remains the same even after they try to send the emails numerous times.
To resolve this problem, you need to understand its causes. There are many things that can lead to this problem. But there are also various fixes available. In this article, you'll get to know why your emails are not exiting the Outlook outbox and troubleshooting techniques for it.
Also Check, Why: Outlook cannot connect to server
Why are Outlook Emails Stuck in Outbox?
Many possible reasons are behind your emails getting stuck in Outlook outbox. The probable causes are as follows.
Emails may get stuck because of files with big attachments. They slow the sending speed.

The mail server has not authenticated the Outlook account.

An installed add-on is leading the email to be marked as Viewed in MS Outlook.

You are using Outlook with another application.

Incorrect Send/Receive settings.

Outlook or the mail server is offline.

An antivirus program is scanning outgoing emails.
Fixes for When Outlook Emails Stuck in Outbox
Now that you know the reasons for your emails stuck in Outlook Outbox, you can carry out the various fixes for it. You can resolve this problem through a variety of methods. The most effective ones are listed below.
1. Modify the MS Outlook Connection Status
Whenever the email sending process halts, start by checking the connection status of the Outlook account. If it is offline, your messages won't go out of the Outbox folder. To change the connection status, follow these points.
Look at the right part of the Outlook account page. You will notice the option of '

Connected to Microsoft Exchange

.'

It must be '

Connected

.' If it displays '

Working Offline

,' then you have found the reason for this problem.

Navigate to the '

Send/Receive

' tab and tap '

Work Offline

.'

If your server status is '

Disconnected

' examine the internet connection. It's important to have a high-speed connection.
Also Read, Why: Outlook Working Offline
2. Resend Emails
A simple fix to try whenever you find emails stuck in Outbox Outlook 365 is resending the stuck messages. It's highly likely that when you resend the emails the second time, they will exit from the Outbox easily. But if it doesn't, implement the other fixes.
3. Launch Outlook in Safe Mode
Sometimes, the email stuck issue arises due to a problematic add-on. So you can open Outlook in Safe Mode to send your emails. Here are the points to open the program in this mode.
Hit the

Windows + R

keys to open the '

Run

' box.

Then type '

outlook/safe

' and hit '

OK

.' Alternatively, you can also hold the Ctrl key and press the '

Outlook

' icon to launch it in the safe mode.

Tap '

Yes

' to confirm opening the Outlook program in Safe Mode.

Lastly, send the emails that are stuck in the Outbox. You'll find that you can send them easily.
4. Use the Correct Outlook Password
If you've just changed your password, you need to make sure that you enter the changed one. If you aren't sure of the new password, follow the steps below. 
Go to the '

File

' tab. Then, select '

Account Settings

' two times.

Now, choose your account, and tap '

Change

.'

Input your new password below '

Login Information

.' Ensure that you have not accidentally turned on the Caps Lock key.
5. Check the Size of File Attachments
If you have attached a large file and find your emails stuck in Outlook outbox, it's because of the large attachments. It is especially true for those who also have low-speed internet. The large file attachments take a lot of time to get sent. To resolve it, you should divide the big attachment file into one or more segments and send them again.
6. Employ an OST Conversion Tool
Do you find that even after trying the above-mentioned methods, you cannot resolve the problem? Use Kernel for OST to PST tool. This tool works effectively to fix corrupt and damaged OST files. You can also use this tool to manually convert the large-sized OST files into smaller ones. Thus, your email stuck issue will get resolved.
7. Use Another Email Client
When most of these methods fail to work, you can try a different client. Today you can find feature-rich email clients like Mail bird and Mozilla. They work in a similar manner as Outlook. You can use them and send the emails to your recipients quickly. All of them come with quite a user-friendly interface. So, you'll have no trouble using them.
Final Words
Follow these techniques when you notice Outlook emails stuck in Outbox. The methods are not difficult to understand. So, you can implement them whenever Outlook stops sending your emails to the recipients. But it may be possible that the issue persists even after you employ these fixes. In that case, reach for expert Outlook technical support services. The professionals will diagnose and fix any kind of Outlook-related problem for you.