We all use Outlook on a regular basis and it is one of the best email providers without a doubt. However, this does not guarantee that there are going to be no errors.
One such common error that you might face is an outlook error 0x80004005. This usually denotes that the operation has failed. It will be displayed to you as:
'Sending and receiving the reported error 0x80004005: The operation failed'
When you face this error, you will not be able to download the emails that you receive.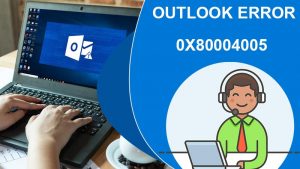 Reasons behind Outlook error 0x80004005 
There are a number of reasons behind outlook error 0x80004005. We will be sharing them with you so that next time you see this error, you will have an idea that why are you coming across it. 
Antivirus tool blocks the script 
This typically takes place because of false identification and reporting by the antivirus software. This is very common with the Norton Antivirus. Most of the antivirus software has a feature called 'Script Blocking'. If any application tries to run a script from a .bat or .reg file on your system, the Script Blocking feature activates to check for any malicious code in it. If any malevolent activity is revealed then it directly tries to block the script from implementing. There is a possibility that it detects a foul code in a regular file. It will block the script run by MS Outlook due to this false positive detection situation which will show outlook error 0x80004005. 
The registry key is missing
Registry keys are used to hoard information and settings for software programs, user preferences, hardware devices, OS configurations, and other such things. Any corruption or damage to the keys will disturb the proper operations of MS Outlook and will show outlook error 0x80004005. 
Virus attack 
If there has been a malicious attack on the PST or other Outlook file then it will result in this error. Therefore, you must run an antivirus scan to see if there is something that needs your attention or not.
Methods to fix Outlook error 0x80004005 
You don't have to worry about anything as there is nothing that can't be fixed with the correct guidance from the experts. We are here to help you to resolve Outlook error 0x80004005 that too without any technical knowledge. You can try these methods to get rid of the error in no time.
Before starting out, you must know that deactivating the script blocking function can be dangerous as it will be like compromising with the security. Therefore, you must take the security requirements into consideration before taking it down. You can now refer to these methods to fix this error:
Method 1- Deactivate Outlook's new mail notification 
When you disable the new mail notification, you can fix the Outlook error message while you receive emails. However, you should know that this will not fix the problem of the Outlook error message while you are sending the emails. You can do this by referring to these steps:
Click on 'File' and then select 'Options'

It will open a box that says 'Outlook options'. Click on 'Mail' under 'Message arrival' and then uncheck the option of 'Display a desktop alert option'. This will disable the notifications shown on the desktop for the incoming emails

Refresh to see if the error has gone or not
Method 2- Deactivate the script blocking function 
If you are using Norton antivirus then you can deactivate its script blocking feature to get rid of the error. You can do it by using these steps:
8Open Norton antivirus or Norton internet security

Click on 'options' and select 'script blocking' from the left hand side

You will see an option of 'enable script blocking' in the right side which you are supposed to uncheck

Click on 'ok' once done and then see if the problem persists or not
Method 3- Use Kernel for Outlook PST Repair 
If the above two methods were not able to help you to get rid of the problem, you can take assistance from a professional Outlook PST repair tool. You can try out Kernel for Outlook PST Repair. This tool can help you to repair badly corrupted PST files and can save your files to Office 365, Exchange Server and MBOX. It also comes with a number of other features that will impress you. One specific feature that you will like is that you can recover the deleted messages as well as the attachments. It can also repair the ANSI and UNICODE PST files no matter what the size is.
We hope that we were able to help you with the outlook error 0x80004005. If there is anything else that you require assistance with then you can get in touch with us and the experts will help you with the same.