Yahoo Mail Attachments Not Showing? Follow These Fixes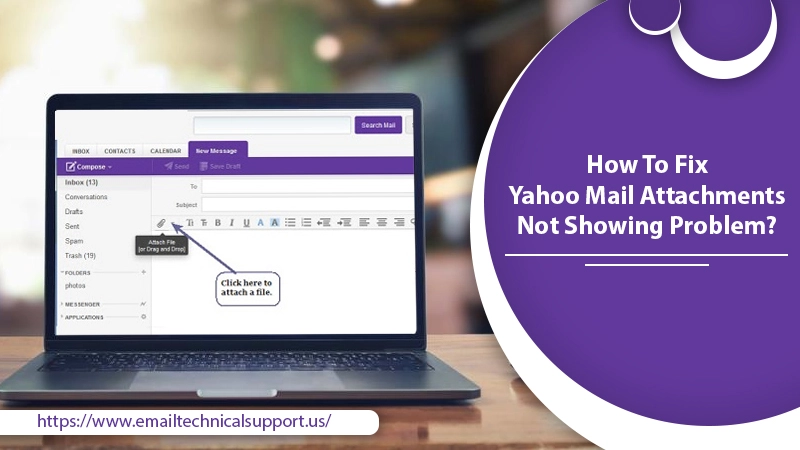 Yahoo is one of the most-used email services globally. Did you know that the email service has over 225 million users worldwide? However, irrespective of being feature-rich, it's not glitch-free. One of the crucial parts of an email is its attachment feature. In numerous instances, users have reported Yahoo Mail attachments not showing. It hinders them from properly accessing the contents of the specific email message.
Note that this problem has various causes. But it's also possible to troubleshoot it. In this article, you'll read about the various issues related to Yahoo Mail attachments and their causes. Then, you'll find out the different ways to fix it effectively.
Also Read, Why: Yahoo mail not working
What are the Different Yahoo Mail Attachment Problems?
There are many different kinds of issues you may face with attachments on your Yahoo account. They include the following:
Attachment not appearing in Yahoo Mail

The attachments are not working.

You cannot download the attachments.

Yahoo email isn't able to open attachments.

Missing attachments in Yahoo Mail.

You cannot view the attachment preview.
Also Check, How to Fix: Yahoo Mail Login Problems
Why are Yahoo Mail Attachments Not Showing?
There are various possible reasons you can't see attachments in Yahoo Mail. Below are some of the most probable ones.
If you have received the attachment in the form of a PDF file and your system doesn't have a PDF file reader, you cannot open it.

The absence of an active internet connection hinders you from viewing the attachment on your email. In this case, you can only view it after saving or downloading the attachment on your system.

If your browser is not appropriately configured to read the attachment, you won't be able to view it.

Faulty security or configuration settings can also cause problems with attachments.
Also Read: How to Add a Signature in Yahoo Mail
Ways to Resolve Yahoo Mail Attachments Not Showing Issue
You can solve this issue in a number of ways. Try out these effective solutions.
1. Disable Add-ons
Usually, add-ons on the browser are the major culprit behind you not being able to find attachments and open them. So, it's best to disable them and check your email. The attachments will definitely show and open.
Navigate to the Internet Explorer or the browser you have.

After that, go to '

Tools

' followed by '

Manage Add-ons

.' 

Now, see if the attachments are showing and opening. If you can find them, it means one of the add-ons was causing an issue.

Enable the add-ons one at a time and find the one that's causing this issue.
2. Allow Automatic Downloads
This measure is for all the Chrome users who complain about Yahoo Mail not showing attachments. It's highly likely that you have mistakenly stopped Yahoo from downloading attachments. To check if you've done this, follow these points.
Open Google Chrome and go to '

Settings

.'

From there, go to '

Privacy

' then '

Content Settings

' and lastly, '

Automatic Downloads'

.

Enable automatic downloads and see if you can view and download PDF attachments from Yahoo Mail.
Also Read, How to setup: Yahoo mail settings for Outlook
3. Uninstall the Antivirus Program
Often, you may find Yahoo Mail attachments not showing due to firewall protection programs. So, it's wise to disable antivirus and firewall programs that you've installed on your system. Yahoo utilizes Norton to scan email attachments. So, if your system has another antivirus installed, it will result in a conflict. That's why you need to disable the security program temporarily. After that, download files from your mail.
4. Fix the Attachment not opening Problem on the Phone 
This problem generally occurs because you don't have the right application on your device that's compatible with the attachment's file type. For example, if you are trying to open an MS Word document attachment, you should have the mobile version of MS Word on your phone.
Apart from this, find if the attachment is bigger than the amount of available internal memory on your phone. If it is, then you won't be able to open it. You can also try to turn your phone off and then switch it on again to clear RAM and view the attachment.
5. Update the PDF Reader
A PDF reader like Adobe Acrobat Reader is essential to open and read PDF files. But if you find Yahoo Mail attachments not showing in spite of their presence, you may need to update it. Open the reader, and search for the 'About This Program' menu option. It will let you know the program version that's installed on your system.
Go to the 'Check for Updates' menu option of the reader. You can also go to the site of the manufacturer to see if there are any newer versions released. If you find that you have an older version of the reader on your system, update it to the current version and then try to open the PDF again.
6. Update Your Browser
If your browser is outdated and you try to log in to your Yahoo account, you will likely not be able to view the attachments. The settings of an outdated browser aren't properly configured. It results in you being unable to access the attachments. So, it's best to update your browser to the latest version.
Also Read, Why: Yahoo Mail Notifications Not Working On Android
Final Thoughts
These are some basic yet proven measures to use when you notice Yahoo Mail attachments not showing. Using these solutions, you can view the attachment, download it, and open it as well. If you want further assistance with the problem, feel free to connect with Email Technical Support professionals. They will readily help you deal with any email glitch.