Facing AOL Mail Attachment Problems? Try These Expert Fixes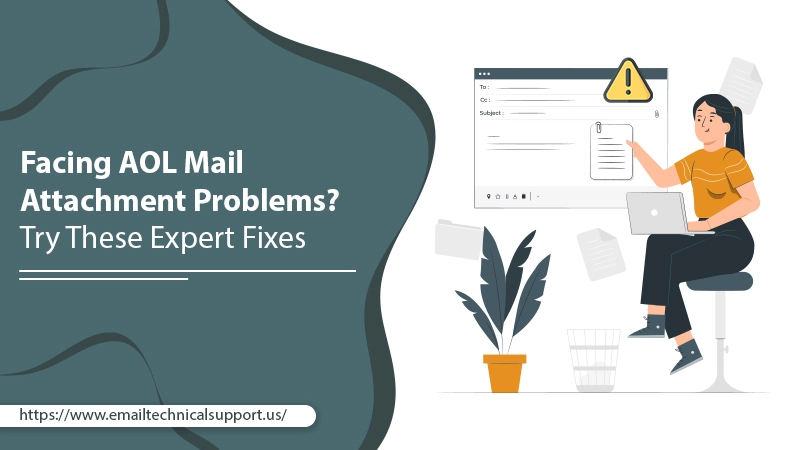 Today, online communication through emails has become the norm for most of us. AOL email users know how flawlessly the service works. Its feature-rich, thus allowing you a seamless email exchange experience. However, like other email services, there are some problems that its users cannot help but face on a regular basis. The foremost among them is the AOL mail attachment problems.
People frequently complain of its attachment feature not working properly. If you require to send an important email with an attachment, this issue can prevent you from doing so. But there are various simple ways to troubleshoot it. In this post, you'll read about all of them.
Also Read, Why: AOL mail not working
How to Send File Attachments with Your AOL Mail?
Before getting to the various fixes, it's wise to make yourself aware of the proper way to send file attachments. Here is the precise process to follow for sending an attachment via AOL mail.
Sign in to your AOL account. Now, hit the '

Compose

' option.

Select the files you want to attach by tapping the paperclip icon.

In the File Explorer window, locate the file you wish to attach.

Select it and tap '

Open

.'

This file will now be attached to your email. Repeat this process if you have more than one attachment to add.
Also Check, How to fix: AOL Mail Login Problems
Basic Troubleshooting When You Cannot Attach Files to AOL Mail
Have you tried to send file attachments but are not able to attach them to the mail? Well, there can be various factors leading you to face this issue. In this section, you'll read about some basic measures you can take. If they don't work, proceed to the advanced fixes.
Firstly, check that you have a working internet connection. Many AOL attachment problems crop up because of an unsteady internet connection. You need sufficient signal strength to attach files and send them.

Restart your device. It's an ideal solution for any technical issue that you face. If your mail attachment isn't opening, sign out of the AOL account and restart your device. You won't find the issue bugging you.

After restarting the device, download the file attachment correctly. You can also preview the image by tapping on it. Download it by tapping that button. 

Yet another fix is to switch the browser which you are currently using. Often, a simple browser change is all that's required to open the link of the attached file.
Also Check: How to Forward AOL mail to Gmail
Other Fixes to Resolve AOL Mail Attachment Problems
This section is for those who did not get the desired results by following the basic troubleshooting above. You can implement the methods below to get rid of the attachment issues in your AOL mail.
1. Use the Appropriate Software to Access the Attachment
To open and view the attachment, you need to have the appropriate software. For example, if the sender has given you an attachment in a DOCX file, you can only view it if you have Microsoft Word on your system.
Alternatively, your system should support a doc file. Likewise, if you receive a PDF file, you can view it only with a PDF viewer. If you don't do so, you will find yourself facing AOL email attachment problems. In simple words, the right software is needed to open the attachment in case you receive a special file type attached to your mail.
2. Use Quick Restore
AOL has an in-built functionality called Quick restore. It proves to be useful for those who are facing issues with attaching a file. Use Quick Restore if you get a message via the AOL software. Follow the steps below to use this functionality and fix the attachment problems in AOL.
Open your device's desktop screen, and tap '

Start

.'

After opening the Start menu, a blank space will appear. Here, input '

system

' and hit the Enter key. 

Next, search for the '

AOL System Information

' option. When you find it, tap on it. 

A new window will open. Here, tap the '

AOL Software

' option.

After that, tap '

Quick Restore

.'

After doing this, the restoration procedure will begin. At this time, you should not perform any other tasks.

Upon the completion of the process, exit the window.

Now, start your system again. Hopefully, you will find that you can attach a file easily in your mail.
3. Examine the Attachment Size
When you face AOL mail attachment problems, it's a wise idea to check the size of the file attachment. Remember that AOL only allows you to send attachments less than 25MB. If you go beyond this threshold, you'll certainly find problems in attaching your file.
However, if you need to attach a large file, at all costs, try breaking it down into smaller parts. Split the file into small segments and send them in emails one by one. At the same time, ensure that you are not using an outdated version of your browser for sending attachments.
4. Download the Entire Files
Are you facing issues in downloading files in your AOL account? It's highly likely that you haven't downloaded the entire file. Many people download attachments partially, which prevents them from accessing them. So, download the entire file rather than just a few parts of it. It's always better to preview it by hovering your cursor over the image. You can easily find if the entire file has been downloaded through the popup that comes on the screen after that.
5. Don't Ignore Server-Related Issues
If you continue facing AOL mail attachment problems and no resolution seems to work, it's obvious that there's some server-related problem. Use sites like down-detector to find out about the status of the AOL email client. You will definitely face issues viewing, opening, or downloading mail attachments if the server is malfunctioning. You'll be able to use the service only when the server functions properly.
Final Thoughts
AOL email is the perfect communication tool for everyone. But sometimes, you can face certain problems in its working. Fortunately, the fixes for AOL mail attachment problems, like examining the file size, downloading complete files, and inspecting server status, aren't difficult to implement. If you need more help with them, it's best to connect with expert Email Technical Support services.