9 Effective Fixes for AOL Mail Not Working Problem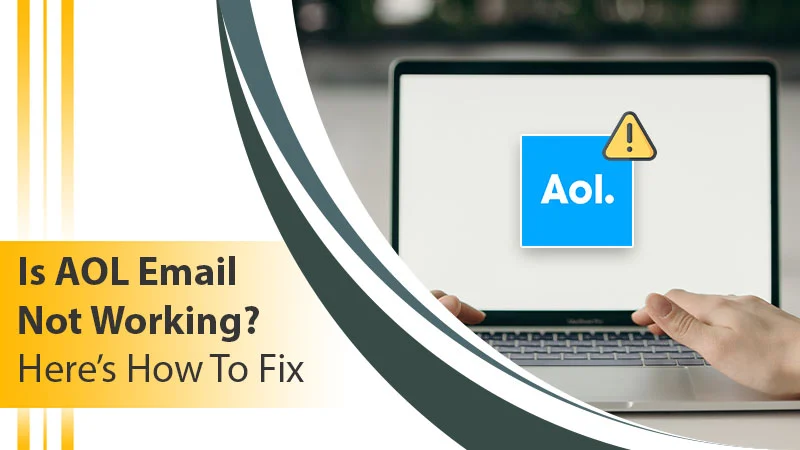 AOL Mail is popular among users worldwide as it offers quick and secure services. However, being a software program, it has its set of complications that users face frequently. Issues such as AOL Email not working on various devices take users by surprise. When this email service is working fine, it makes sending and receiving emails pretty easy. However, when it stops working, this task becomes challenging. So, you must arm yourself with measures that'll allow you to navigate this issue. In this post, we'll go over the main reasons for this problem and how to fix it. 
Why Is Your AOL Email Not Working?
There are many reasons for AOL Mail not receiving or sending emails. The most common factors are as follows.
There are excessive cookies in your browser.

There's a minor bug in the AOL Mail app.

The firewall is conflicting with your AOL application.

Some filter rules are creating this problem.

Mail server outages

Your server settings are incorrect.

Email forwarding is enabled.

There are pending apps and system updates you haven't installed.
Troubleshoot AOL Email Not Working Issue
Now that you are aware of the nature of this problem, you can start fixing these exact causes. As a best practice, ensure that you have a good internet connection.
1. Carry Out a Browser Reset
This method is to ensure that cookies do not cause your AOL Mail to malfunction. Follow these points to reset your Chrome browser. 
Launch the web browser. 

Tap '

More

' at the top right.

Now, go to '

Settings

.'

After that, select

'Advanced

.'

If you are using Linus, Mac, or Chromebook, hit '

Reset Settings

' followed by '

Restore settings to their original defaults

.' After that, tap '

Reset Settings

.'

On a Windows system, tap '

Reset and Cleanup

' followed by '

Reset settings to their original defaults

.'

Lastly, tap '

Reset Settings

.'

You can then go ahead and clear cookies and site data from your browser.
2. Examine Your AOL Mail Server Settings
Incorrect mail server settings often lead to AOL email problems. If you want to carry out email communication in AOL, your outgoing and incoming server settings must be correct. Given below are the right POP and IMAP server settings. 
The incoming mail server is imap.aol.com. 

993 is the port number. 

Type '

Yes

' against SSL. 

The incoming mail server is smtp.aol.com. 

465 is the port number. 

Type '

Yes

' against SSL. 
The incoming mail server is pop.aol.com. 

995 is the port number. 

Type '

Yes

' against SSL. 

Your outgoing mail server is smtp.aol.com.

465 is the port number. 

SSL is mandatory. 
3. Inspect Your AOL Email Filters
AOL email filter settings help users to organize their emails by separating messages into particular folders. Through these filters, you can save your emails in any place you want. But it's crucial to set them up properly. If you have set up one incorrectly, the email you expect in your inbox may land elsewhere. It, in turn, will make it difficult for you to find the email. Inspect each email filter and ensure that they are as per your needs. 
4. Deactivate Email Forwarding
The email forwarding function sends all your incoming messages to an account it has been set to forward them to. This function is not essential for everyone. If you operate only a single account, you needn't set up email forwarding. Disable the function by heading to 'Settings' and tapping on 'Forwarding.' Now, just switch it off. 
5. Make an App-Specific Password
This measure is for all those who find that AOL Mail stopped working on their iPhone and iPad. Since AOL regards the Mac mail app as unsafe, they don't allow Mail to connect to their servers. So, you can make a unique app-specific password and use that in your Mail app. 
Head to

www.aol.com

in your browser.

Sign into it and tap your name to see account settings.

Now, tap '

Account Security

.'

Hit '

Generate and manage app passwords

.'

Input a name for your credential and click '

Generate

.'

Copy this password and paste it into a notepad.

Now,

whenever you sign into AOL

, use this password.
6. Examine the Spam or Junk Folder
In AOL Mail, all suspicious emails are sent automatically to the spam folder. However, emails that aren't spam can sometimes land in this folder. In such a case, you'll be unable to find the email that landed in the spam folder. So, it is best to examine the spam folder once if you aren't receiving an expected email. If it's there, shift it to your inbox. 
7. Update Your AOL Mail App
You will find your AOL Mail not responding if it's not updated. Older versions of the app are prone to various technical problems. So, it's best to install the app updates. If you are using it on your Android device, update it through these steps. 
Go to Google Play Store, and in the search field, input '

AOL

.'

From the results, select '

AOL – News, Mail, and Video

.'

Click '

Install

' followed by '

Open

.'
8. Sign in to Your Account Again on iPhone and iPad
A good fix for iPhone and iPad users when they find AOL email not working is to sign into their accounts again. Head to 'Settings' on your device and follow these steps.
Choose '

Passwords & Accounts

.'

If you are using the iOS 14 version, navigate to '

Settings

' followed by '

Mail

' and lastly'

Accounts

.'

Now, touch your AOL account.

A sign-in screen will pop up. 

Enter your email address if it's not there.

Next, click '

Next

.'

Input your password and hit '

Sign in

.'

Agree to all the terms.

Tap the '

Save

' button at the top-right.
9.
Carry Out a System Restore
If there has been a file corruption, your AOL email account will not work normally. So, Windows users can conduct a system restore and revert their operating system to a prior version. Remember to back up your system to not lose any crucial data afterward. After a system restores, try to use your AOL Mail. Most probably, it will work properly. 
Final Thoughts
There are a variety of fixes to implement when you find your AOL Mail not working. Use these measures and find out the cause of the issue. If you still find your AOL Mail not functioning or a similar problem, contact an Email Technical Support team.