AOL Mail Not Receiving Emails | What To Do?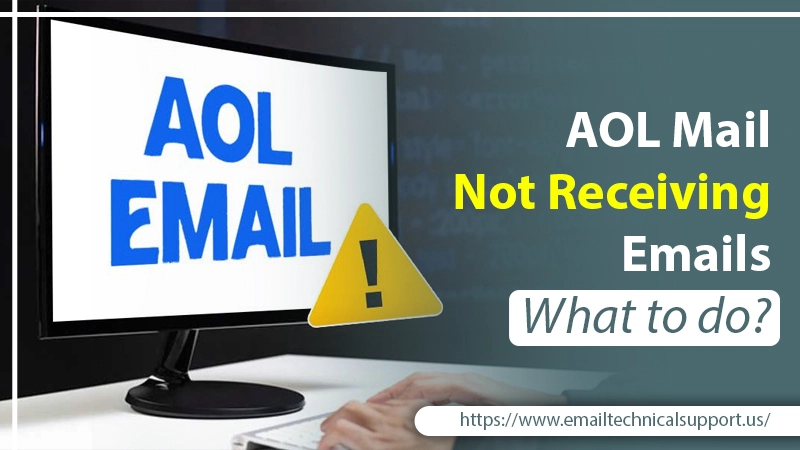 AOL webmail is undoubtedly a highly efficient email service. However, users still face particular problems while receiving emails at various points. This issue, although temporary, requires immediate resolution. It's because AOL mail not receiving emails can significantly impact the workflow of many people.
There are numerous causes that may lead AOL to function in this way. But there are also various fixes for these causes. In this article, you'll find some common reasons why your AOL email is not receiving messages. You'll also find some effective measures which you can implement to troubleshoot this problem.
Also Read, Why: AOL mail not working on Android
Reasons for AOL Mail Not Receiving Emails
You may find yourself unable to receive AOL emails because of multiple reasons. The most common ones are as follows:
Your AOL email filter is sending messages to a new folder.

AOL forwarding is enabled. 

The sender is not using the correct email address.

The incoming mails are being considered spam by the AOL spam bot.

A problem with AOL account authentication.

The outgoing or incoming server is unresponsive.

The communication process is getting blocked by the security applications.

The browser is unable to load the mailbox.
 Also Read, How to fix: AOL Mail Login Problems
Fixes for AOL Mail Not Receiving Emails Issue
When your AOL Mail doesn't receive emails, try to send a test mail to the recipient. Then request them to reply to it. If you locate the reply in your inbox, your recipients are entering the wrong email address, and that's why emails are not delivered to your inbox. Otherwise, follow the various fixes below.
1. Check whether AOL is Down
The first step you must take whenever you find AOL not receiving emails is to check the server. If the servers at AOL are down for maintenance, you won't receive any emails. The emails will not reach your device.
2. Inspect Every Folder
If you find AOL not receiving emails, look at other folders like trash and spam. It's highly likely that the new emails are landing on these folders. If you locate the emails on any of these folders, shift them to your inbox. Follow these points for it.
Open the folder where you found the new emails. 

Select them and tap the '

Move

' button.

Now choose '

Inbox

' as the folder where you will find new emails.

Make changes in the spam mail filters. Now the new emails will arrive in your inbox.
3. Examine the Spam Mail Settings
The auto bots of AOL shift anything suspicious to the spam folder. Sometimes if you keep the settings on high mode, most of the emails get transferred to the trash or spam. It is why you are unable to receive AOL emails. To change the spam settings to medium, follow these points.
Login

to your AOL account.

Place your cursor over the options given under the email address and choose '

Mail Settings

.'

Hit the pane of '

Spam Mail Settings

.' After that, choose the radio tab beside '

Medium

.'
4. Check AOL Server Settings
Another cause of AOL email not receiving emails is faulty AOL email server settings. The right incoming and outgoing server settings are important for a smooth exchange of email messages. Below are IMAP and POP server settings that you can use to configure your AOL server settings.
POP3
The incoming mail server is

pop.aol.com

. 

The port number is

995

.

SSL is Yes.

The outgoing mail server name is smtp.aol.com.

The port number is

465

.

SSL is Yes.
IMAP
The incoming mail server name is

imap.aol.com

.

The port number is

993

.

SSL is Yes.

The outgoing mail server name is smtp.aol.com.

The port number is

465

.

SSL is Yes.
Also Check, How to setup: AOL IMAP settings
5. Disable Forwarding Accounts
When you find AOL mail not receiving emails, it's wise to look at the forwarding settings. You may have accidentally permitted another account to receive emails through forwarding settings. So, you may not be able to receive AOL emails in your mail. Disable the forwarding of the account through the settings below.
Go to AOL mail settings.

Tap the '

General Settings

.'

If you see any email address below the forwarding settings, delete it.

Save these settings to disable forwarding.
6. Optimize the Browser
If the browser on which you are using AOL Mail isn't optimized, you'll always report AOL email not receiving emails. So, check the following points to assess your browser and make the needed changes.
The browser you use should be up to date. It should also be compatible with AOL.

Remove cookies and browser history. They are of no use and only consume extra space in your system.

See if there are any popup ad blockers on your device. They can prevent AOL Mail from getting new emails. If they are, turn them off temporarily.

Reset the browser to default settings. It will remove the adware and extensions and boost the overall performance.
Final Words
For many people, AOL Mail not receiving emails can turn out to be a frustrating problem. It can put to a halt your routine work tasks. But by using the measures in this post, you can resolve the problem. To get more assistance with the problem, connect with expert Email technical support services.