Is Your AOL Emails Missing? – Try These 7 Ways!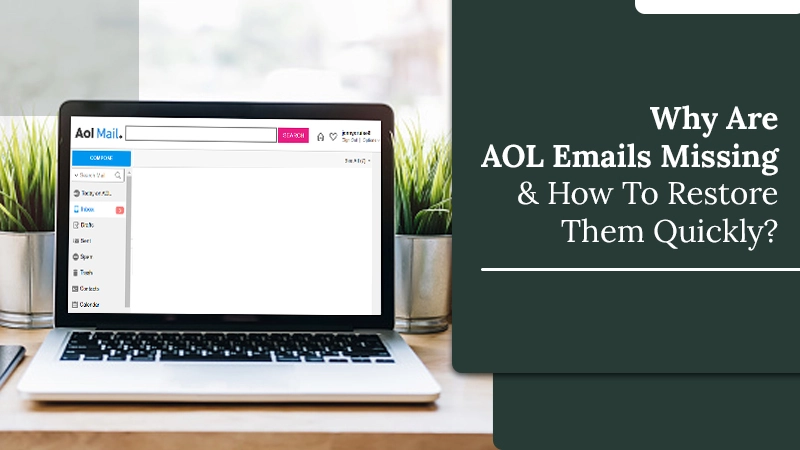 The AOL email service has been quite a popular one since it was launched. However, these days, many users of this service have been reporting a problem. They open their inbox only to find AOL emails missing. Usually, it happens because of a technical glitch or the user accidentally deleting an email. In some instances, not finding crucial emails and data can be a result of a compromised account. But it's possible to retrieve your AOL emails that have gone missing. Read the entire article to find the causes and fixes of this issue. 
Why Are AOL Emails Missing?
Missing AOL emails is a complex issue with many causes. Here are some of the key ones you should be aware of.
You have saved your emails in an incorrect folder.

Certain email filters on incoming emails are creating this issue.

You have misconfigured AOL server settings on your email client.

There's an issue with your PC or browser.
Ways to Restore Missing AOL Emails
Now that you are familiar with the causes of this problem, you can attempt to retrieve deleted emails. Here are the handy fixes to follow.
Correct AOL Settings on Third-Party Email Clients
Many people set up AOL emails in other email clients like Gmail, Outlook, and their Android app. But if you have faulty AOL email settings, they will interfere with the flow of incoming emails. 
In such a case, they will delete the emails that are coming from the server when you are using the AOL email on a third-party email client. So, you need to check whether you have properly set up your AOL email account on these email clients. To resolve this problem, ensure that you have turned on the option of 'Keep email on the server.'
Apart from this, if you use the IMAP protocol, you are more likely to face this problem. This protocol syncs every email regardless of the platform you use. If you use this protocol, it's possible that the missing AOL emails are actually in some other folder. 
Disable Spam Settings
Sometimes, AOL emails will go missing because of the spam filter identifying the emails as spam mails. To prevent chances of emails getting faultily classified as spam, you need to turn off the spam mail settings. 
Go to the AOL settings. 

From here, navigate to the '

Spam Settings

.' It is present on the left panel.

If the spam settings are kept moderate or high, set them low. 
Examine Other Folders
Often, emails can go into the wrong folder. To restore missing AOL emails, you can check different folders. It's likely that you will find your missing emails there. They may have gone into other folders because of the wrong filters. So, you must look into the filters you are setting in order to prevent your emails from going into the wrong folders. 
Review the Filter Settings
If you made certain filters in the past and now find your AOL emails going missing, it's time to look closely at the filter setting. A good practice would be to delete the existing filters. 
Sign in to your AOL account. 

Tap the '

Options

' button. Now choose '

Mail Settings

.'

Navigate to the filters and if you see any of them, delete them right away. 
Check the Option to Keep an Original Copy of Emails in Outlook
This measure is for those who find that their AOL emails have gone missing from the webmail but are there in Outlook. You're facing this problem because you have not checked the option to keep the original copy of those messages in Outlook. Here are the directions you must follow to keep the original copy of emails in Outlook.
Hit '

Files

' followed by '

Account Settings

.'

Now tap your AOL account.

After that, select '

Edit

.'

Hit the '

Advanced

' button followed by the '

Advanced

' tab.

Now, check the option of leaving a copy of emails on your server.

Click '

OK

' after that. 

Now you won't find any AOL emails disappearing from your Outlook account.
Try Another Browser
It's also possible that you are finding your AOL emails disappearing because of the browser you are using. In such a case, there is no problem from the end of AOL. If your browser is filled with cookies and caches, it becomes difficult for it to load emails properly. Other than that, pop-ups or JavaScript settings are also responsible for this problem. So, you must take steps to ensure that the browser you are using is in good shape. Here is how to delete cookies on the Chrome browser. 
Launch Chrome and tap the '

Settings

' menu. It is indicated with the symbol of three dots. 

Go down and tap the '

Advanced

' option. 

Next, tap '

Clear browsing data

.'

Below the section of '

All cookies and site data

,' you can modify the cookies you wish to delete according to options like time range. 

Lastly, finish the process by tapping '

Clear Data

.'
Change or Reset Your AOL Password
If you suddenly find your AOL emails missing or disappeared, it can be due to compromised account security. In this case, you must modify your AOL password if it hasn't been changed yet. You can also reset your AOL password. 
To change your password, follow these steps. 
Navigate to AOL.com and sign in. 

Tap your profile picture on the right part of the page. 

Now, tap '

Account Security

' in the navigation pane. 

After that, click '

Change password

.'

Input the new password two times. 

When done, tap '

Continue

.'
To reset your password, follow this procedure.
Navigate to AOL.com and log in. 

Input your username and tap '

Next

.'

On the subsequent page, tap '

Forgot Password

?'

Adhere to the guidelines to reset the password. 
Final Thoughts
Follow these measures when you find your AOL emails missing. If you adhere to them properly, you will undoubtedly be able to find crucial messages. You can also seek the aid of a trusted email technical support service if you face any issues in implementing these fixes.