How to Recover a Hacked Hotmail Account Easily?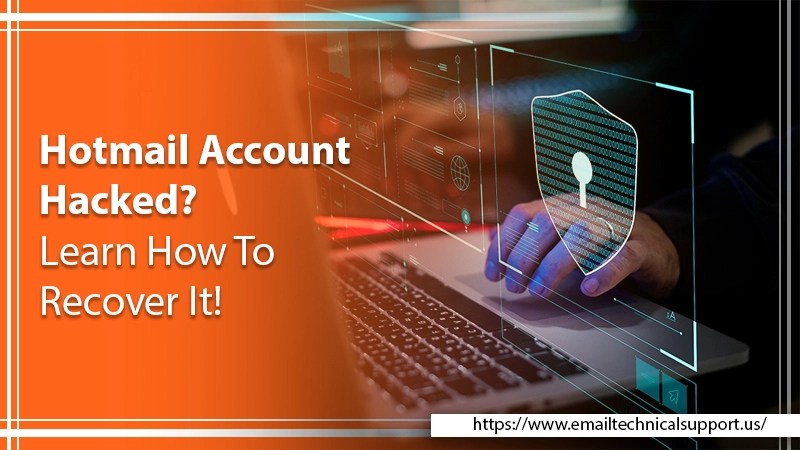 If your Windows Hotmail account has been hacked and you are unable to get in, this tutorial will assist you in recovering your account. Let's find out some manual solutions to recover a Hacked Hotmail account.
Microsoft's Hotmail is a free webmail service. Microsoft has released several updated versions of Hotmail, the most recent of which include audio players and a better spam filtering mechanism. Microsoft combined Hotmail and Outlook, and as a result of the combined capabilities, users were able to enjoy the web service.
But nowadays, people are facing hacking problems with their Hotmail accounts. So, we have come up with some manual solutions in the next section to help them.
Also Check, Why is: Hotmail Not Working
Methods To Recover Your Hacked Hotmail Account?
1. Change Hotmail Account Password
Access your Hotmail account. If you're still able to log in, change the password right away.

Next, just tap on the gear icon to access the settings page. It is available to the right of your account name.

Choose "

More Mail Settings

" from the list of options. You'll notice it after you scroll past the color swatches.

Click "

Account Details

" to open the language selection menu.

Select "

Change Password

" from the "

Password and security info

" section.

In the text fields that appear, enter your current password and your new password. Save the file. To ensure that there are no typos, the new password must be entered twice. Any password must have a minimum of 8 characters. To increase the security of your new password, include a few capital letters, numbers, and symbols.

Log in again with your new credentials and double-check your changes.
NOTE: Because Microsoft is aware of the Hotmail security issues, you can set it to prompt you to change your password every 72 days. This could aid in the prevention of future attacks.
Also Read, How to: Setup Hotmail email account
2. Regain Access To Hacked Hotmail Account
Microsoft is already included with an in-built feature that automatically locks problematic accounts. Even if you aren't aware that someone is using your email, your account will be temporarily locked if Microsoft detects something strange. Here's what you should do if that happens to you:
Go to the Microsoft Account

Login

page.

Click the "

Forgot my password?

" link, which is located below the username and password text boxes.

When the password recovery page appears, select the option that says, "

I believe someone else is using my Microsoft Account

." Hit "

Next

," and you will go to the account recovery page.

Enter the email address you believe has been hacked.

Complete the captcha process by entering the characters from the captcha image into the text field to continue.

Click "

Next

" after selecting the method you want to use to recover your email. You can choose between a backup email and the phone number you previously associated with your account.

After it, the service will send you an email or message with a code that you must enter into the form that appears.

Reset your password, and you're good to go. If you don't have a backup, choose "

Recover your Microsoft Account page

" and continue to the next step.

On the "

Recover your Microsoft Account

" page, enter the email address and click "

Next

." It must be your active alternate email address.

Then, You will need to enter the code that Microsoft sent you once more. If you don't have an alternate email address, you can set up a new account.

When you enter the code, click "

Verify

" to finish the process and prove that you are the original owner of the account.

To finish the process, enter accurate information and click "

Submit

." It may take up to 24 hours to complete the submission.

You will receive an email with a link to reset your account password if you provided accurate information. Otherwise, you will receive an error message indicating that the information you provided was insufficient or invalid.
Also Read: How To Set Up Hotmail On iPhone
Additional Security Tips for Hotmail Account
Now that you know how to recover a hacked Hotmail account, you should be more concerned about the security of your account. For example: When sending and receiving emails, it should be your top priority. If you use your Hotmail account for business or to make online purchases, you must place a higher priority on security.
Creating a strong password is one of the most important strategies to keep your account secure. Make sure there's a decent balance of capital letters, symbols, and numerals. You should also have a backup email address that you can use if your primary account is compromised.
Final Words
You can also Contact Hotmail Support if you're searching for solutions for Hotmail Account Hacked issues on the internet. Taking help from high-end professional engineers to resolve any technical issue is the best thing you can do if you're not aware of these situations. Hopefully, this blog will help you to easily get back your hacked Hotmail account.