Setup sbcglobal mail on Ms Outlook with easy steps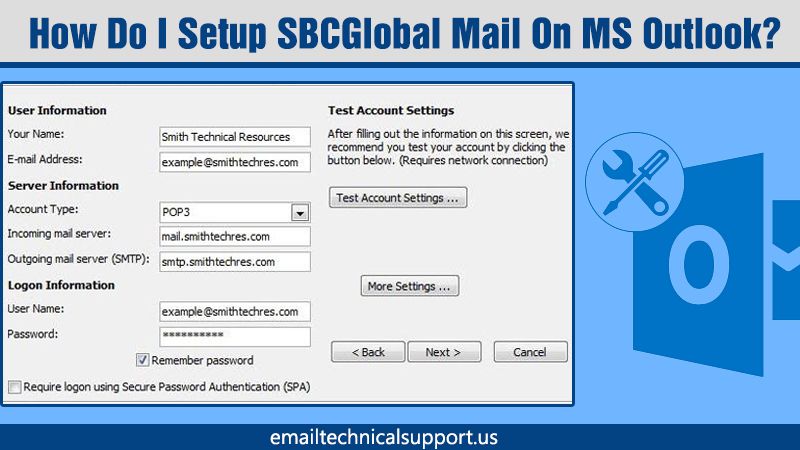 Microsoft Outlook is one of the most popular email applications, which is launched by Microsoft. It allows users to configure more than one email account. It has countless unique features, so it can be used by thousands of users regularly. If you are facing problems while managing two or three email accounts. Then MS outlook is the appropriate option for you. Therefore, you should have the required and full information to help you setup Sbcglobal mail on MS outlook. In this blog, you will get to know the step-by-step process of how to setup SBCGlobal.net email on Outlook. Let's have a look!
Setup process of sbcglobal mail on MS Outlook
If you want to use the Sbcglobal email service and want to set up a Sbcglobal email account with MS Outlook, you should have the email client along with the addresses of an incoming and outgoing email server and connection settings for both. Ensure that you have the correct server addresses because some users are using old server addresses. If you want to set up Sbcglobal mail on MS outlook, you must follow the below steps in the appropriate ways. In this technical guide, you will obtain needed information about how to set up SBC global email to MS outlook in the correct ways.
How to Setup SBCGlobal Mail on MS Outlook?
If you want to set up Sbcglobal mail on MS outlook, you need to give the address and connection settings of incoming and outgoing mail servers. On the other hand, the servers' address varied, when Sbcglobal loses its importance and this address is no longer applicable. In this case, MS outlook must connect and communicate properly with AT&T's servers. As a result, you will obtain new messages in your mailbox and can send emails properly.
First of all, open MS Outlook and then select the "File tab" button. After that, click on the "Add account" option that will run the "Add account setup" option.
Now, you need to choose "Additional server types or manual setup". Hit the Next button and after that, you should go to the "choose service" page. In this section, you have to choose POP or IMAP. When it is over, then carry on to the next step.
Next, type your name, and after that Sbcglobal email login address in the needed fields. In addition, you need to choose "POP3" in the account type button.
Also, users need to enter "inbound.att.net" in the displayed section of the incoming mail server. And "outbound.att.net" in the outgoing mail server.
Now, you have to re-enter your Sbcglobal email address and password in the spaces.
Hit the more setting button and then choose the "outgoing server" option.
Users need to click on the "advanced" button and after, "this server needs an encrypted connection" correctly. Enter the port number in the incoming mail server section.
In this step, you need to enter the port number in the outgoing mail server section. You need to choose "SSL" as the kind of encrypted connection from the displaying drop-down menu.
Finally, click on the "OK" button. Thus, you can setup Sbcglobal email in Outlook 2019 in the appropriate ways. Now, you can work on the Sbcglobal email account successfully.
Points to keep in mind
Firstly, there should be a strong Internet Connection to avoid any interruption.
Make sure that no third-party software is interfering in the configuration process.
Prepare a backup of your SBCGlobal account to avoid any data loss.
Verify that you have configured the correct SBCGlobal email settings.
In Safe Window mode, run the Microsoft Outlook program.
Conclusion
By following all these instructions, you can complete the setup process of Sbcglobal mail on MS outlook in the appropriate ways. Setting up Sbcglobal mail on MS outlook is not easy, so you can make it easy by performing all the above instructions. Thus, you can setup Sbcglobal mail on MS Outlook easily. These instructions can help you to complete the setup process without facing any problems. Still, if you are facing any technical issues, you can call our SBCGlobal Email Support experts anytime. Online technical experts are sitting round the clock to guide you properly. Feel free to contact us according to your own convenience.
Frequently Asked Questions(FAQs)
1) Is SBCGlobal net email POP or IMAP?
To access your Sbcglobal.net email POP or IMAP account from a desktop email program, you have to the IMAP and SMTP settings. To set up your email account, touch Apps > Settings > Under Accounts touch +Add account. After that, click on Email and enter your username and password. For the POP3 setting you have to follow access it fills the entries given below:
incoming mail server: pop.sbcglobal.yahoo.com
outgoing mail server: smtp.sbcglobal.yahoo.com
Enter your username and password.
Type POP3 server – pop.att.yahoo.com or pop.sbcglobal.yahoo.com
Enter Port – 995  or 993. Hit the Next button.
Now, enter SMTP server – smtp.att.yahoo.com or smtp.sbcglobal.yahoo.com
And enter Port – 465 or 587
Next, enter your username & password. In the end, click on Next.
2) How do I set up SBCGlobal email on Windows Mail?
If you want to do the SBCGlobal email setup setting then you have to do the setup window then you have the follow the steps to verify. Here are some steps that you have to follow for setting up Windows Mail for the first time or on a new computer.
In Windows Mail, you have to press Windows + C key. And click on settings accounts.
Choose to add an account and hit the Yahoo option.
Type complete account info:
AT&T email address ([email protected])
Password – enter your password
Hit the Connect option. If you provided the sign-in info, your AT&T email will sync with Windows Mail.
3) What are the Outlook settings for SBCGlobal net email?
To do the outlook setting for SBC global.net simple steps that you have to follow.
First of all, open your Outlook platform or app.
After that click on "Account Information" and hit the "Add an account" option.
Next, you have to open the auto account page. Then you have to enter your SBCGlobal email and password.
Click on "Next".
At last, hit the "finish" button.
Simple steps may help you to do it on your own if you are unable to do then you can connect to us our team can fix all your issues in just one phone call.
4) How do I set up Yahoo mail in Outlook 365?
If you want to do to Yahoo Mail settings in Outlook 365 then you have to follow these simple steps. These steps will help you to do the required changes and update the settings
Go to the File tab.
Select Info, and then select Add Account.
Enter your Yahoo Mail address, and then select Connect.
Type your app password.
Select Connect.
Hope this step will be helpful to you to do the complete setup on your own without any technical support.
5) What are the incoming and outgoing servers for ATT net?
For the incoming and outgoing server settings for At&T Net Mail Settings, you have to perform some steps such as-
Incoming server address (IMAP): imap.mail.att.net. And Incoming port number: 993.
SSL: Yes, required.
Outgoing server address (SMTP): smtp.mail.att.net. And Outgoing Port number: 465 or 587.