Stuck With The Outlook Operation Failed Error? Fix It Quickly!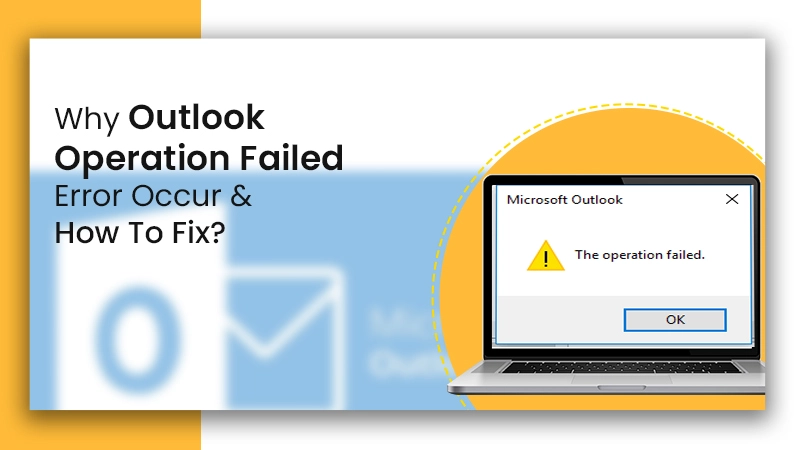 Outlook is an efficient personal information manager that allows seamless sending and receiving of emails. However, complications with every software are natural. Outlook Operation Failed error is one of the common problems that renders users unable to attach files to their messages in MS Outlook. It usually occurs when the user is attempting to open or employ different Outlook features, like sending/receiving emails, opening emails or attachments, and modifying Outlook account settings, among others. The most prominent causes of this error are the employment of an obsolete Outlook version and Outlook getting run in Compatibility Mode. In this article, we'll go into detail about the causes of this issue and how to easily fix it.
 Also Read: Why Outlook Attachments Not Showing
Why Does Outlook Operation Failed Error Occur?
Here is a list of all the likely causes behind this seemingly troubling error. After learning about them, you can employ a troubleshooting technique that addresses your specific cause.  
Conflicting apps, such as a firewall.

A clash between various 

add-ins

You haven't installed Outlook correctly or have installed it incompletely.

You are using an obsolete version of Outlook.

A problem with the Drafts folder permission.

Corrupt or damaged Outlook Profile

Incorrect Outlook configuration

Corrupt or damaged PST files.
Also Check: Why Outlook Not Receiving Emails
Troubleshooting MS Outlook Operation Failed Error 
After knowing about the causes, you must have a better idea about the kind of troubleshooting you should implement. Here are the various fixes as per the causes listed above.
Fix the Problem with Conflicting Applications
Often, your firewall or any antivirus software isn't compatible with the Outlook application. This conflict between both of them interrupts the functioning of Outlook. In such a case, you will come across the Operation Failed error message in Outlook. It will occur when you are carrying out any work in it, such as attaching email attachments.  
The only resolution in such a case is to either uninstall your antivirus software. Then reinstall another one that is compatible with Outlook. You can also disable your security program temporarily and see if you are still facing the error message.
Disable the Problematic Outlook Add-Ins
Add-ins are useful tools that help you manage your inbox by automating various functions. However, they may not always serve you well. It is possible that they come into conflict with Outlook and cause this error. If you feel that add-ins are responsible for Operation Failed Outlook, you can use the Safe mode in Outlook. Here, Outlook runs without any add-ins. 
To run Outlook in this mode, execute the following steps. 
Close

Outlook

.

Launch the Run

dialog box

.

In this box, input,

Outlook.exe /safe

Tap

OK

.
Is Outlook functioning properly? If your answer is still yes, go ahead and disable Outlook add-ins.
Disable the Problematic Outlook Add-Ins
This specific error is common to occur in a system where Outlook isn't properly installed. You can use the repair tool of Microsoft to repair the faulty or corrupt installation of Outlook. 
Head to the area of the '

Control Panel

' on your system.

Here, tap '

Programs

.'

After that, tap '

Programs and Features

.'

Tap the

'Office'

program, followed by

'Change

.'

Change

MS Office

Installation

Tap '

Yes

' when UAC prompts.

Choose '

Quick Repair

' followed by '

OK

.'

Tap '

Repair

' followed by '

Continue

.'

Wait for some time till the repair completes. 

Now,

restart your system

. Hopefully, Outlook will work correctly.
Update Microsoft Outlook 
Outlook's operation failed attachment error is common on an outdated Outlook version. Old versions have various issues which interfere with the optimal functioning of Outlook. Here are the steps to update Outlook. 
In Outlook, tap '

File

.'

Head to '

Office Account

.'

Tap '

Update Options

.'

Now, tap '

Update Now

.'

Start Outlook again.
Turn on Cached Exchange Mode
Turning on the Cached Exchange Mode is another lesser-known fix for this error. Here's how to enable it.
In Outlook, tap '

File

.'

Navigate to '

Account Settings

.'

Choose '

Account Settings

.' 

Go to the '

Email

' tab and tap your account.

Now, choose '

Change

.'

Locate '

Exchange account settings

.'

Tap '

More Settings

.'

Head to the '

Advanced

' tab.

Locate '

Use Cached Exchange Mode

.'

Disable it first before enabling it.

Begin Outlook again. Restart your Outlook.
Fix the Issue with the Drafts Folder Permission
Did you come across Outlook Email Operation Failed Attachment Error while creating an HTML message and saving it to the Drafts? It indicates a problem with the Draft's "permissions". Here you need to change the format to Rich Text from HTML. Once you have reverted to this format, you can go back to the HTML format
Launch

Outlook

.

Now, find the email message you wish to change the format of.

Launch the '

Format Text

' tab on the message window.

Change from HTML to Rich Text in the Format group.

Save the changes you have made.

Now, exit the message.

Launch the message again.

Tap the '

Format Text

' tab.

Here, change from Rich Text back to HTML, 

Save your email.

Open again and then send the message to see if Outlook is working properly.
Repair the Damaged Outlook PST File
You can fix corruption in your Outlook PST file via the SCANPST.exe. Here are the pointers to do so. 
Find the SCANPST tool on your computer.

Now, open it by double-tapping '

SCANPST.EXE

' 

Tap '

Browse

' and choose the damaged PST file.

Tap '

Start

.' 

The tool will kickstart scanning the PST file to detect corruption.

After the scan finishes, tap '

Repair

' to begin fixing the file corruption.
Make a New Outlook Profile
A Corrupt or damaged Outlook Profile often leads to an Operation Failed error. You can eradicate this problem by creating a new profile. 
Just choose '

File

' in Outlook followed by '

Account Settings

.'

Now, go to '

Manage profiles

' and then to '

Show Profiles

.'

Here, tap '

Add

.'

Input an appropriate name for the new Outlook profile in its box and select '

OK

.'
Final Thoughts
The Outlook Operation Failed error message hinders you from accessing this app and working on it. Fortunately, there are a ton of troubleshooting techniques that address its triggers properly. If you are still stuck with this error, it's best to reach out to an Email Technical Support service.